Degree Works
Degree Works provides degree audit utility for tracking progress toward degree, as well as related tools and features. It can be accessed from the Student Profile in myOswego.
Worksheets
Student information appears in a header, followed by overall degree progress information, then the content of the audit organized in "blocks" of information related to the degree, General Education, majors, etc.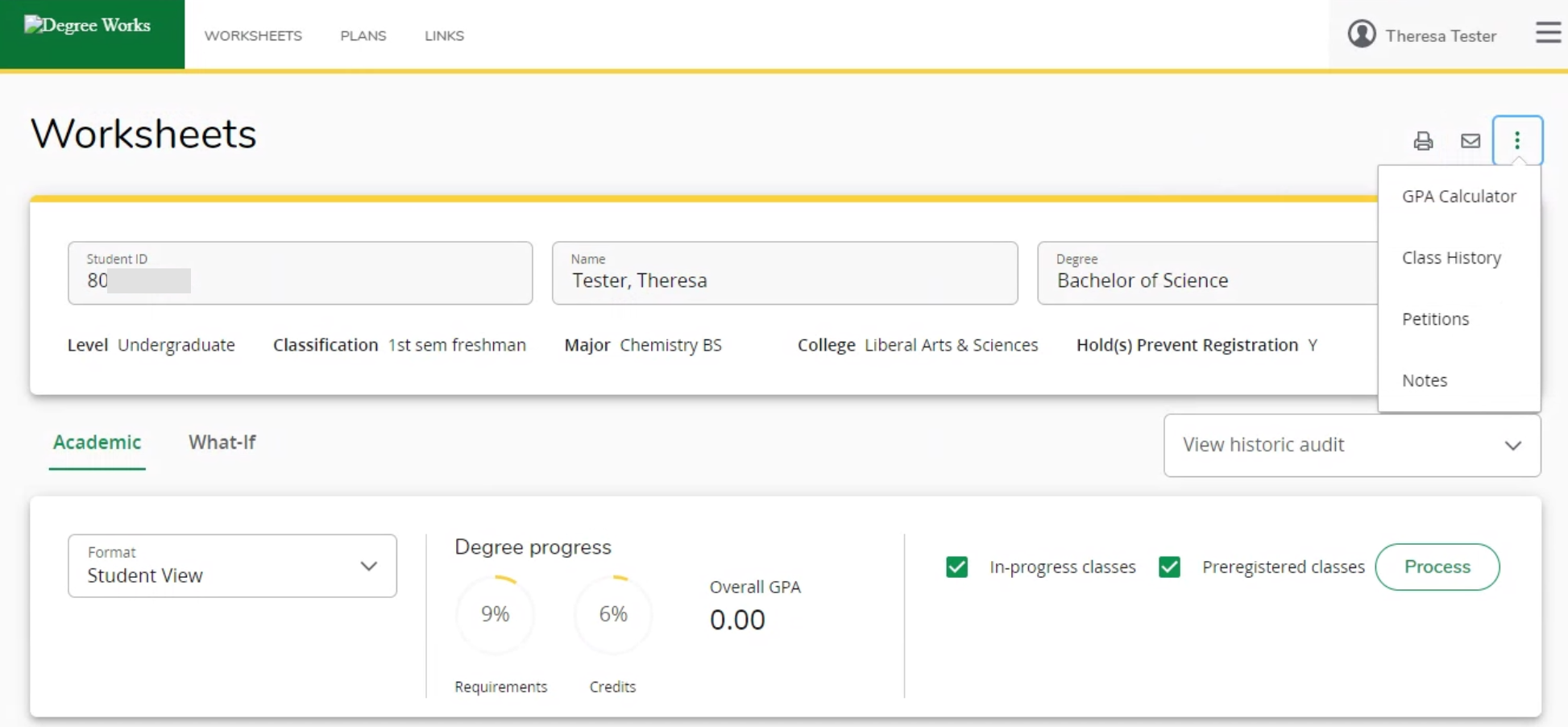 Additional Features are accessible from links at the top of the page, the ellipsis, and on the audit itself:
Plans - semester-by-semester course plans
Links - additional Degree Works resources, links to myOswego, etc.
Email icon - email advisor(s)
GPA Calculator - forecast grades needed to achieve a goal GPA
Class History - view your coursework term-by-term
Petitions - see the status of any Deviation requests
Notes - Advisor notes (also appear at the bottom of the audit)
What-If - run what-if scenarios for changing cirriculum (majors, minors), courses or both
Format - Student View provides a full degree audit, selecting Registration Checklist from this drop-down will display only remaining requirements.
Blocks
Blocks contain requirements and conditions necessary for successful completion of a portion of student curricula. Requirements (usually classes) will display as met/complete (green checkmark), met pending successful completion of an in-progress course (blue semi-circle) or not met (open circle). The "Unmet Conditions" Information at the top of each block also need to be met. When met, the "unmet" statement disappears.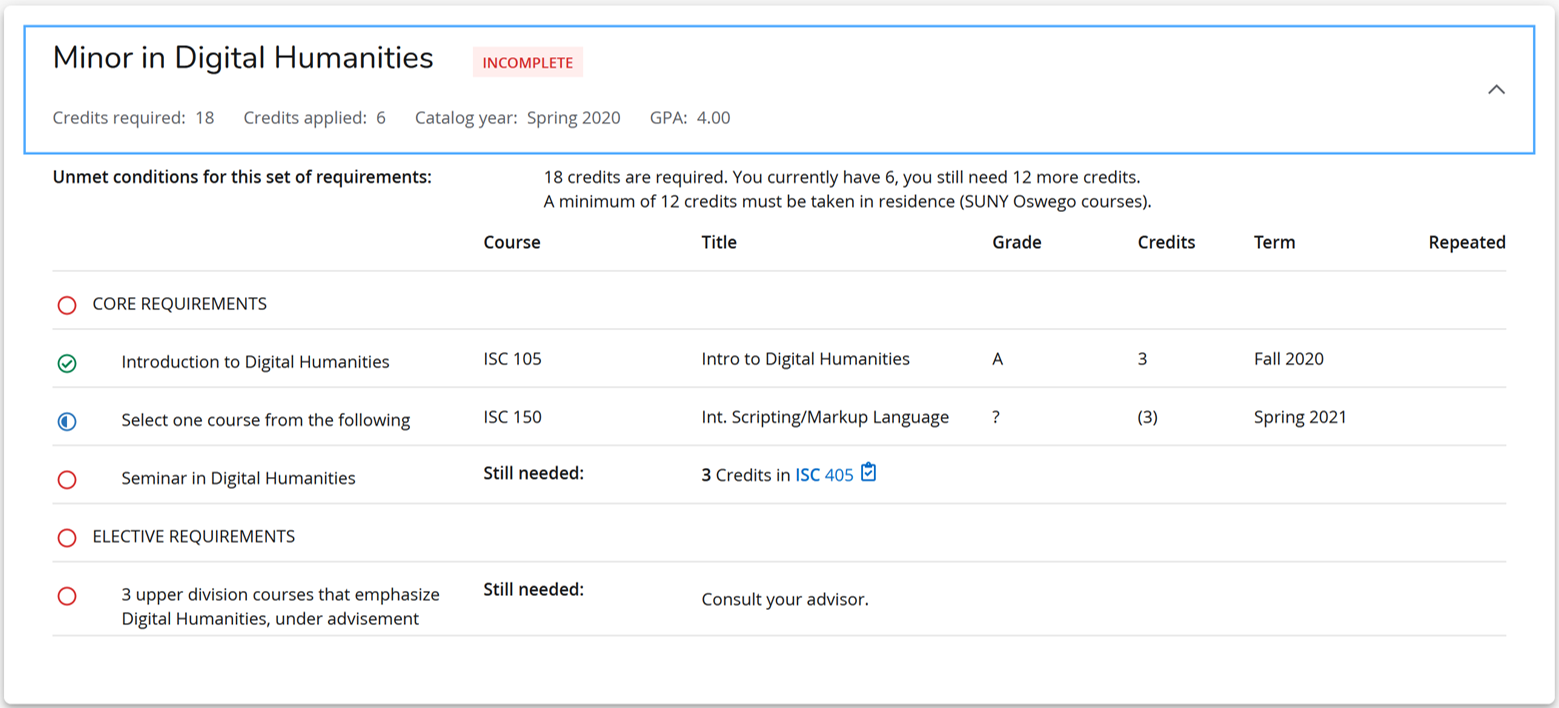 A Credit Limits block will display for students who have 15 or more transfer credits and/or 26 credits in-discipline toward a BA degree. This block is Informational only, there are no requirements or conditions to meet for degree progress.
Course Links
Courses on the audit link to course information, including course description, attributes, prerequisite information, available sections and potential equivalent courses.
Use the what-if feature to explore what your degree audit would look like if you changed major, changed minor and/or took specific courses. To just what-if classes, check the "Use Current Curriculum" checkbox.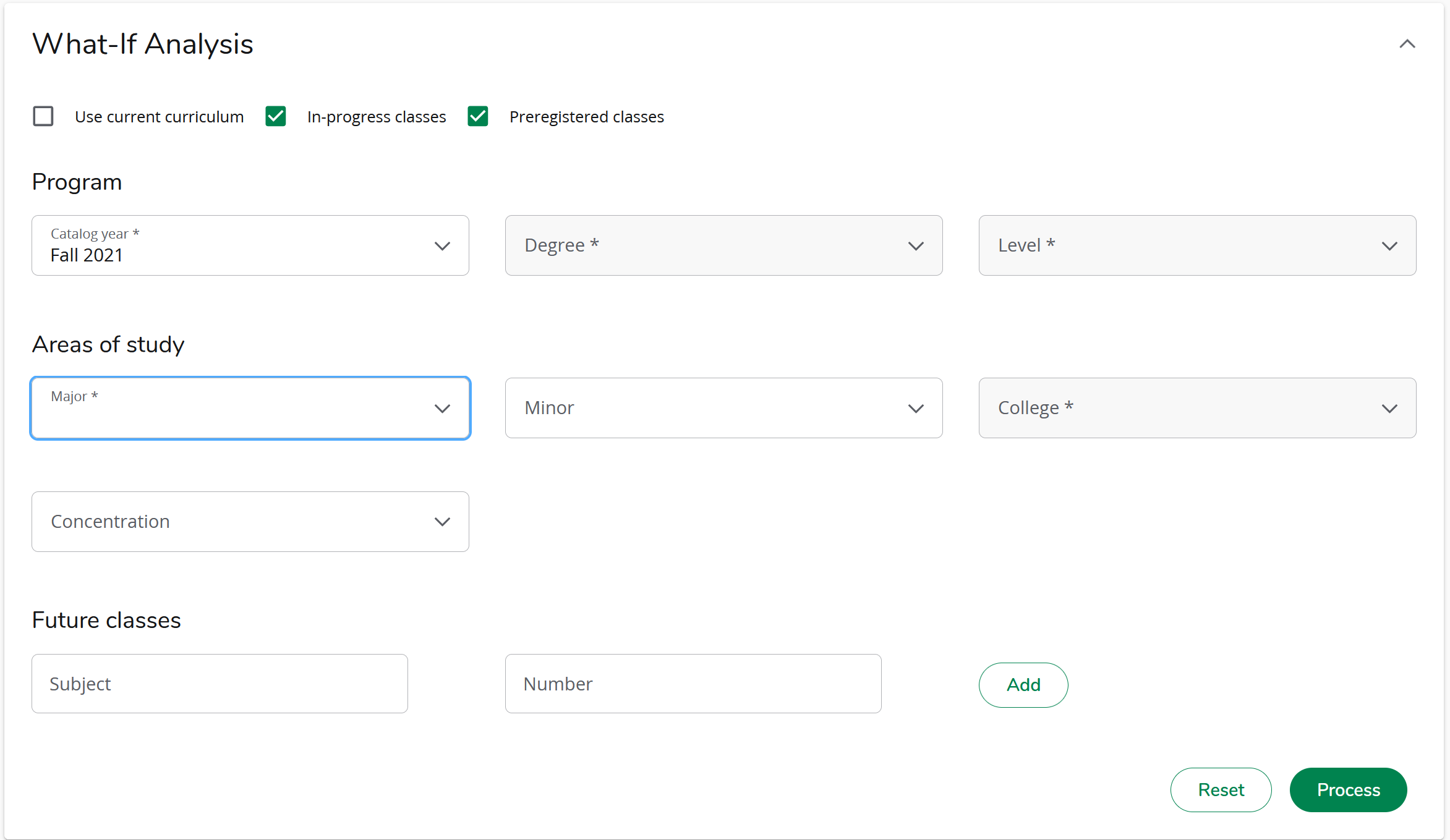 The Plans area is used to build semester-by-semester plans toward degree completion.
Courses entered in Plans are validated against the course catalog, prerequisites and typical "when offered" patterns.
(Course-level) Degree Works Plans integrate with the "Registration and Planning" link in myOswego so students can build (section-level) registration plans from them in the "Plan Ahead" area or search for sections and register directly from a Degree Works Plan in the "Register for Classes" area.
An audit can be run against the plan to see the applicability of planned courses.
Ask your advisor about building a Degree Works Plan.