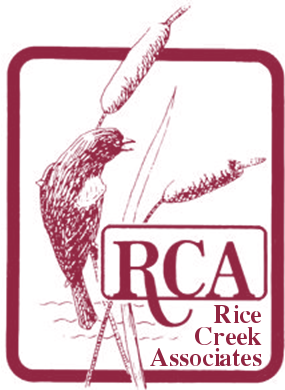 Rice Creek Associates (RCA) is a community of like-minded people who share a passion for nature and a desire to support Rice Creek Field Station. Formed in 1986, RCA supports Rice Creek Field Station's mission by expanding the scientific, educational, and recreational opportunities at the Field Station through community involvement.
Over the years RCA has continued to increase its membership, making it possible to fund improvement projects which benefit the station and the community at large. Through volunteer work, RCA members contribute to the field station in a variety of ways.
Become a Rice Creek Associates Member
Membership Benefits
Attend the annual fall banquet
Receive our quarterly newsletter
Reduced rates on merchandise and field guides
Reduced rate for the Exploring Nature program
Attend Board of Directors meetings
Membership Levels
Student - $5
Individual - $10
Couple/Family - $15
Contributing - $25
Sustaining - $50
Lifetime - $250
Corporate - $500
Memberships are renewed annually (except for lifetime memberships).
Support Rice Creek Field Station
Your membership helps support our educational programming, research and grant funding, operation and maintenance costs, and so much more!
Become a Member
Your Membership Helps Fund Our Projects
Canal Forest Restoration Program
Through the Canal Forest Restoration Program we are restoring the native white oak, swamp white oak and white pine trees, all highly desired woods which are now barely existing in the wild because of over-exploitation in the lumber industry. With the financial support of Dr. George Pauk and his wife Jane, it is our goal to raise 1,000 trees and double this number in 2020.
With the financial support of the Pauk's family, Rice Creek now provides a 2500 square feet enclosure to raise seedlings and samplings, until they are ready for distribution. This year we got seedlings of the three species of trees from the New York State Nursery in Saratoga including 3000 seedlings from seed of white oaks George and Jane have collected last year.
Once the trees reach a reasonable size we will bring them to farmer's markets and fairs to demonstrate the importance of restoring these trees and the value of conservation.
Rice Creek Research Grants
Grants in support of research at Rice Creek Field Station were established in 1996 with RCA, awarding several small grants each year. Most awards range from $500 - $3,000, and may be used for stipends, travel, supplies, equipment, publication costs or secretarial support necessary to carry out research at the Field Station.
Rice Creek Associates Reflections Presentations
Rice Creek Associates Reflections are talks about local ecology and environmental themes of interest to the community. View our upcoming scheduled programs.
Experience Rice Creek - Small Grants Research Symposium
2020: This year, our annual symposium was delivered as a Zoom webinar on Saturday, November 7, 2020 at 2 pm. It is viewable on the Small Grants page and on YouTube.
Ruth Sachidanandan Herb Garden
Planned by the Rice Creek Associates committee, the Ruth Sachidanandan Herb Garden thrives annually with over 70 species of herbs with the help of our member's donations. 
Meet Our Board
The operational policies of Rice Creek Associates are managed by its Board of Directors. Directors are elected from the general membership and serve three-year terms.
Members of the board:
Laurel Artz, President
Pat Jones, Co-Vice President
Sheri Morey, Co-Vice President
Michael Holy, Secretary (Memberships/Newsletter)
Wendy Fragale, Treasurer
Maria Sagot, Small Grants Chair
Camila Sandoval, Student Representative
Alexandra Corsini
Paul Knittel
Mary Magistro
Andrew McElwain
Gail Opanhoske
Peter Rosenbaum
Kamal Mohamed, Ex Officio
Kristen Haynes, Ex Officio
Board meetings are scheduled for 4:15 pm on every third Wednesday of the month (excluding August). Members are welcome to attend. Members planning to attend can call the Field Station at 315-312-6677 the week of a meeting to confirm scheduling.