Explore, play, and learn this summer at Rice Creek! Exploring Nature is a summer camp designed to encourage young people's curiosity about their world through habitat exploration, nature walks, learning games, and science and creative activities. 
We invite children and young adults ages 5 to 16 to experience our state-of-the-art science facility, 350-acre natural area, and 5 miles of trails skirting forests, fields, ponds, and streams. Exploring Nature Leadership, our program for 15-16 year-olds, helps our oldest age group hone their natural history knowledge and practice sharing that knowledge with others. 
Exploring Nature is an area tradition, first established in 1983. Our dedicated and passionate instructors have been involved with Exploring Nature for many years, and almost all are certified teachers.
Exploring Nature Summer Camp
Dates
Week 1: July 11-15, 2022
Week 2: July 18-22, 2022

Daily Schedule
Monday- Friday, 9:30 am - 2:30 pm
Free before-care starting at 8 am
Free after-care until 5 pm
The program is at capacity. If you'd like to join our early-alert email list for 2023 program registration, please email kristen.haynes@oswego.edu
Join Our Team
Current and former Pre-K - 12 educators are invited to apply to be Exploring Nature instructors for the 2022 program.  Applications will be accepted on a rolling basis until positions are filled. For priority consideration, please apply by June 10, 2022. To apply, send a cover letter detailing interest and related experience, along with contact information for two professional references, to Kristen Haynes, the Director of Exploring Nature, at kristen.haynes@oswego.edu. Questions can also be sent to this same email address. Compensation is $1,500.
For additional information, please review this page as well as our job announcement.
Scholarships
Full and partial scholarships are available based on financial need through generous funding from Rice Creek Associates and private donors.
Apply for a scholarship by the scholarship deadline above using the "apply for a scholarship" button.
We will notify families of their scholarship decision within 3 business days, and then families can proceed to the registration step.
The 2022 scholarship application form has been closed due to the large number of high-need scholarship applications already received.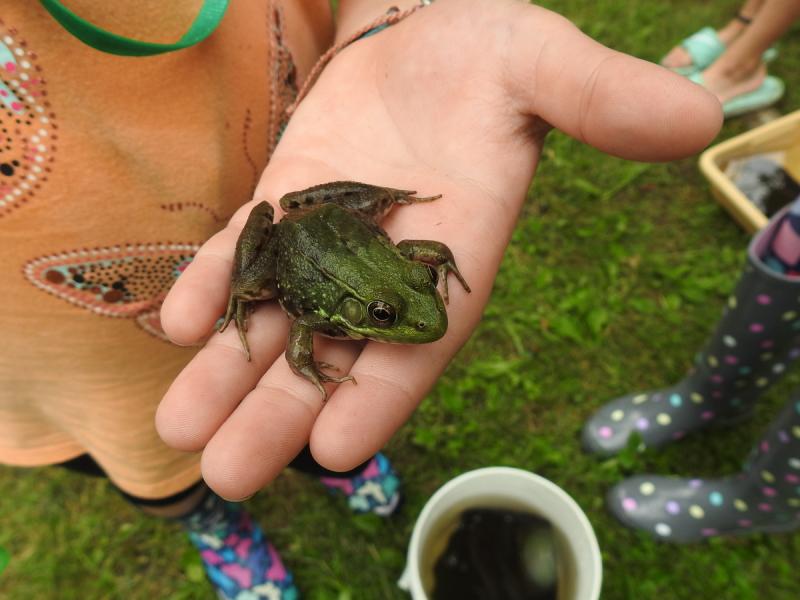 EXPLORING NATURE is exactly what its name says it is. Kids of all ages have the opportunity to be "unplugged" from social media and Explore Nature first-hand as they meander through the beautiful trails of Rice Creek guided by trained instructors. Don't miss this great opportunity for your child to literally get their feet wet in the streams and ponds, fish for crayfish, find the secret frog pond, [and] discover the "bridge over no water"... Your child will come away with great memories, new friends, and a new appreciation for nature.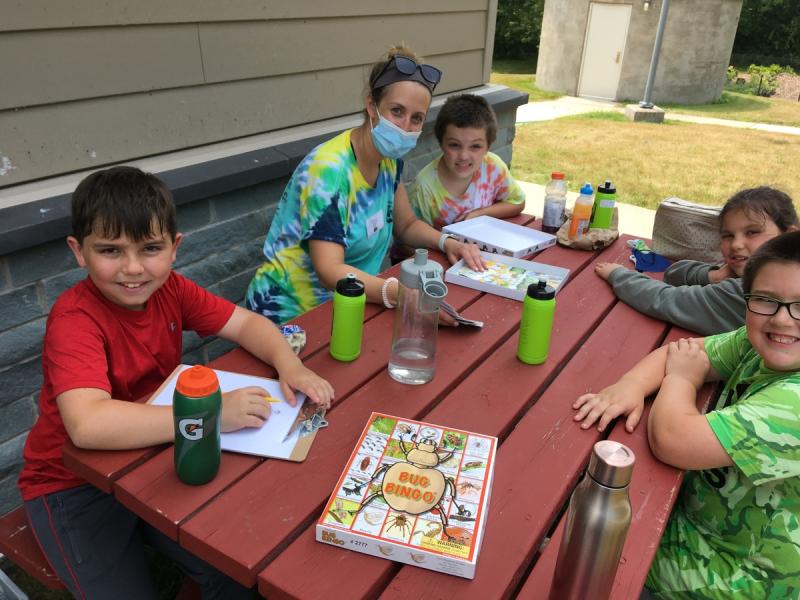 Exploring Nature far exceeded my expectations! My son loved every minute of it. If your child loves nature and the outdoors, this is a great way to have fun and learn. We will be back next summer!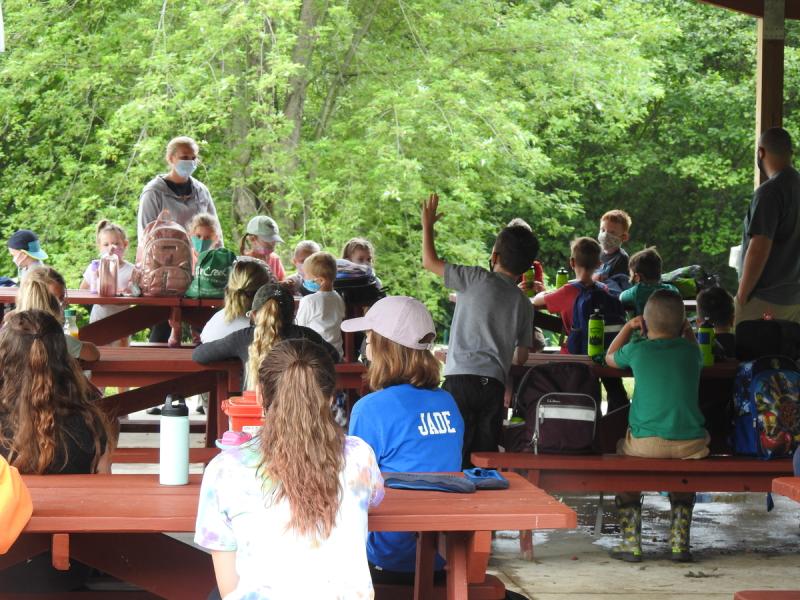 Organic fun for kids in a beautiful nature setting. Very interactive and inclusive program that they look forward to attending again next summer.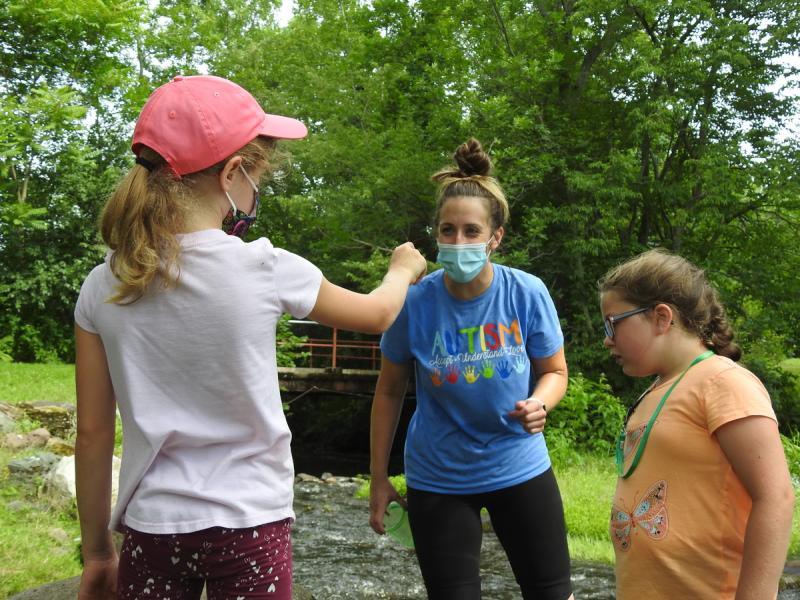 My son loved everything! Could not stop talking about every little detail daily.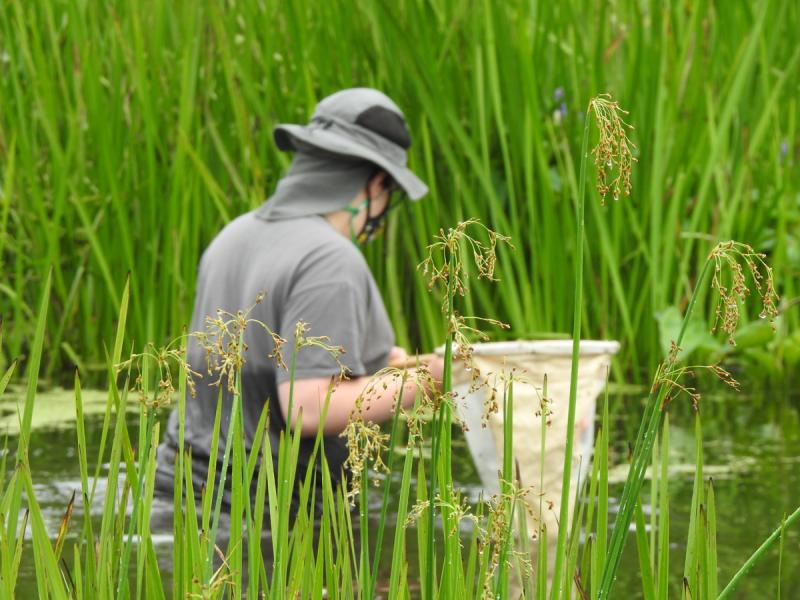 Exploring Nature is an excellent camp! We come back year after year!
Frequently Asked Questions
What's the format of Exploring Nature? What's a typical day like?
Format
Exploring Nature runs in two 5-day sessions. Participants can attend one or both weeks. The main program runs from 9 am to 3 pm, with free before-care and after-care offered from 8 am until 5 pm. On Friday of each week, the formal program ends early (2 pm) so participants can show their family and friends their favorite spots at Rice Creek. Rest assured after-care is still available until 5 pm on Fridays for those unable to come to the 2 pm family and friend time.
Campers are typically out-of-doors rain or shine, except during severe weather such as a thunderstorm. The pavilion provides shelter from rain and sun.
What's a typical day like?
Each day begins with a tradition called "the spot," in which all campers and instructors gather together and one camper from each group shares something interesting they discovered the previous day. This is a great way for the different age groups to interact and the campers to get to know one another.
After the spot, each group begins their morning activity. Activities could include:
Exploring the life of a stream
Observing and catching insects in a field
Visiting a woodland pool and looking for frogs and salamanders
Going on a nature scavenger hunt
Learning to identify common tree species
Engaging in an interactive ecological learning game like Bat-Moth
Testing Rice Creek's water quality
Getting creative with art activities
The oldest grade levels (15-16 year-olds) have the opportunity to build environmental education and leadership skills while honing natural history/ecology knowledge through our Exploring Nature Leadership program.
Groups enjoy lunch outdoors, in "the field" or back at the pavilion, and then head out to a new location for the afternoon or engage in learning games near the building.
Participants are split into groups according to age. Generally, 5-6 year-olds are grouped together, 7-8 year-olds are grouped together, and so on. Groups are filled on a first-come basis, upon receiving full payment with completed registration materials.
Are lunch and snacks provided?
For the first time, in summer 2022, we will be offering free lunch to participants. Participants may opt out of the free lunch and bring a packed lunch (nut-free) instead. Snacks are not provided but can be packed.
Who will my child interact with?
Exploring Nature is led by K-12 educators who are passionate about outdoor education. Our youngest age group (5-6 year-olds) has an instructor and an instructor's assistant. All other groups have a single instructor. We cap groups so as not to exceed 8:1 camper:instructor ratios.
Participants may also interface with Kristen Haynes, the Director of Exploring Nature, with other program or field station staff, and with guest presenters, but will always remain under the custody, care, and supervision of their instructor.
All program staff have been cleared by SUNY Oswego's Child Protection Compliance Administrator and have completed mandatory child protection training.
Before- and after-care providers include SUNY Oswego students who have also been trained and cleared through SUNY Oswego's Child Protection Compliance Administrator. 
Is paper registration available?
We have gone paperless. If you experience difficulties with the online registration, please reach out to Kristen Haynes at kristen.haynes@oswego.edu or 315.312.6678.
What COVID-19 safety measures are you implementing?
(April 2022 Information) Based on our current guidance, we expect to require participants to wear masks while indoors, for example, while visiting the restroom facilities or during before- or after-care. If additional safety measures become necessary prior to the program start, we will inform parents/guardians as soon as possible. Your children's health is our #1 priority.
How do I request a refund?
Cancelations made by June 12 will be refunded by check (less $25 per child per week) with no questions asked. After June 12, refunds will not be issued except in the case of extenuating circumstances like illness or a family emergency.
To request a refund, please email rcfs@oswego.edu, including your name and mailing address.
How can I help keep my child safe and stop the spread of COVID-19 at Exploring Nature?
The CDC has a number of important recommendations, summarized in this video: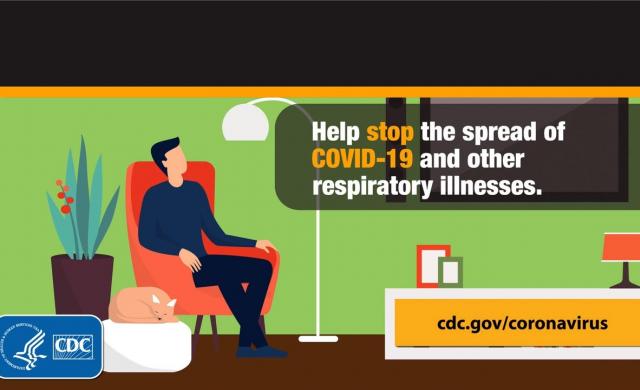 These include wearing a face covering, maintaining a 6' distance from others, frequent hand washing/sanitizing, and staying home when you are sick.
Additional guidance on protecting your and your kids' health can be found at the CDC's website.