Our mission
The Canal Forest Restoration Project (CFRP) is on a mission to restore the presence of white oak and white pine trees in New York State's Canal Regions.
The forested landscape of New York State was significantly changed with the construction of canals. Forests were felled for excavation of the canals and grading of their towpaths, which subsequently increased the amount of forested land that was converted into farmlands, industrial sites, and cities. This left the region devoid of forested landscapes, but white oak and white pine trees were of special importance to the canal system because they produced lumber ideal for ship and barrel building.
Certain areas along the canals have begun their return towards a natural state, providing aesthetic value, environmental benefits, and habitat for plants and animals. As this natural succession progresses, CFRP is working to ensure the regeneration of white oaks (white oak, swamp white oak, burr oak) and white pines.
Project goals
To replenish the region with a future of white oak and white pine trees of ecological proportion and cultural significance
To foster strong awareness and appreciation of the unique characteristics and indispensable value of white oaks and white pines among residents and visitors of the canal region
To collect seeds, produce seedlings for plantings, and engage the support and collaboration of individuals and organizations in the canal region
To foster a new generation of long-lived tree species that will store carbon and mitigate the effects of climate change, ensuring a brighter future for New York State and the planet
Partnership with RCFS and SUNY Oswego
Last winter (2019) I was contacted by Dr. George Pauk, a retired physician. George and his wife Jane were using a nursery in Newark for the Canal Forest Restoration Project. That nursery closed in the summer of 2018 and George expressed his desire for partnership with our Field Station. At the time I was contacted by National Grid asking for permission to cut down some 60 ash trees along the Rice Creek power line in anticipation of the inevitable damage expected due to the emerald ash borer coming to our area. With that in mind, I immediately realized the potential of this project. George and Jane spent thousands of dollars of their own money since they started this work in 2016. With the financial support of the Pauk family, Rice Creek provides a 2500 square foot enclosure to raise seedlings and saplings of the species named above, until they are ready for distribution. Our objective is to raise 1000 trees and double this number next year.  ~Kamal Mohamed, RCFS Director
How to help
There are several ways to help our project:
Volunteer your time

CFRP volunteers help identify areas and trees for seed collection, collect seeds, care for trees, and/or represent our organization at outreach events. We could not operate without their hard work. Use the button above to sign up to be a project volunteer!

Donate

Currently, we are funded solely through the generosity of individual donations. Checks payable to the College Foundation/Canal Forest Restoration Project can be mailed to the mailing address below. Thank you!
Contact
Phone: (315) 312-6677
Email: canalforestrc@gmail.com
Physical Address: 193 Thompson Road, Oswego, New York, 13126
Mailing Address: Rice Creek Field Station, SUNY Oswego, 1040 State Route 104, Oswego, New York, 13126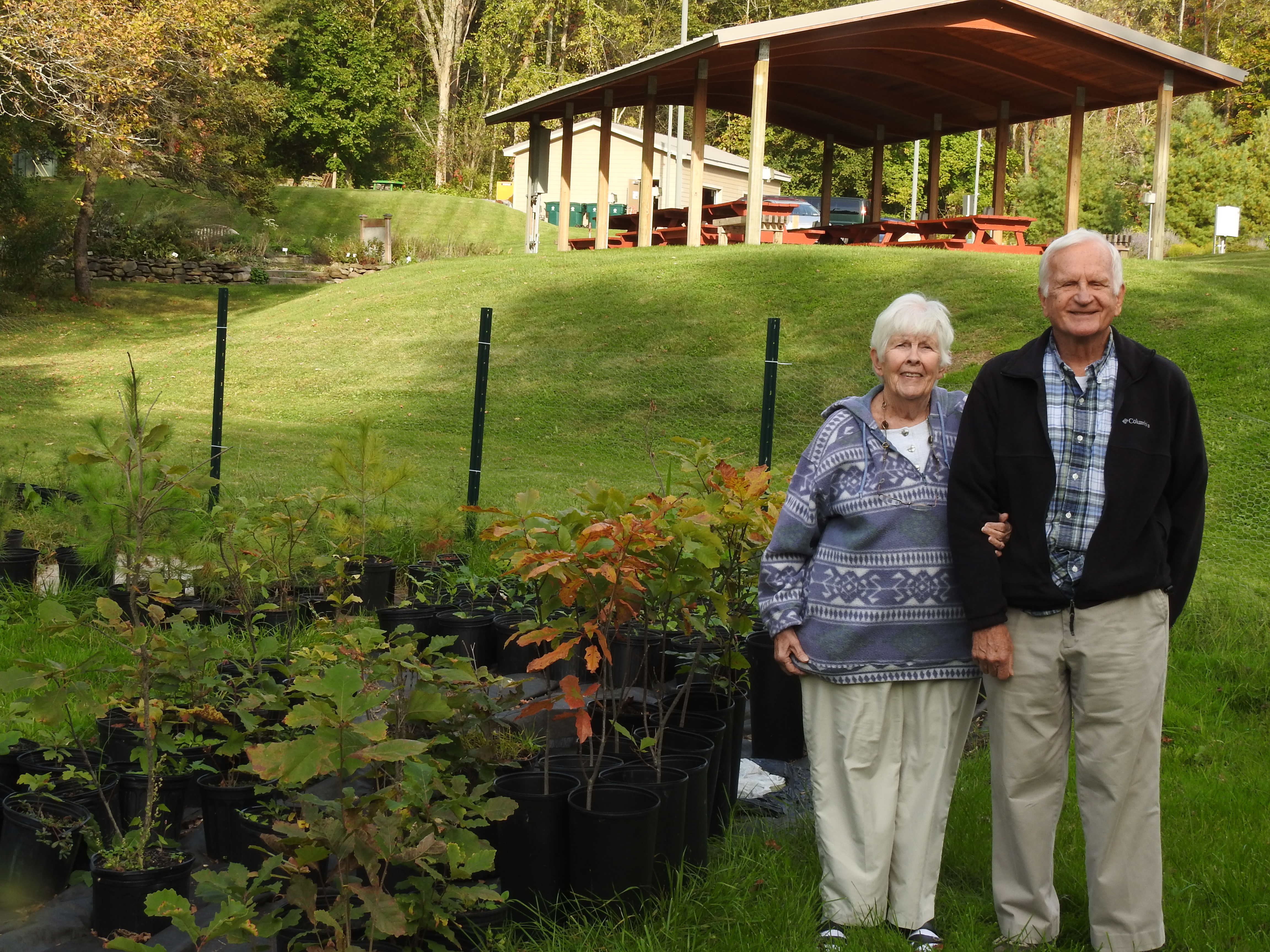 CFRP Founders Jane and George Pauk stand in the Rice Creek Field Station tree enclosure
National Arbor Day Webinar Conference
Friday, April 24, 2020 | 9 am to 5 pm EDT
The Canal Forest Restoration Project (CFRP) and Rice Creek Field Station offered a free webinar series on National Arbor Day, with sessions exploring diverse topics related to trees and forests. Recordings of each webinar session can be viewed on the project's YouTube channel.
Conference schedule: Session topics and descriptions
9:00 am: Arbor Day kids program. Canal Forest Restoration Project interns Delaney Krasner and Piper Warren share fun STEM activities that kids can do at home. 

10:00 am: Inaudible, invisible: The hidden language of trees. Graphic Design student Cooper Uliano shares the secret, mysterious music of tree rings.

11:00 am: Trees and life: Touching on Forest Therapy and how trees can get us through difficult times. Wendy Perrone, Certified Forest Therapy Guide, discusses the immense healing power of trees for our mental and physical well-being.

12:00 pm: The American Chestnut Research and Restoration Project at ESF. Hear from three members of the American Chestnut Project at SUNY College of Environmental Science and Forestry working to bring a blight-resistant American Chestnut back to the forests of North America. Presenters include Andrew Newhouse, Linda McGuigan, and Allison Oakes. Specific topics: 

American chestnut: using biotechnology to save native species. Presenter: Allison Oakes

Transformation of American chestnut. Presenter: Linda McGuigan

Social and regulatory considerations surrounding the use of transgenic American chestnut trees. Presenter: Andrew Newhouse

1:00 pm: The Canal Forest Restoration Project at SUNY Oswego's Rice Creek Field Station. An introduction to the Canal Forest Restoration Project, the history and ecology of our focal species, and how all of us can help trees and forests. 

3:00 pm: How to grow trees from seeds. Tips and tricks from Steven Frost and Kristen Haynes. Steven will also share how he turned his passion for growing trees into an annual community tree giveaway at the South Seneca School District.

4:00 pm: An old white oak. How might one know? Tree ring science and one dendrologist's link to the Canal Forest Restoration Project. Presented by Rick Churchill.
Thank you for your interest!