As a wildlife study area, Rice Creek is dedicated to the study, preservation and management of the environment.  It is a living laboratory for SUNY Oswego students and others interested in learning about local ecology and conservation.  In an effort to increase environmental awareness, nature trails provide access to the numerous habitats around the Rice Creek.
The Green Trail is a gentle loop through intermediate growth forests, showcasing local wildflowers, and wetlands terrain, including two wooden walkways along an active beaver impoundment.  The Blue and Red Trails pass through evergreen plantations, a mature deciduous forest and fields showing various stages of succession.  The Orange Trail has the most diverse terrain, traversing a drumlin's ridge and slopes through various upland habitats present at the field station.
Use of the Red, Green, and Blue Trails is restricted to hiking, snowshoeing, and cross-country skiing. Bicycles and activities listed above are allowed on the Orange Trail.  As a Wildlife Study Area, camping, boating, swimming, hunting, trapping or fishing are not allowed by the public when at Rice Creek.  Stay on designated trails and do not remove or disturb wildlife or vegetation.   No smoking.  Please carry out any trash you create or find.
Rice Creek welcomes dogs.  However, to protect sensitive natural features and as a courtesy to other visitors, dogs should be on a six foot leash.  Also, be kind and clean up after your pet.  Thank you.
Visitors are asked to register and share any observations or comments about your visit.  There are two boxes, each with a log book and trail maps.  One box is located at the upper parking area adjacent to Thompson Road.  The other box is north of the Herb Garden, near the compost bin.  The field station makes every effort to appropriately post our boundaries. When at the field station,  do everything you can to ensure that you are on Rice Creek land and respect the property rights of our neighbors and the adjacent landowners. 
The green trail enters wood's edge east of the buildings and traverses the woodlands east and south of the main building then crossing the entrance road and embarking on a figure-eight traverse of the second growth hardwoods, shrubby fields and wetlands south of the entrance road , before returning to the lawn. The trail has areas where wildflowers and native plants have been transplanted, two raised walkways along Rice Creek's bank near a beaver dam and flow as well as creek side overlooks with benches.   More>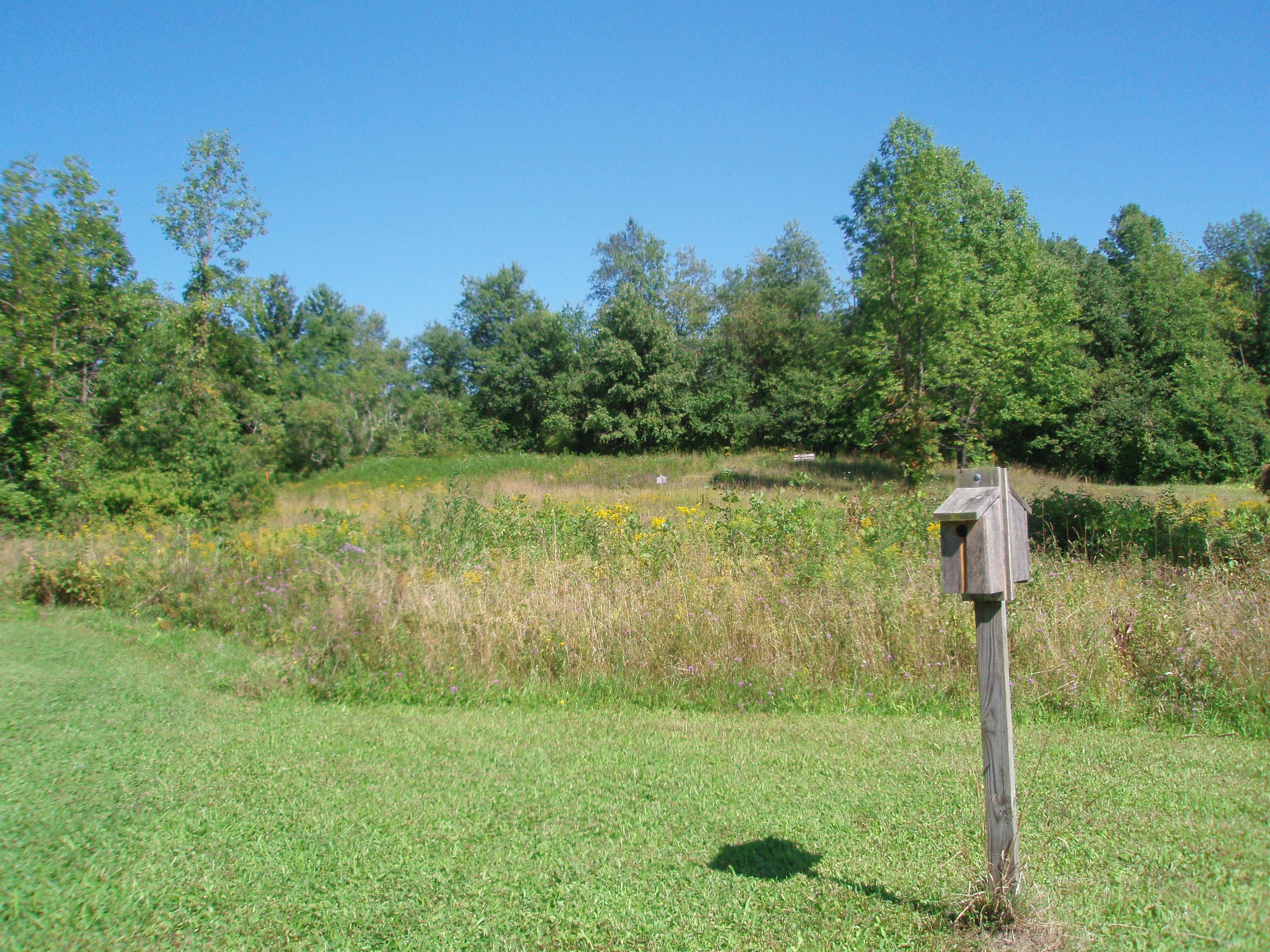 The blue trail starts out from the parking area just west of the Herb Garden, through a small evergreen plantation and the remains of a grove of willows.  The right fork then travels through the fields, shrubby meadows and young hardwoods.  A small loop through older hardwoods and conifers returns to the main trail section.  Then the trail continues along a series of stone walls and nearly to Rice Creek before turning southward parallel to the where Rice Pond's outlet rejoins the creek, the fish ladder, with creek side bench.  Thereafter, it returns to the willow grove and then the Herb Garden.  More>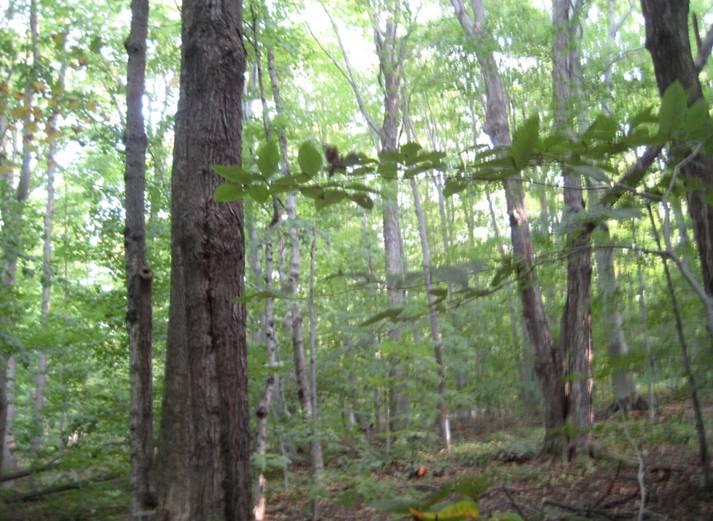 The red trail starts at the parking area just east of the garage travelling northward up to the farm pond, Hilton Pond, at the top of a drumlin through transitional (pioneer) woodlands, evergreen plantations and fields.  It then makes a short loop through the mature woodland before returning southward across transitional woodlands, hedgerows and fields.  A raised walkway over a seasonal brook through the mature woodland and bench overlooking the fields and shrubby meadows of the blue trail to the west compliment the trail's natural features.  More>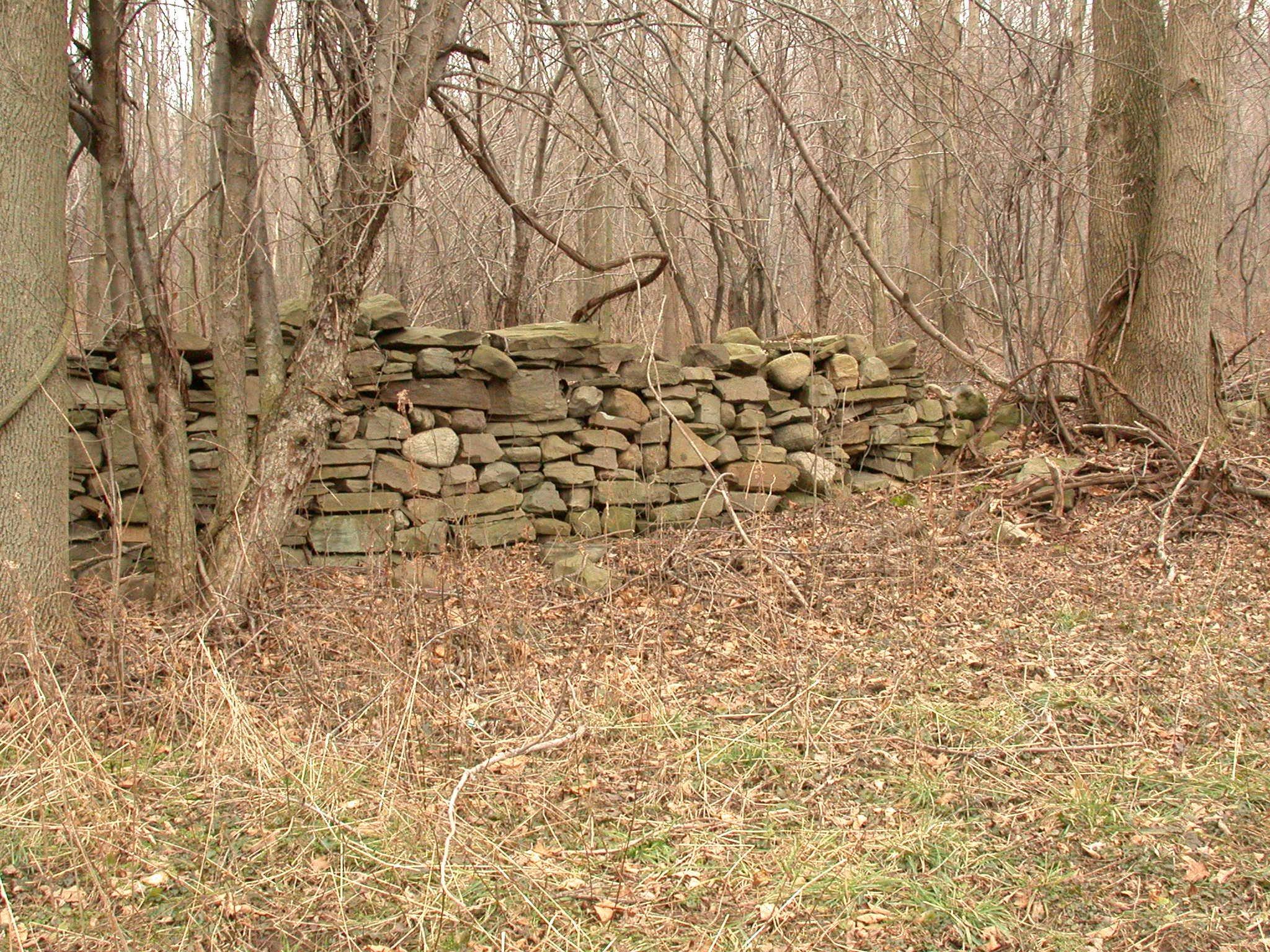 The orange trail has three entries:  from the Thompson Road parking area, the start of the red trail adjacent to the garage, and the Fallbrook lands to the south of the field station.  All entry points connect to the main trail section that continues northward until it reaches the north edge of the property, then following a perimeter route westward and southward to join the blue trail headed east and return to the main north-south orange trail section.  Returning south along this main section rejoins the spurs to each of the three entry points.  This trail features evergreen plantations, transitional and mature woods, open areas, and stone walls.  As a former horse trail and due to the drumlin topography, this trail can be very wet seasonally.  The orange trail is the most natural trail on the property and is frequented by hikers, cross country skiers, snowshoers, and mountain bikers.  More>