Planning ahead is key in the graduate/professional school application process. Use the general timeline below to help guide you through the application process:
Timeline
Begin researching available programs

Review grad school guides/directories Request promotional materials
Visit schools' websites
Talk to faculty/alumni/current students in the program

Start exploring financial aid resources
Sign up for the required standardized test and take a practice test
Identify potential letter of recommendation writers
Set up an appointment with Career Services to discuss a plan.
Develop your personal timeline for applying.
Order an unofficial transcript and correct any discrepancies
Take the required standardized test
Write the first draft of your personal statement/statement of purpose
Request your letters of recommendation from faculty
Order official transcripts
Write final draft of your personal statement/statement of purpose.
Investigate funding sources.
Complete and submit your applications
Apply for the financial aid available through the graduate program: assistantships, fellowships, scholarships, etc.
Complete and submit federal and state financial aid applications
Visit prospective campuses if possible and talk to faculty and students to help you make your final decision
Follow-up with schools to make sure your file is complete
After receiving acceptance from the school of your choice, send in the required deposit and contact other schools to decline acceptances
Write thank you notes to people who helped you
Admissions Exams
You took the SAT or ACT for entrance into college. If you want to go to graduate school, you may need to take another entrance exam. Graduate school entrance tests are field-specific:
LSAT - Law School
MCAT - Medical School
GMAT - Business School
GRE® - Graduate School
MAT - Graduate School
DAT - Dental School
PCAT - Pharmacy School
OAT - Optometry School
Letters of Recommendation
Recommendation letters are a critical part of your graduate school application. An effective letter should provide those making admissions decisions with an assessment of your potential as a graduate student and/or researcher. How you request a letter of recommendation influences the quality and type of response you receive from your recommender.
Below are some tips for making your request:
Who should you ask to write recommendation letters?
Recommendation letters should be written by someone who knows you well academically and can provide an evaluation of your ability to perform and succeed at the graduate level. Faculty members most commonly write letters of recommendation. Consider any professor:
who has seen your best academic work
with whom you've participated in a research project
with whom you engaged in a semester-long project
with whom you visited during their office hours
with whom you still communicate
How to approach potential letter writers
Make a list of professors and/or supervisors who will be your best advocates
Set up an appointment to discuss your request in person (do not make the request via email if possible)
During the meeting discuss your academic interests further and your desire to apply to graduate school
Ask them if they are willing to write you a strong letter. If you sense reluctance or the answer is no, ask someone else. Here are some ways to ask:

Do you feel you know my work well enough to write me a good recommendation letter?
I know you are very busy, but do you think you could find the time to write me a strong recommendation letter?
Information to share with your letter writers
Once someone agrees to write you a recommendation letter then be sure to provide the following information with them:
Resume, cover letter or personal statement used to apply
Copy of your transcript
A list of the schools and programs to which you are applying

Due dates for the letters with the earliest due date at the top
Links to or information on where they can submit the letters

Related academic and research activities (poster presentations, research papers, class projects, internship programs, etc.)
Honors and awards received
Information on how to get in touch with you in case they need to reach you
What you would like emphasized in the letter(s).
Check your specific graduate program's letter of recommendation guidelines. If there is specific information being requested, advise your letter writer to include this information.
When to approach letter writers
Give your recommenders at least several weeks' notice. You do not want your recommenders to be rushed; instead, you want to give them enough time to write a comprehensive and accurate letter.
Check with your recommenders to make sure they submit the letter, but do not pester them.
What if I plan to take some time off before I go to graduate school?
If you plan to take some time off before going to graduate school, don't wait until you want to apply to graduate school to ask for letters. Your professors could be on sabbatical or you may not be fresh in their minds anymore. You can ask professors for a "general" letter of recommendation before you leave SUNY Oswego. When you are ready to apply to graduate school, contact professors again, and ask them to update your letters.
Send a note of gratitude as soon as recommenders write you a letter. Keep in touch – let you recommender know the status of your application. Be sure to let your recommenders know the final outcome of your graduate school search.
The personal statement is one of the most important pieces of your graduate school application because it:
Gives the reviewers an understanding of your academic background and interests
Allows you to illustrate in your own words what sets you apart from other applicants
Helps them determine if you are a good match for the program to which you are applying
Shows your communication style and ability
Tips for writing your personal statement
Usually the purpose is to persuade the admissions committee that you are an applicant who should be chosen.
Pay attention and follow instructions very carefully – every program is different and some have specific items/topics they want you to address.
Be sure to answer any questions fully.
Indicate what you would like to study in graduate school in enough detail to convince the faculty that you understand the scope of research in the discipline, and are aware of research trends.
Know your audience - thoroughly research the program, its faculty and research focus areas
Describe why you are a good fit for the program, and why the program is a good fit for you
Describe your academic background, achievements, preparation and training in enough detail to show your experience and preparedness in the field:

Skills you have learned from academic, lab or research experiences (e.g., undergraduate coursework, research opportunities, scholarly writings, jobs in the field, presentations, etc.).
Co-curricular opportunities you have had that show leadership, ability to work with a diverse group of people, teaching skills, etc.

Demonstrate that you are self-motivated, persistent, competent, and have the skills necessary to be successful in graduate school
Proofread and pay close attention to details – they really matter!
If you need some help figuring out what to write, make an appointment with a Career Coach to come up with a plan.
Once you have done a draft, show it to people you trust such as faculty, advisor, letter of recommendation writers, etc.
The best people to review your statement are those who know you well and have excellent writing skills.
Statementofpurpose.com is an excellent resource that includes essay critiques and writing tips.
Check out Purdue's OWL (Online Writing Lab) - "Writing the Personal Statement" resource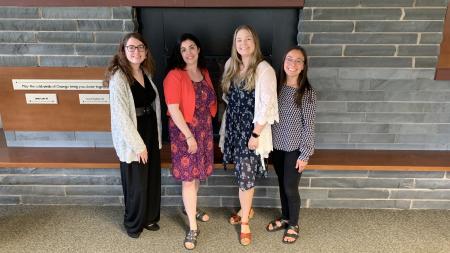 Meet with a Career Coach
Schedule an appointment with a Career Coach to walk you through Graduate School prep.
Make an Appointment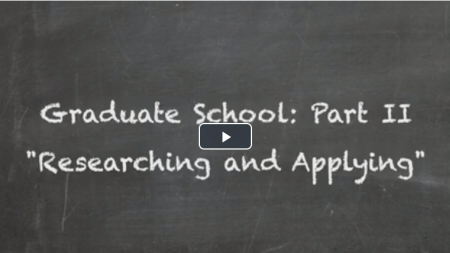 Video: Applying to Graduate School
Once you've made the decision to further your education with graduate school, you can now focus on the application process. From test prep to letters of recommendation, Billy walks through everything you'll need to be ready!
Watch Video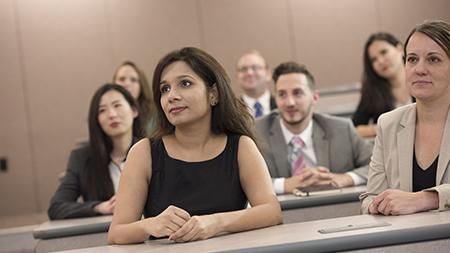 Apply for SUNY Oswego graduate programs
Whether you're looking to increase your earning potential, ascend to a leadership position, or launch a new career path, one of Oswego's graduate programs will be a pivotal next step in accomplishing your goals
Apply Now