Virtual Career Fair for People with Disabilities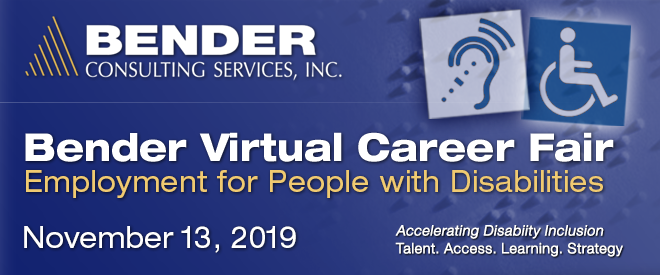 Virtual Career Fair for People with Disabilities
Wednesday, November 13, 2019
9am to 6pm
Are you a person with a disability . . . looking for a career opportunity or internship?
Free event to students and alumni with disabilities!
Competitive opportunities for every level of candidate, from experiences professionals, recent college graduates and college students with disabilities, to meet online with employers across the nation!
Students and alumni are invited to interact with employers via chat sessions.
Connect with employers looking to hire people with disabilities.
Access opportunities within a wide range of careers.
chat with employers across the nation
public and private sector opportunities
Interview with ease
Participate from the comfort of your home, your dorm room or your favorite coffe shop!
Discuss careers and internships with multiple employers
End-to-end accessible technology platform
Career fairs with less hastle
Save time and money.
Register at www.careereco.com/events/disability
For more information, contact: bender@careereco.com or call 770.980.0088
Recruiting companies include:
Amersesco
Employment Options
Naval Information Warfare Center (NIWC) Atlantic
ACT, Inc.
Aetna
Ansys, Inc.
Carilion Clinic
Chemonics International, Inc.
CMS Energy
Community Mental Health Authority of Clinto, Eaton & Ingham Counties
Defense Finannce and Accounting Service (DFAS)
Epic
Federal Deposit Insurance Corporation (FDIC)
FirstBank Holding Company, LLC
Florida International University
Gallup
Gartner
General Dynamics Mission Systems
Glacier Bancorp, Inc.
Greater Des Moines Partnership
Institute for Defense Analyses
Intercontinental Exchange
KeyBank
MicroVention
National Security Agency
Naval Surface Warfare Center, Crane Indiana
NAVSEA NSWC Indian Head EOD Explosive Ordinance Disposal Technology Division
Rangam Consultants
Rehrig Pacific Company
Royal Technologies
Sage North America
SCS Engineers
Simmons Bank
Tradeweb
Travelers
Turner Broadcasting System, Inc.
United States Secret Service
USAA Real Estate Company
WR Systems
WVU Medicine