Suit up! Get professional attire at a real bargain
Want to win $250 in cold hard cash to spend at Suit Up? Follow all the steps below and you will be entered to win!
Follow SUNY Oswego Career Services on Facebook, Instagram or Twitter
Tag 3 friends in the comment section of one of social media giveaway posts
Click on the following link to enter your contact information suitup.hscampaigns.com
Winner must be a current SUNY Oswego student attending the Suit Up event. We'll contact you by email or phone on Feb. 17! Contest ends 2/17 at Noon.
Sunday, February 18, 2018, 6:30-9:30pm
We have partnered with JCPenney's at Destiny USA in Syracuse to help you update your professional wardrobe at a VERY low cost. Students will receive free charter bus transportation from campus to the store and back, and all professional attire will be discounted 40% off the lowest ticketed price. Generally, this will result in at least ½ off all suits, shoes, blouses/shirts, socks/hosiery, ties, scarves, etc.
CHECK OUT OUR VIDEOS ON DRESSING FOR SUCCESS
Details:
The entire store is closed to the public and open ONLY to SUNY Oswego students.

Unlimited number of Oswego students can attend; free transportation is limited to first 220 that register. We have contracted with Onondaga Coach lines to take students to Destiny USA and back.

The store will be hyper-stocked and hyper-staffed to accommodate all students.

Store staff will be available to take fittings, assist with merchandise and color/matching selection, manage alterations, etc.

Think about stocking up on JCPenney gift cards during the holidays!

We'll have food, music, balloons, etc. – a true SUNY Oswego event!
Reserving Your Seat On The Bus!
To receive free transportation, please register here in order to reserve your seat on the bus.

If you are NOT taking the bus, no need to register with us - you can just meet us at the store but be sure to bring your SUNY Oswego ID!

Once you register, we will provide information on bus pickup and drop off and other details.
If you are not taking the Suit Up bus to JC Penney:
Traveling to JCPenney's is easy! Directions are below - but when you get there, look for the yellow and green balloons outside of the main entrance. We'll be waiting to check you into the store, provide you with a bar code coupon that will give you the discount. Be sure to bring your student ID!
Take 481S for about 30 miles to exit 9s (Rt. 81S)
Take 81S to exit 22-23A-23B for NY 298/I-690.
Keep right to continue on exit 23B, follow signs for Destiny USA.
Turn right onto Carousel Center and you'll see the store front entrance
GPS Address: 9559 Destiny USA Dr Destiny USA Dr, Syracuse, NY 13290
You will want to arrive at the entrance at 6:30pm to check in. The event lasts until 9:30pm, shop as long as you like!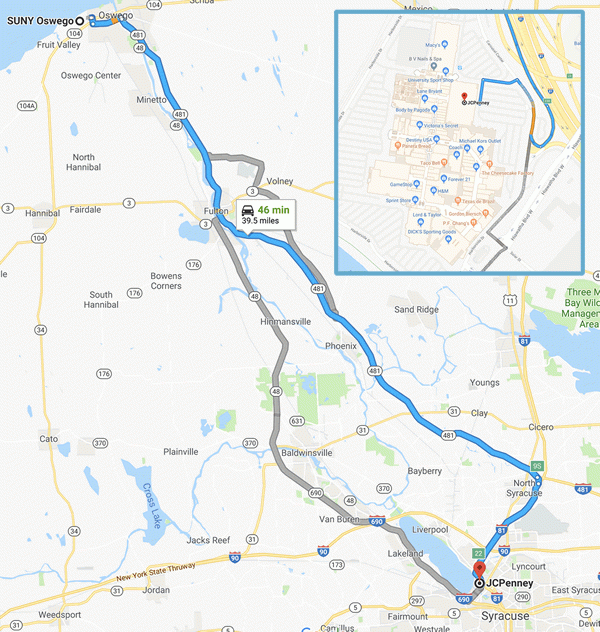 Questions?  
Feel free to drop by our office, call us at 315-312-2255, or drop us an email: careerservices@oswego.edu