Oswego Writing Institute
"I always leave with fresh ideas to use in the classroom. I feel it's almost like a retreat before taking on the challenges of a new school year."
Mission:
To provide high-quality professional development in writing process and teaching writing for pre-service and in-service educators who design and provide authentic literacy experiences for all student writers 
Description:
The Oswego Writing Institute is a vibrant community of readers and writers who believe in the impact of teachers as writers and the power of words to create change; who continue to explore what writing is, the authentic purposes writing serves, the natural connections between reading and writing, and effective writing curriculum, instruction, and assessment at all levels for all learners. 
Objectives:
Participants will engage in and dialogue about the writing process with award-winning authors, other professional writers, college faculty, and teacher leaders who model and share best practices in teaching writing.  Participants will apply their growing knowledge of themselves as writers to their own teaching of writing, including writing curriculum, instruction, and assessment at all levels (p-16). 
"The institute has reaffirmed many of the strategies I started reluctantly putting into practice last year. I feel I have a better sense of how to approach research strategies and writing and more of a drive to find time for my own writing."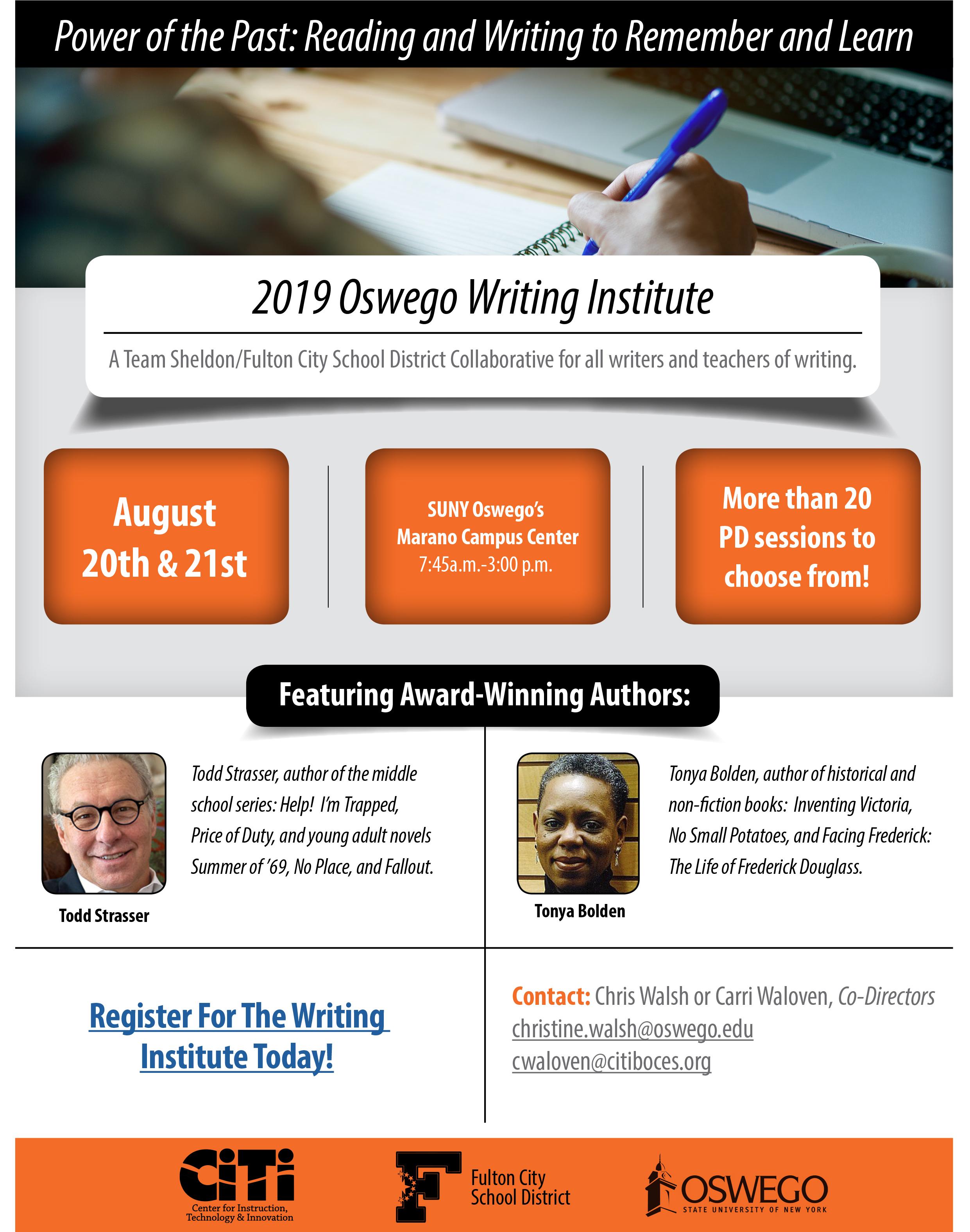 Registration:
The SUNY Oswego Writing Institute will be held on August 20th and 21st, 2019 from 7:45 am - 3:00 pm in the Marano Campus Center.  There are more than 20 PD sessions to choose from!  This year's featured award-winning authors are: Todd Strasser, author of the middle school series: Help! I'm Trapped, Price of Duty, and young adult novels Summer of '69, No Place, and Fallout and;  Tonya Bolden, author of historical and non-fiction books: Inventing Victoria, No Small Potatoes, and Facing Frederick: The Life of Frederick Douglas.  You can register in MYLEARNINGPLAN (Oswego County BOCES Catalog) or by Google Form.  For more information, contact Chris Walsh or Carri Waloven, Co-Directors - christine.walsh@oswego.edu or cwaloven@fulton.cnyric.org
"I intend to bring the passion for writing that I saw shared here to my classroom. I also learned some practical, hands-on ideas that I will use - conferencing with my students, using mentor texts, using standard-based rubrics, etc."
Keynote Authors:

2019-

Todd Strasser and Tonya Bolden

2018-Javaka Steptoe and Deborah Heiligman
Afternoon keynote-Tim Conners
2017-Meg Medina and Steve Sheinkin
Afternoon keynote-Sean Kirst
2016-Gary Schmidt and Carole Boston Weatherford
2015-Matt de la Pena and Linda Sue Park
2014-Jerry Pinkney and Laura Vaccaro Seeger
2013-Mordecai Gerstein and Susan C. Bartoletti
2012-Barry Lyga and Suzanne Bloom
2011-Ellen Yeomans

Archive Flyers:
Oswego Writing Institute Award Recipients
Each year we recognize one or two individuals in the Oswego and/or surrounding Community who has demonstrated a strong commitment to literacy and authentic literacy teaching and learning.
2019 - Cheryl Beck, reading teacher, Fitzhugh Elementary School and Literacy Education adjunct professor, SUNY Oswego
2018 - Tim Conners, motivational speaker and founder of MounTimPossible, and Mary Harrell, professor emeritus, author
2017 - Gina Salerno, literacy coach, Fulton City School District
2016 - Liz Stoddard, administrator, Fulton City School District
2015 - Mike McCrobie, author and retired English teacher, Oswego High School
2014 - Dan Rose, 8th grade ELA teacher, Oswego Middle School
2013 - Sharon Kane, literacy professor, SUNY Oswego
2012 - Bill Reilly, owner, the river's end bookstore, Oswego
2011 - Joan Fitzgibbons, reading specialist, Oswego City School District
OFFICE
School of Education
302 Park Hall
CONNECT WITH US