John O'Brien ('85)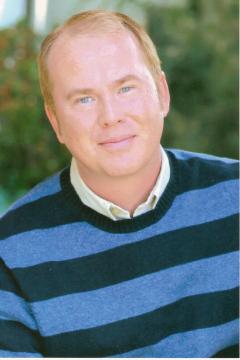 John O'Brien graduated from Oswego in '85 with BA in Theater.  Studied mostly with Mark Cole, Rosemary Nesbitt and Ron Medici. Appeared at Oswego in Peer Gynt, Miracle on 34th Street, The Glass Menagerie, Sweet Charity and School for Scandal.  
John was also a member of Statesingers, under the direction of music professor Dr. James Soluri.
Lived in New York City after graduation for several years, working in summer stock, off-Broadway and cabaret clubs, winning a 'Best Musical Comedy Performance' award from the Manhattan Association of Cabarets for his one-man comedy show The Night Larry Storch Kissed Me.
John re-located to Los Angeles in 1996 and was a company member for many years with West Coast Ensemble, a theater company in Hollywood, where he appeared in The Diary of Anne Frank, Sylvia, A New Brain, To Kill a Mockingbird and Assassins.
He has mostly have focused on television and film work in LA.  Over the years, he has appeared on The X-Files, Friends, Desperate Housewives, Will & Grace, Mad Men, Prime Suspect, Law and Order: LA, NCIS, Grey's Anatomy, Community, Drop Dead Diva, Hand of God, Superstore, Criminal Minds, Mom, The Mindy Project and Shameless, as well as the films Enough, The Bucket List, Being Flynn, Godzilla, The Student and The Last Heist.  He also had a recurring role as 'Principal Hackett' on Pretty Little Liars.  
He currently lives in West Hollywood.