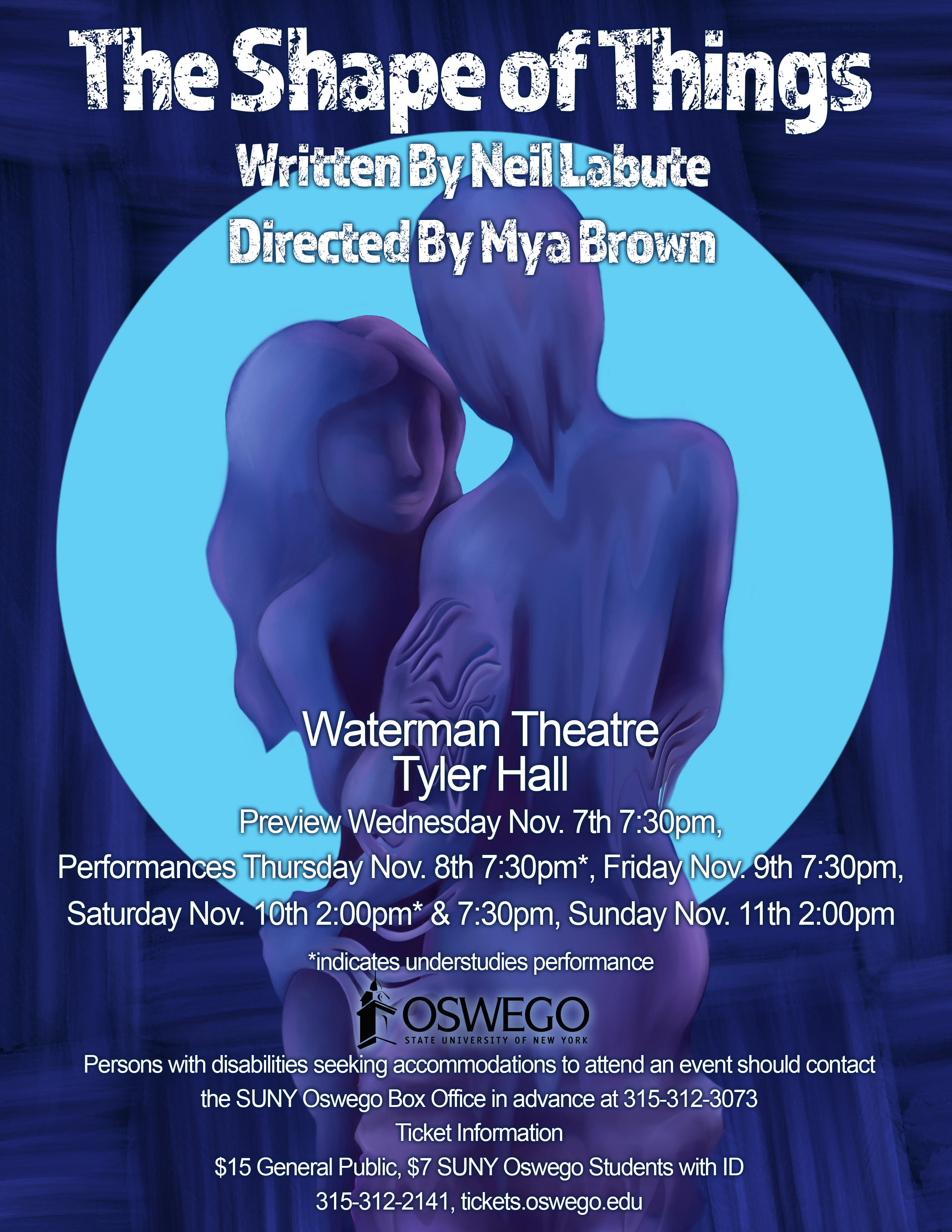 The Shape of Things
SHOW CLOSED
November 7-11, 2018
Waterman Theatre
What goes into shaping who we are? How much control do we have? When unathletic, unassuming college student Adam meets the exciting, savvy Evelyn in the midst of an attempted act of vandalism, his world opens up. The unlikely, sudden romance between the pair sees Adam blossom and evolve, as Evelyn guides him to improve his style, physical appearance, and choice of friends, yet it is not until Adam is almost unrecognizable that he realizes the cost. Neil LaBute's stunning play has shocked audiences since its 2001 London debut, and SUNY Oswego's new production promises a searing, controversial meditation on art, culture, and influence.
Playwright: Neil Labute
Director: Mya Brown
Dramaturgy Hub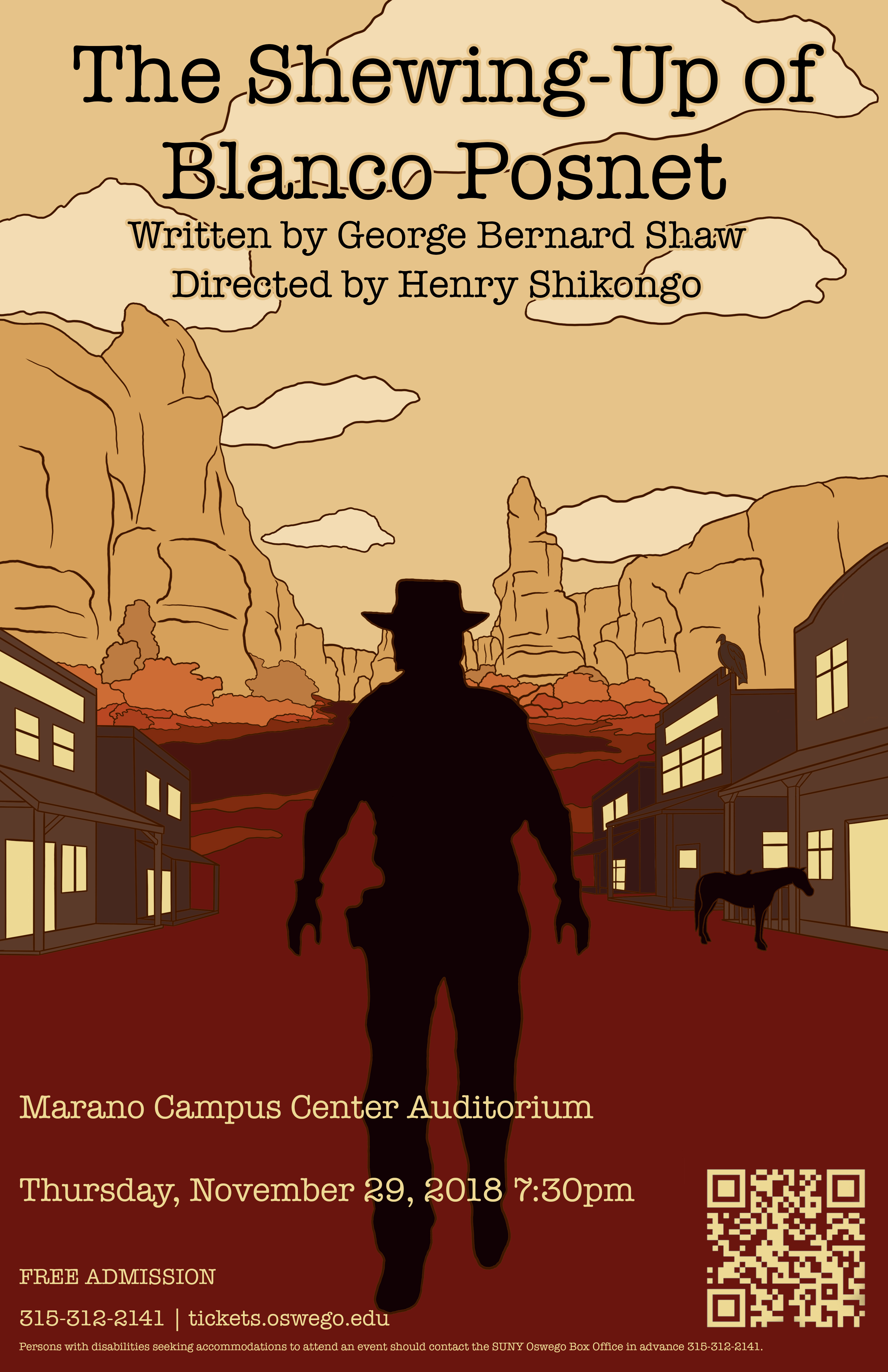 The Shewing-Up of Blanco Posnet
SHOW CLOSED
November 29, 2018
Marano Campus Center Auditorium
This one-act comic melodrama is set in a rotten Wild West town filled with rotten people. Townsfolk spend their time drinking, smoking and cheating, and nothing makes them happier than an excuse to hang people… especially horse thieves. When a lone cowboy named Blanco Posnet is accused of stealing the sheriff's horse, a trial is set, the locals demand blood and morality is on the line.  Banned in its day, George Bernard Shaw's "sermon in crude melodrama" explores concepts of morality, judgment, and hypocrisy through earthly and divine authority, and investigates the darkest parts of human nature. Director Henry Shikongo and a student cast present a staged reading of Shaw's little-known sermon on morality.
Dramaturgy Hub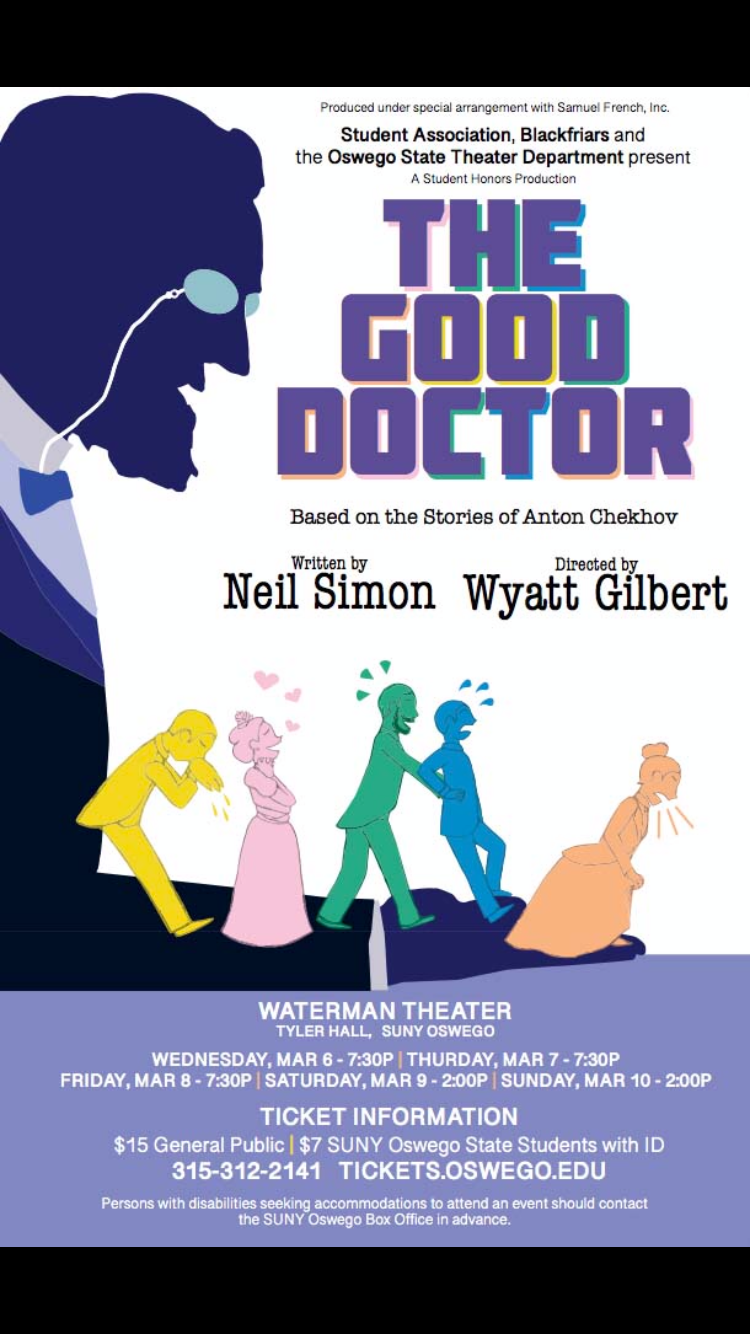 The Good Doctor: A Play With Music
SHOW CLOSED
March 6-10, 2019
Waterman Theatre
A mistimed sneeze, a foolish drowning stunt, a helpful cuckold, an enthusiastic dentist, a boy reluctant to face manhood: this is just some of what happens when you cross the stories of Anton Chekhov with the wit and whimsy of Neil Simon!  In this unforgettable series of ten short plays with music, we are transported to nineteenth century Russia for an up-close view at a series of absurd, surprising tales, all presented as this year's Blackfriars Student Honors production.
Playwright: Neil Simon
Director: Wyatt Gilbert (Junior, Acting/Directing)
Dramaturgy Hub
Perfo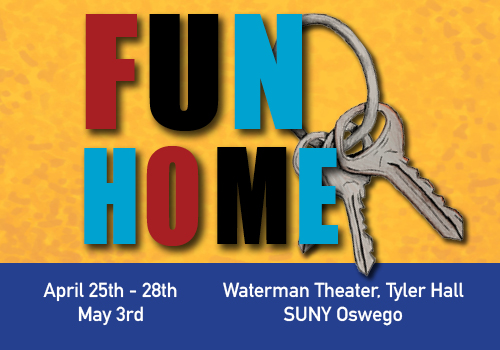 Fun Home: A New Musical
SHOW CLOSED
April 25 - May 5, 2019
Waterman Theatre
Growing up is never easy, but when your home is a fastidiously-maintained collection of museum pieces that happens to double as the town's funeral parlor, it's really confusing.  Based on the acclaimed graphic novel memoir by Alison Bechdel, Fun Home is a tender, heartbreakingly hilarious musical that depicts Bechdel's memories of growing up in this museum/funeral home ("Fun Home" for short), her relationship with her family, and her own coming of age.  Winner of the 2015 Tony Award for Best Musical, this achingly honest work brings laughs and tears, often in the same moment.
Playwrights: Lisa Kron and Janine Tesori
Director: Jonel Langenfeld
Dramaturgy Hub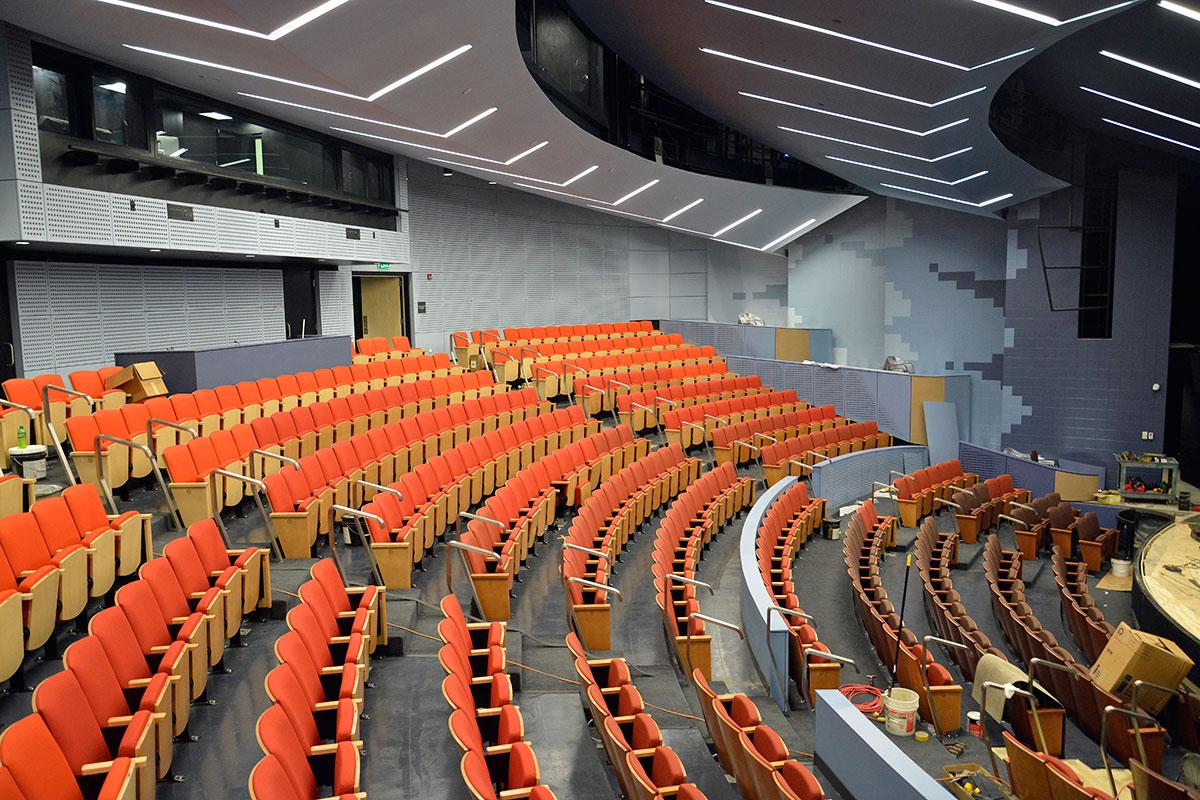 Unsolicited Scripts
SUNY Oswego Theatre occasionally receives requests about the potential of submitting a newly-written play for consideration for inclusion in a future departmental season.  Due to the logistical restrictions of our season size and our directors' priority for thematic programming that matches our department's pedagogical goals, this makes the addition of unsolicited manuscripts impossible. Additionally, without dedicated resources for new play development, we are unable to offer workshop or development opportunities, and submitted scripts will not be read or returned. If you have an interest in renting the Waterman Theatre for a specific event, please refer to this link, where you may inquire about space in the busy performing schedule. We thank you for your interest.
Additional questions?