A unique, hands-on theatre experience where students learn by doing.
Dedicated  study tracks - Acting/Directing, Design/Technical Theatre, History/Criticism, and Music Theatre - allow students to focus on their specific area of interest, with the opportunity to branch out and gain valuable experience across a range of theatrical areas. At SUNY Oswego Theatre, we place our students at the center of the creative experience. With an active student body, a first-rate group of faculty and professional staff, and a world-class technology range, SUNY Oswego offers opportunities to contribute throughout your degree program. As a member of the School of Communication, Media and the Arts (SCMA), SUNY Oswego Theatre also encourages inter-disciplinary collaboration and interaction. Students have the opportunity to perform in one of our many on-campus locations, which includes black box studio spaces and the newly renovated Waterman Theatre, a 426-seat proscenium stage. Programming includes the classical canon, modern American works, musical theatre, and new plays, while each season is highlighted by the unique Blackfriars Student Honors Production, an entirely student-driven mainstage performance mentored by department professionals.
OER Stories With Mya Brown
Professor Mya Brown was featured on SUNY OER Services' podcast OER Stories to highlight her use of Open Educational Resources in her classroom here at SUNY Oswego!
OER Stories
How to Make an Impression as a New Theatre Major
New interim department chair, Ola Kraszpulska, has just published a fascinating view into what the new theatre major should expect at college, for TheatreArtLife: well done Ola!
Theatre.Art.Life.
Calling SUNY Oswego Theatre Alumni!
If you're a proud alumnus of SUNY Oswego's Theatre Department, we want to hear from you! Check out our new alumni page and update your information for networking opportunities, reunions, and more!
SUNY Oswego Theatre Alumni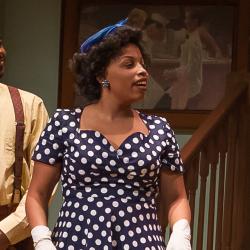 Spotlight
Ahmanee Simmons
Junior Theatre Major, Psychology Minor (Acting/Directing)
"SUNY Oswego Theatre is so welcoming: in no other major would you see the entire department come together and welcome you. It's almost as if they're saying welcome to the neighborhood. As a Major I've discovered so much, I can't even begin to form words."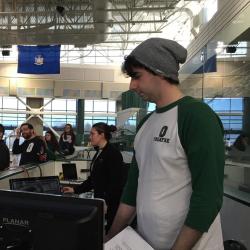 Spotlight
Devin Croad
Junior Theatre Major (Design/Technical Theatre)
"SUNY Oswego Theatre is special because it is a small community. Being able to grow outside of the theatre with friends, and then watching them excel on a project we all work so hard on is one of the best parts of SUNY Oswego Theatre."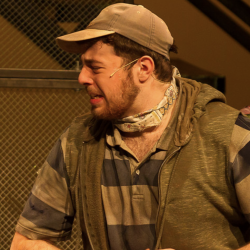 Spotlight
Sean Ryan
Sophomore Theatre/Communication and Social Interaction Major (Acting/Directing)
"The professors are who make SUNY Oswego theatre what it is. The faculty and staff take a hands-on approach to fostering the growth and artistic development of each student. The professors here are top of the line and truly care about the success of each student."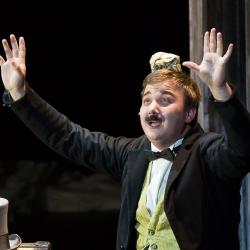 Spotlight
Wyatt Gilbert
Senior, Theatre Major (Acting/Directing)
"
I chose SUNY Oswego Theatre because I wanted an environment that would allow me to hone my skills so I can one day have a career doing what I love.
"
OFFICE
Theatre Department
29 Hewitt Union
Ola Kraszpulska, Interim Chair
Sally Van Buren, Secretary