General Information
Field Experience
Field experiences provide opportunities to observe and apply theory learned in an authentic classroom and practical setting, in addition to working with a full range of students of varying ages and abilities, as well as different racial, ethnic, socioeconomic and linguistic backgrounds.
At all levels of field experiences, candidates are asked to act as "participant observers," closely monitor all classroom/setting interactions, and seek ways to contribute to the environment in which they are placed.
The Field Placement Office works closely with the Curriculum and Instruction Department and the Technology Education Department to arrange field experience for teacher candidates. The configuration and placement procedures for each field experience vary depending upon your program and the block you are completing, but all field experiences are a requirement of a specific course and are directly linked to course content.
Student Teaching
Your student teaching experience has been carefully designed to be as realistic and as intensive as actual teaching. During student teaching you will demonstrate the skills and knowledge you have acquired through your education classes and previous field experiences. You will be supervised in your classroom by a certified and experienced cooperating teacher who has been successful in a classroom of their own.
Student teachers are also expected to participate in any required staff development including, but not limited to Superintendent's Conferences and faculty/department meetings. Student teachers are encouraged to participate in after-school activates, school functions, etc. Assignments include, but are not limited to lesson planning and adaptation, effective classroom management techniques, effective communication skills, strategies for working with special needs students, and use of developmental and content reading and writing strategies as part of the integration of language arts processes.
To be eligible for New York State certification, all candidates registered in a teacher education program are required to student teach and/or complete an internship under a college supervisor.
General Information
Placements
The Field Placement Office is responsible for making all placements, therefore all placements must be arranged through our office. We work hard to maintain excellent relationships with cooperating schools and are required to abide by their placement procedures and comply with all school and district policies. For student teaching, it is also important that we make sure we have trained college supervisors available in a certain area. Please refrain from seeking your own placements with an informal request, this can delay your placement as well as placements for other candidates. If a teacher has requested you for student teaching, all efforts will be made to honor that request, however, no placement is guaranteed. 
Notification
The Field Placement Office will notify you of your placement via email. Placements that are confirmed within 1-3 days prior to your start date will also be sent by email or phone call.
Interviews
It's common for teachers and principals to request a student teacher interview prior to their acceptance. If you are called for an interview, respond promptly and treat it with the same professionalism that you would a formal job interview.
Disability Arrangements
If you need disability arrangements, please contact the Accessibility Resource Services Office 315.312.3358, dss@oswego.edu, or visit them in 155 Marano Campus Center. The Field Placement Office will arrange accommodations for you based on their determination of needs.
Absences and Holidays: Student Teaching
You are required to attend student teaching every day, however in the event of absence or tardiness due to illness or other unavoidable emergencies you must:
Call your college supervisor, cooperating teacher, and the school office as soon as possible but no later than one hour before school starts on the day of the absence.
Arrange delivery to your cooperating teacher all materials that are necessary for instruction on the day of the absence.
Follow school district policies for reporting and documenting teacher tardiness or absence to the school officials.
Student teaching candidates are to follow the vacation/holiday schedule of the district that they are student teaching in, not the SUNY Oswego vacation/holiday schedule. 
Coursework and Employment
Student teaching requires a full-time commitment on the part of the candidate, therefore normally no other courses are taken during this period of time. In addition, student teachers are discouraged from holding part-time, evening and weekend jobs, as these added demands will cut into time that should be spent planning and preparing lessons and materials, and will diminish opportunities for involvement in after-school meetings and extra-curricular activities.
Deferment
If you decide to defer student teaching for a semester, please notify the Field Placement Office in writing immediately. You will then need to reapply online for student teaching for your chosen semester.
Field Placement Office History
These field experiences marry theory, methods and practice for each of our teacher candidates. Established in 2001, more than 1,000 placements are made in nearly 300 schools and other agencies during each academic year.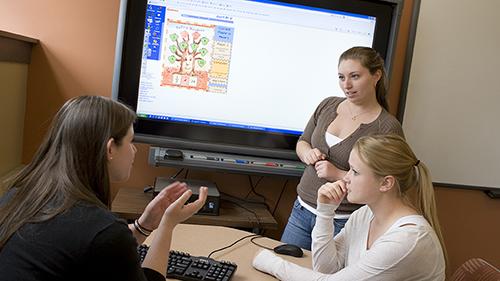 Registration, orientation and placement information for