Chemistry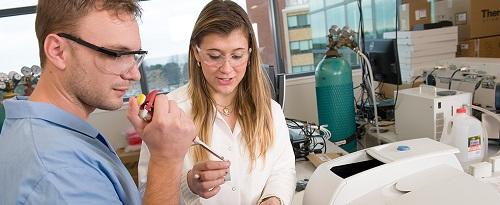 Oswego's chemistry program is accredited by the American Chemical Society and has been placed in the top three in the number of certified degrees award in New York. Outstanding research facilities  in the Shineman Science Center, hands-on research opportunities (including a robust summer research program), a network of impressive internship openings and faculty committed to student development keep this program -- and its graduates -- in demand. Faculty have received many awards including Distinguished Teaching Professorships, Chancellor's Award for Excellence in Teaching, the President's Award for Outstanding Research, Research Mentorship. In addition, faculty has been very successful in receiving  research grants to keep its research program at national and international level.
The program offers freshman seminar course to keep you informed about all the opportunities within college and program in your first year. Students will be kept as a small cohort for chemistry courses to increase their interaction with our faculty and with each starting their freshman year. We will guide you starting your freshman year so you can achieve your after-college goals, whether going into a professional school (pharmacy, medical, dental, etc), doctoral program, or industry.
The Chemistry program offers B.S.degrees in Biochemistry and Chemistry, B.A. degrees in Chemistry, and minors in Forensic Science and Chemistry. 
Contact
315.312.3048
296 Shineman Center
chem@oswego.edu
Newsletters