Beyond the classroom
Hands on learning
Research
Students learn how to think and work like a scientist alongside our faculty mentors in a professional laboratory setting. These valuable skills prepare undergraduate students for graduate school or a career right out of college. We provide several opportunities to engage undergraduate students in year long research activities, which students may begin as early as their first summer.
Our faculty has 25-30 sponsored summer research opportunities over the summer, and includes paid positions.
Learn more
Internships
A large network of internships and co-op opportunities, are among the ingredients for future success. Students can intern at Maryland-based W.R. Grace each summer or at any number of placements on or off campus.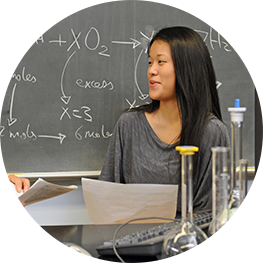 Academics
Honors program
Excel in chemistry and you may qualify for the chemistry honors program, which emphasizes independent study and research.
Prerequisites
A 3.2 GPA or above in chemistry and overall
A student is eligible for honors work after having completed CHE 212
Requirements
Completion of the degree requirements for the chemistry BA, chemistry BS (chemistry or environmental chemistry tracks), or biochemistry BS
Two (2) additional credit hours of research or the equivalent, under advisement. This can include CHE 397, 399, 494, 498, 499, an internship or an off-campus undergraduate research program. These research credits may be taken with more than one advisor
A 3.2 GPA in chemistry and a 3.2 GPA overall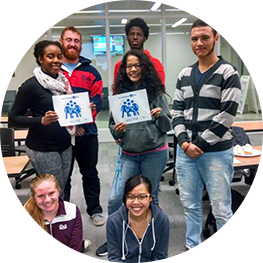 Clubs
Chemistry Club
Chemistry Club helps provides guidance to students as they prepare for their careers. Build lifelong friendships, explore chemistry outside of the classroom and learn to prepare and present technical material before audiences.
Chemistry Club Officers for 2017-2018
President: Edna Gennarino Lopez
Vice President: Mariah Foll
Secretary: Ryan Smith
Treasurers: Laura Smith & Illayda Kelley
Advisor: Kristin Gublo

Pre-optometry Club
Pre-optometry Club supports our students, promoting optometry as a possible career choice, and to provide guidance as they prepare for the optometry school application process.
Pre-Optometry Club 

Officers

2017-2018
President: Valerie Shoykhet
Vice President: Bianca Fernandez
Secretary: Callista Wlaschin
Treasurer: Gabriella DeAngelo