Successful graduates of the program pursue employment in the chemical and pharmaceutical fields, attend graduate programs in education, chemistry and biochemistry, and attend medical and optometry programs. Keep us up to date with your success after graduation.
Other opportunities include
Pharmaceutical development
Genetic engineering
Environmental science
Biotechnology
Graduate studies may include
Health related fields
Pharmacy
Engineering
Business
Alumni spotlight
Devin Busch, biochemistry '15
Pharmaceuticals
After I started working and met people from other colleges I realized how amazing the Oswego chemistry program really is. Most people I never got a chance to take the electives we had, like medicinal chemistry and proteomics or to do undergraduate research.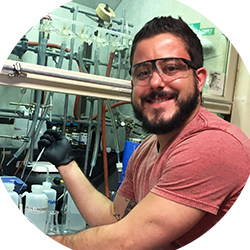 Alumni spotlight
Adam Szymaniak, '13
PhD candidate, organic chemistry
The opportunity to conduct research, engage in discussions with the faculty and fellow research students, inspired and prepared me for the competitive and challenging endeavor of working towards a PhD in Organic Chemistry at Boston College.
Graduate schools our alumni have attended
Albany College of Pharmacy
Albany Medical College
Colorado State University
Duquesne University
D'Youville Pharmacy School
East Carolina University
Florida International University
George Washington University
John Hopkins University
Louisiana State University
Rensselaer Polytechnic Institute
Rochester Institute of Technology
SUNY Buffalo
SUNY Upstate Medical School
Syracuse University
Texas A&M University
Tufts University
University at Buffalo
University of Cincinnati
University of Central Florida
University of Nebraska
University of Notre Dame
University of Rochester
University of South Carolina
University of South Florida
University of Utah
University of Washington
University of Wisconsin
Wake Forest University
Alumni employers
Aditya Birla Novelis
Albany Molecular Research Inc.
Bausch and Lomb
Biogen Idec
Bristol-Myers Squib Company
Corning
Exelon Nuclear
Enzo Life Sciences
Galson Laboratories
General Electric
Global Foundries
ICON
Infinicon
Johnson and Johnson
Lilly
Metrohm
Momentive Performance Materials
Microbac
Niagara Lubricant
Norwich
Schering-Plough
Thermopatch
Waters