Student Activities
Students benefit from classroom assignments, on-campus work opportunities and membership in professional organizations. These professional organizations are student-operated, faculty advised, and provide avenues to interact with and gain experience from professional groups within the business community.
Organizations
Officers of the student organizations can email business@oswego.edu with organization events for promotion on Facebook, Twitter or the plasma screen TVs in Rich Hall.
Alumni symposium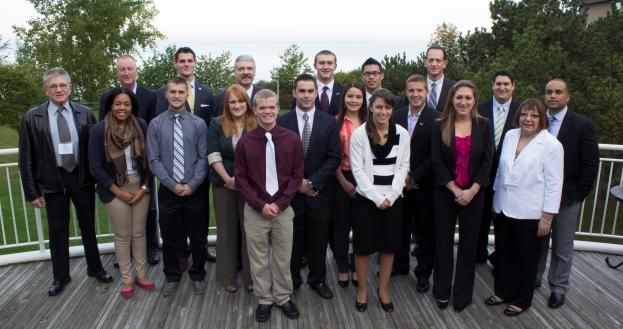 Co-sponsored by the School of Business and Oswego Alumni Association, the Alumni Symposium brings accomplished alumni back to campus each year to interact with current students. The objective is for alumni to share information about their respective experiences, both in college and in the work force.
Alumni speak in classes on topics such as college activities, networking, landing the first job, excelling in an organization, job search strategies and current issues in the business world. We attempt to place alumni in classes appropriate to their expertise. Students also have opportunities to receive additional mentoring, such as a resume critique or job search strategy through one-on-one appointments with alumni.
2013 alumni participants
Douglas Cypes '81: Vice President - USI Insurance Services
Charles Hubbard '70: Regional Sales Manager - Davis Standard LLC - Black Clawson
Sarah Kane '08: Principal Account Clerk - Office of Employment and Training
Jason Lupo '09: Operations Management - Target
Diane Marcus '72: Owner - Essential Business Etiquette
Erison Rodriguez '05: Regional Sales and Marketing Director - ProAct, Inc. (Kinney Drugs)
Richard Settembre '70: President - Way Cool Product
Tom Varian '98: President/CEO - Riva Payments, Inc.
Kate Wilcox '11: Client Services Coordinator - Manning & Napier Advisors
The goal of professionalism:
Professionalism as a specific goal is a necessary and desired objective for all business students. It relates to a high level of commitment in attaining personal and professional goals, concern for completion of academic and business tasks at hand, and to well-developed interpersonal relations with people in the workplace.