Recycling Information

Single-stream recycling
We can decrease the volume of solid waste we generate at SUNY Oswego by turning many of these disposable items into renewable resources through recycling. Recycling reduces our need to send solid waste to landfills or incineration plants.
What items can be recycled at SUNY Oswego?
Glass bottles
Metal cans
Plastic: food, cleaner and personal care bottles, jugs or tubs with the numbers 1 or 2 on the bottom
Paper beverage cartons: milk and juice cartons and drink boxes
Office paper: copy/printer paper, envelopes (no plastic windows), post-it notes, stationery, greeting cards
Other paper: newspapers, magazines, brown bags, gift wrap
Corrugated cardboard, and pizza, cereal, tissue or gift boxes (no food residuals or waxed paper)
Electronic equipment including computers, monitors, printers, photocopiers, typewriters, fax machines, shredders, network switches, projectors, cameras and broadcasting equipment.
Ink and toner cartridges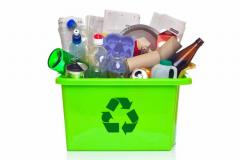 Where can I put items to be recycled?
You can find recycling bins in every academic building on campus. The bins are clearly labeled, and easy to find.
Corrugated cardboard and pizza, cereal, tissue or gift boxes can be placed in blue paper bins. These are located in the recycling room in every dormitory building. They are also located in acedmic buildings, on a smaller scale. If you have a large volume of cardboard, contact Facilities Operations (312.3200) to arrange for a pickup.
Electronic equipment including computers: Contact Lin Murray (murray@oswego.edu) at Inventory Control. Please include the following information in your email:  Name, contact information, make and model of the items, inventory decal number and location.
Ink and toner cartridges can be sent through campus mail to the Environmental Health and Safety Office, 110 Lee Hall (Building 4).
Where can I get containers for my workspace?
Submit a service request to your custodian.
What about batteries?
You can find battery recycling bins in all residence halls in their respective recycling rooms. Battery recycling bins are also in Penfield Library, Rich Hall and at the Marano Campus Center Welcome Desk.
Batteries accepted include alkaline (AA, AAA, C, D, 9-volt), nickel cadmium, lithium (laptop), nickel-metal hydride (radio) and lead acid. For any other types of batteries or for other questions, contact Eric Foertch of Environmental Health and Safety at foertch@oswego.edu.
Other questions?
Contact Rebecca Kempney of Facilities Operations at kempney@oswego.edu