Recycling Information
Single-stream recycling in Oswego County:
We can decrease the volume of solid waste we generate at SUNY Oswego by turning many of these disposable items into renewable resources through recycling. Recycling reduces our need to send solid waste to landfills or incineration plants.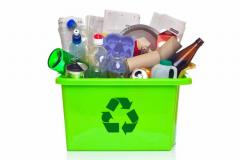 What about batteries?
You can find battery recycling bins in all residence halls in their respective recycling rooms. Battery recycling bins are also in Penfield Library, Rich Hall, the Marano Campus Center Welcome Desk, and the Sustainability Office in Hewitt Union. 
for more information on the disposal of batteries please refer to the following image:

batteries.pdf
Contact our office at sustainability@oswego.edu.