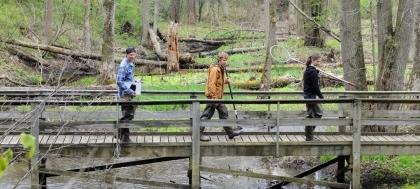 R.I.S.E. (Research and Individualized Student Experiences)
Through R.I.S.E., students are encouraged to take the knowledge they have acquired in the classroom and use it in real-world applications.  The selected projects are individualized to meet the interests of the students and to enhance their creative expression.  The student gains the valuable experience of developing a deeper level of knowledge in their field, as well as the satisfaction of contributing to previously unanswered questions. 
Summer Scholars
This vibrant summer research program offers undergraduates an opportunity to work one-on-one with STEM faculty on research projects while receiving a stipend and allowance for research costs. Participation is not limited to STEM majors, but half of the participants come from STEM disciplines. During the course of the summer program, students present their research to one another midway through, and attend lectures by faculty members. The culmination of the Summer Scholars program is participation in a research symposium, held early in the following fall semester.
Global Laboratory
Global Laboratory is an innovative six-to-eight week experience taking part in cutting edge STEM research at major doctoral granting universities around the world. Funded by private donations, SUNY STEM students have taken part in carrying out front-line research at universities in Brazil, the Democratic Republic of Congo, Costa Rica, India, South Korea and Taiwan. An innovative assessment plan has indicated significant gains in terms of student's learning, self-confidence, inter-cultural competence and cognitive development.
CSTEP (Collegiate Science and Technology Entry Program)
The CSTEP program aims to increase the retention and graduation rates of historically underrepresented and economically disadvantaged individuals in STEM fields, as well as those pursuing careers in the professions. Through CSTEP, students work one-on-one with faculty committed to student success, conduct independent research, and explore employment and graduate school opportunities.