Housing and meals
On-campus housing
International first year undergraduate students are required to live on campus for two years, while transfer students are required to live on campus for the Fall through Spring semesters. Certain exemptions apply, such as married students or students over 21 years old. Please contact the International Student and Scholar Services Office at isss@oswego.edu to see if you qualify.
There are 13 different residence halls on SUNY Oswego's campus. Students may choose to live in any of them, except for the Village Townhouse Apartments which are reserved for upper classmen who have already lived on campus for the required number of semesters.
Hart Hall Global Living and Learning Center
Most international students choose to live in the Hart Hall Global Living and Learning Community - a unique residential community focused on academic excellence and social responsibility within a global context. Each floor has a Graduate Resident Mentor and a Faculty Resident Mentor who assist students with their academic and social matters. Each floor has a TV lounge, kitchenette, study lounge, and wireless internet.
Residents of Hart Hall are required to register into a one-credit IST 190/390 course each semester. Students also have to complete 10 hours of approved community service each semester, in addition to successful completion of the IST 190/390 course, in order to main their residence in this dormitory.
Hart Hall staff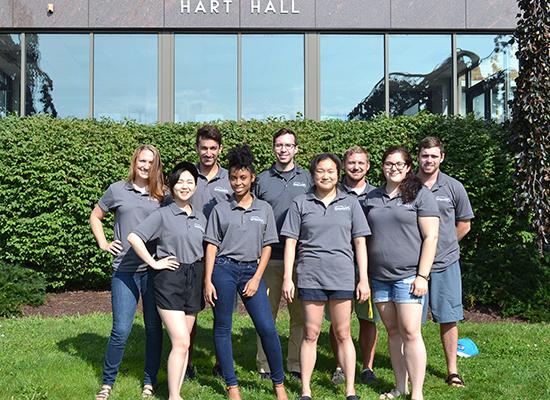 Lounge area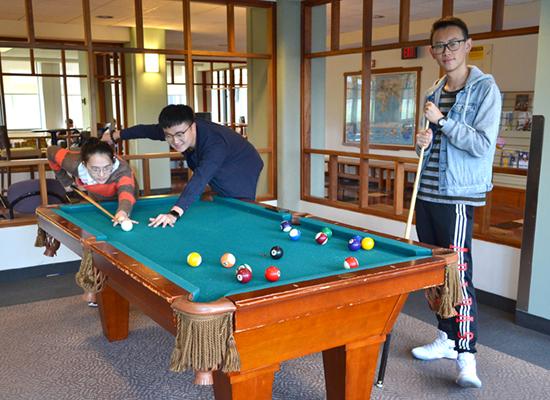 Hart Hall exterior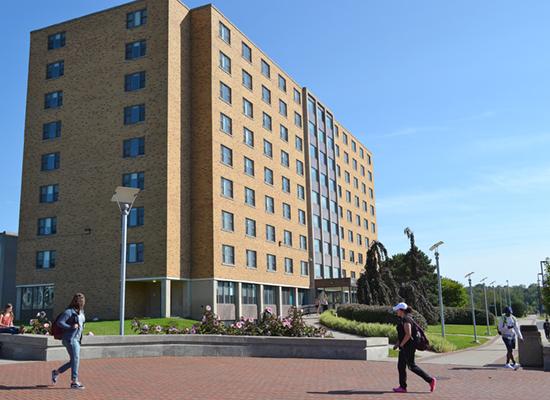 Off-campus housing
Upon completion of their on-campus residency requirement, students may choose to live off campus. There are affordable housing options for students within walking distance or a short bus ride from the SUNY Oswego campus. The local newspaper the Palladium-Times lists rentals in their classified section.
Agreement or leases between landowners and student/tenant(s) are private contracts. SUNY Oswego assumes no obligation for damages, payment of rent, or resolving differences between tenants and landowners. Students are indiviually responsible for their actions under municipal, state, and federal laws. Students are advised to read the terms of the lease carefully, understand the obligations, maintain the property, and obtain a copy of the lease.
Campus dining
There are five different dining centers on campus as well as several cafes. Students living on campus are required to purchase either a meal plan OR a combination of a meal plan PLUS Laker Dining Dollars. Students can choose which plan they would like to purchase, the cost of which is added to their total student bill. Meal plan options and pricing can be found on this page.