SUNY Oswego Facilities Services' mission is to ensure a safe, clean, comfortable, attractive and sustainable physical environment for the campus. Through the inclusion of the Oswego community on campus and the preservation of valued traditions, the department provides a campus experience of the highest standard. Across all branches of the department, Facilities Services necessitates production and performance to parallel that of the SUNY Oswego experience as a whole.
Campus Outages
Unplanned
May 16 2018 - 1:00pm
to
Jun 1 2018 - 4:30pm
Sheldon Hall
Unplanned
May 10 2018 - 8:15am Until further notice
Marano Campus Center
Unplanned
May 7 2018 - 9:00am Completion time unkown
Park Hall
News and announcements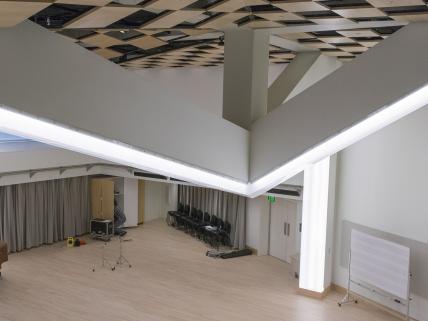 Using Tyler Hall as the central space for art and music courses creates a feeling of community and unification for students. After more than 50 years though, the building needed an upgrade. Thanks to the face lift, Tyler boasts several new or refurbished rooms and is receiving national attention.
Learn more