CTS 2nd Annual Phishing Tournament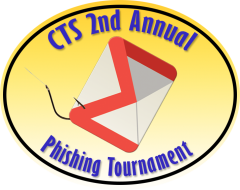 Since October is Cyber Security Awareness Month, Campus Technology Services will be hosting our 2nd annual Phishing Tournament. Our goal is to increase awareness of the ever-growing threat that phishing emails pose to our campus community.
During the tournament, whenever your SUNY Oswego email account receives a phishing email during the month of October, simply forward it to phishing@oswego.edu with the subject "Contest Entry". For every unique phishing message you send to us, you will be entered into a drawing for an Amazon gift card. The first place winner will receive a $50 gift card, 2nd place will win a $25 gift card and third place will be awarded a $10 gift card.
All faculty, staff and students are welcomed to participate. Please visit our Phishing Email webpage to view examples of these emails coming into our domain, and to learn more about them.
The contest will run from October 1st through October 30th. We will pick the winners on Halloween.
Fine print - CTS employees are not eligible. One winning draw per contestant.