State Employees Federated Appeal

Our 2018 Campaign Has Begun!
BREAKING NEWS FROM YOUR SEFA CAMPAIGN FOR FALL 2018!


United Way Lap-A-Thon is Thursday, 10/4 from 11am to 2pm in the Academic Quad! Check out the details!
Bakers Needed for our upcoming Bake Sales! Marano: Mon. 10/15, Mahar - Wed. 10/24, and Culkin - Tues. 10/30
Get your best PINK DAY gear ready - Go PINK on Fri. 10/26
Starting brainstorming your ideas for the Baskets of Caring - Wed. 11/14 & Thurs. 11/15!
Thank you to all who participated in the Cooper

 

Fitness

 

Center

 

Special

 

for Employees!

Fall Mum Sale results are now in!  Check them out!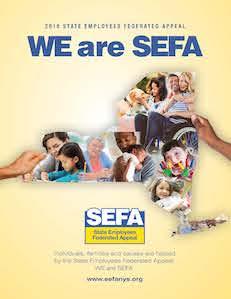 Link to SEFA Brochure 2018.pdf
(Central New York agencies can be found on page 85)