State Employees Federated Appeal
Last year, we raised $26,596.
Our goal for this year is $30,000!
BREAKING NEWS FROM YOUR SEFA CAMPAIGN FOR FALL 2019!


We are planning a special drawing for new/step up donors who pledge by Friday, December 13th. The winner will be awarded a $100 Visa Gift Card - just in time to help out with that holiday shopping!
Our Fitness Center Promotion launches on December 9th!  This fundraiser will offer faculty and staff a great opportunity to commit to their new year's resolution while supporting our campaign! Details to follow!
Giving Tuesday/Holiday Food Drive - SEFA is collecting canned and non-perishable food items now through Friday, December 6th. Please bring your donated items to your SEFA building representative.

Great news! We raised $600 toward the campaign goal at the Holiday Skate with the Lakers on Sunday, November 24th!
Campaign Update - as of 11/22/19, we have raised $27,712 toward our goal of $30,000!  We can exceed our goal with everyone's help!  Right now, we have surpassed the campaign total from last year! Please help us make the holidays even brighter for those in need in our community and beyond!
Results of the Food and Toy Drive are in!  The estimated value of items collected is approximately $4,250!
Congratulations to Mark Mirabito, winner of our second incentive drawing. Mark won a $50 gift card to Rivers End Bookstore donated by CSEA Local 611. Who will be our next winner?  Maybe YOU!
Congratulations to Barbara St. Michel, winner of our first incentive drawing.  Barbara won a $50 gift card to Ontario Orchards.  Who will our next winner be?????
Check out our SEFA EVENTS CALENDAR!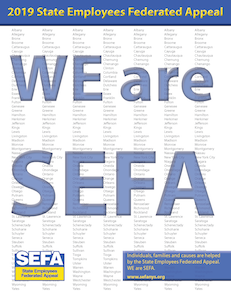 Link to SEFA Charity Book 2019.pdf
(Central New York agencies can be found on page 91-92)