Crime victims information
CRIME VICTIMS CAN GET HELP
1. You may be eligible for compensation from the New York State Office of Victim Services for items such as: lost wages, medical expenses, counseling, funeral expenses, essential personal property, occupational rehabilitation, moving expenses or crime scene clean-up.
2. Police and District Attorneys can help protect you against harassment and intimidation.
3. Compensation applications, informative brochures and information cards on crime victim compensation may be found in every police station, precinct house and any location in New York State where a crime may be reported.
NEW YORK STATE OFFICE OF VICTIM SERVICES
For a claim application, the location of your local victim assistance program, or for any questions, contact the Office of Victim Services at:
Albany
1 Columbia Circle
Suite 200
Albany, NY 12203-6383
518.457.8727


New York City
55 Hanson Place
Room 1000
Brooklyn, NY 11217-1523
718.923.4325
Buffalo
65 Court Street
Room 308
Buffalo, NY 14202-3406
716.847.7992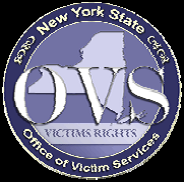 NYS Office of Victim Services
1.800.247.8035
www.ovs.ny.gov
TTY: 1.888.289.9747
Local Victim Assistance Program:
SAF Abuse & Assault Hotline: 315.342.1600
CAC- Child Abuse Only: 315.592.4453
NYS University Police Department - SUNY Oswego
Email: police@oswego.edu | Phone: 315-312-5555 | Fax: 315-312-2155



Address
Pathfinder Hall #31
Oswego, NY 13126

Administrative Staff Hours
Monday - Friday 7 a.m. to 3 p.m.
Station Hours
24 hours a day, 7 days a week


GPS Coordinates: 43.450660, -76.547837