The officer and the job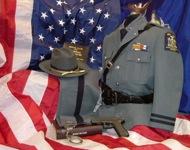 The Job

A University Police officer is responsible for the detection and prevention of crime, and the enforcement of state and local laws, rules and regulations in a diverse educational environment throughout 28 State University of New York campuses.
Officers are part of the educational process. They speak on topics such as sexual assault, drugs, crime prevention, and traffic safety. They develop and maintain a positive relationship with students, faculty and staff in order to ensure
the safety and cooperation of the entire campus community.
University Police officers receive their official powers through the Education Law and the Criminal Procedure Law. These authorize a University Police officer to make warrantless arrests based on probable cause; to use appropriate force in making an arrest; to issue uniform appearance tickets and traffic summonses, and to execute warrants of arrests.
University Police officers are assigned to fixed or rotating shifts involving patrol assignments or dispatch/desk posts.
Officers also can take advantage of statewide promotional opportunities.
Whatever the assignment, wherever the opportunity, University Police Officers perform their duties consistent with the educational mission of the campuses they service.
Training
The six months of training at a regional Police Academy is physically and mentally intensive. Officers receive training that includes penal law, criminal procedure law, first aid, CPR, defensive tactics, crisis intervention and multi-cultural diversity.
Officers must satisfactorily qualify with their issued handgun as well as shotgun and/or patrol rifle semi annually.
Requirements
University Police officers must meet the highest standards in New York State, as well as in the country, for law enforcement officers.
To become a University Police officer, a person must:
Be 21 years of age and not over 35 years at the time of the Civil Service test
Be a New York State resident
Have completed 60 college credit hours
Possess a valid New York State drivers license
Pass a written Civil Service examination
Pass a medical examination
Have binocular acuity of 20/20 corrected or uncorrected, and no less than 20/100 uncorrected
Pass a physical agility test (includes testing for cardiovascular and muscular endurance, strength, and flexibility)
Pass a psychological examination
Pass an extensive background investigation
Pass 6 months of basic training at a regional Police Academy.
Complete a18 month probationary period of employment.
The first step is the Civil Service examination. Following notification of a successful score, candidates must then pass the oral interview and all medical/psychological testing. Upon successful completion of the selection process, all recruits begin training at the regional Police Academy.
Benefits
As an employee of New York State, a State University Police officer is eligible for many benefits. These benefits include:
13 paid holidays per year
Up to 30 vacation days
Annual paid uniform cleaning allowance.
All safety related equipment will be supplied by SUNY
Police and Fire Retirement System, 25 year half pay benefit regardless of age.
Choice among several medical and dental programs
Optional long-and short-term disability coverage
Employer-paid life insurance with employee-paid option to increase level of coverage
Voluntary enrollment in local credit union
Special event overtime opportunities
Shift differential pay
Expanded duty pay
The State University of New York is an equal opportunity Affirmative Action employer. Women and under-represented (African, Asian, Hispanic and Native-American) persons are encouraged to apply for entrance examinations.
Further information regarding careers in SUNY University Police can be obtained by contacting your nearest SUNY Department of University Police station or the Office of University Police, System Administration, SUNY Plaza, Albany, New York 12246 (518.443.5116).
Dates and applications for entrance examinations can be obtained from the above or from your nearest New York State Employment Office. Particular questions regarding your qualifications for the examination can also be directed
to the New York State Department of Civil Service, Staffing Services, Building 1, State Campus, Albany, New York 12239 (518.457.5218).

NYS University Police
Pathfinder Hall
SUNY Oswego
Oswego, NY 13126
Police: 315.312.5555
Fax: 315.312.2155
police@oswego.edu