Patrol Division

The Patrol Division is dedicated to maintaining a positive educational environment for the SUNY Oswego community. One of the primary responsibilities of the Patrol Division is conducting high-visibility patrol, serving as a deterrent to criminal activity and remaining accessible to members of the community. Patrol officers respond to crimes in progress, fire  alarms, traffic accidents, reports of suspicious activity, and requests for assistance ranging from medical emergencies to motorist assists. These officers conduct initial investigations of all crimes reported on and assist with reports off campus.
Officers patrol using traditional marked and unmarked cruisers, sport utility vehicles and mountain bikes. The department has recently obtained a Yamaha ATV, which will assist in monitoring construction sites and the wooded areas on campus. The department also utilizes foot patrols, where officers spend their shifts walking in academic buildings, residence halls and out on the street! All of our marked patrol vehicles have Automatic External Defibrillators (AED) that will provide life saving intervention for heart attacks victims. All personnel are certified first responders .
We are proud of the quality service we provide, and the prompt, courteous, professional image we portray. No matter which officer you may meet, each and every member of the Patrol Division will enthusiastically do his or her best to respond to any given situation.
The Patrol Division Commander is Assistant Chief Evan Proulx with Lieutenants Matthew Barbeau, Dave Miller and Robert Vaccarelli supervising various shifts.
If you feel an officer did an outstanding job, was especially courteous or in some way needs to be praised for their actions, please visit the Officer Compliment page.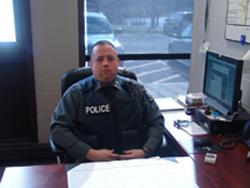 Lt. Barbeau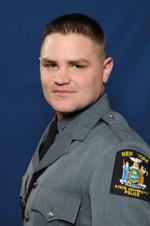 Lt. Miller