New York State University Police
S U N Y Oswego student, stabbed outside Shineman Center earlier this morning, is in stable condition at Upstate. Police are actively investigating.

Earlier this morning, the County 911 Center received a call regarding a fight in progress on Washington Blvd, adjacent to SUNY Oswego's Shineman Center. Upon University Police officers arrival, they found an 18-year-old freshman male had been assaulted and stabbed four times in the shoulder. SAVAC and Menter ambulance responded and the victim was transported to Upstate Medical University Hospital. His injuries do not appear life threatening.   Witnesses state four males all wearing dark clothing with Hoodies pulled over their heads, exited a dark colored 4-door Honda before assaulting the victim. The car, driven by a female, was last seen heading east on Washington Blvd towards the City of Oswego.
The incident may have stemmed from a dispute earlier in the night that occurred at the American Legion, 69 West Bridge Street, Oswego.
State University Police are requesting anyone with information contact them at 315-312-5555 or use the department's electronic tip line https://www.oswego.edu/police/concerns.
Protecting New York's future
The New York State University Police Department is the agency responsible for law enforcement and public safety on campus. In partnership with the SUNY Oswego community, we are committed to providing a safe and secure educational environment. The department is staffed by trained, professional police officers, who have statewide jurisdiction for all crimes. The University Police Department is available to respond to campus incidents 24 hours a day at 315.312.5555 or simply 5555 on a campus telephone.
Buckle Up Video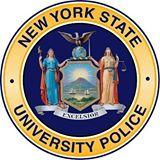 Emergencies:  315.312.5555
Oswego Guardian brochure (PDF, 711KB) 
What to do when stopped by police (PDF, 287KB)
Active shooter information/video 
Emergency Response Plan  (1.1 MB PDF)
 .....................................................................................
New York State University Police
SUNY Oswego
Pathfinder Hall
Oswego, NY 13126
Phone: 315.312.5555 
police@oswego.edu
Fax: 315.312.2155
GPS coordinates:
43.450660, -76.547837