Kitty Macey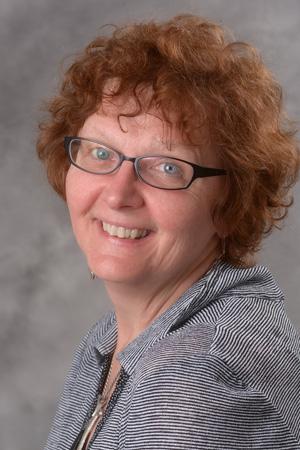 Department: Theatre
Rank: Professor
Contact Info: kitty.macey@oswego.edu
Office Hours: MWF 10:15 - 11:15 am and by appointment
Personal Bio:
Kitty Macey is  Professor of Costume and Make-up Design at SUNY Oswego. She designed well over one hundred productions at Oswego and for Syracuse Opera, Oswego Opera Theatre, Pittsburgh Opera Workshop, Bronx Opera and in in Munich. Her designs for live performance in Renaissance faires have appeared in upstate New York and Maryland.
Education:
M.F.A., 1977 in Production Design: Costuming, Ohio University
B.S., 1975 in English Education: Theatre, from Indiana University of Pennsylvania
Specialization: 
Chair and Costume Makeup Design
Honors/Awards:
Cultural exchange trip to Turkey from January 11-20, 2009 for research for Pera Palas. meeting with Journalist associations, cultural exchange representatives and faculty from Faitah University
Performances/Exhibitions:
COSTUME AND MAKE UP DESIGNS:
2014- 2015 
ROCKY HORROR
IT'S A WONDERFUL LIFE
CIRCLE MIRROR TRANSFORMATION
ARCADIA
2013 - 2014
FARENHEIT 451
WAIT UNTIL DARK
YOUNG  FRANKENSTEIN
2012 - 2013
ONCE UPON A MATRESS
2011-12
25th ANNUAL PUTNAM COUNTY SPELLING BEE
A fashionable Tea – 150 years of fashion at SUNY Oswego
MUCH ADO ABOUT NOTHING
2010 -2011
DRACULA
THE UNDERPANTS
GREASE!
2009 - 2010
WAR OF THE WORLDS
BLOOD RELATIONS
SONGS FOR A NEW WORLD
SHE STOOPS TO CONQUER
2008 - 2009
TORCHBEARERS 
PERA PALAS 
INTO THE WOODS
2007- 2008
TWELFTH NIGHT
A DOLL'S HOUSE 
CABRET
 2006 - 2007
ANTIGONE
DORA: A CASE OF HYSTERIA
Conferences/Presentaions:
Kennedy Center/ American College Theatre festival: Lecture – The Power of Attraction, January 15, 2013. Towson University, MD.
World Dress panel : Costume Comission United States Institute for Theatre Technology – "Pera Palas in Istanbul: romantic or reality" powerpoint Long Beach CA, March, 2012.
The Use of Magnets and Kabuki techniques in a Quick Change: Dora A Case of Hysteria," United States Institute for Theatre Technology, Charlotte, North Carolina, March 10, 2011.
Elizabethan Ruff and Support" poster session 2005
"Rosamond Gilder - Critic of New York  -Broadway Theatre," Quest 2000, OSU, Oswego, NY
"The Inexpensive Wig," United States Institute for Theatre Technology - Toronto, Canada, March 1999, published in 1999 Tech Expo,USITT folio.
"Isabella Andreni, Italian Commedia Actress or Scholar," Women and Society Conference, June 5, 1997, Marist College, NY.
"Rosamond Gilder and Theatre Arts Magazine: 1924-1947" presented at Women and the Theatre Conference, October 7-9, 1994, Hofstra University, Hempstead, NY. Soon to be published by Greenwood  Publishing Groups, Inc.
Current Research/Research Interests:
Lost Hand Crafts presentation for USITT Costume Commission, March 2016, Salt Lake City, UT
Writing Murder mysteries.
Performing folk music
Professional Affiliates:
United Scenic Institute for Theatre Technology
USITT Upstate New York chapter
Association for Theatre in Higher Education
Theatre Communication Group/International Theatre Institute
Kennedy Center/American college Theatre Festival Region 2
Additional Info:
Ontario Center For the Performing Arts: Artistic Director, 1996, Board Member, 1985 to 2005 (secretary 1985-87