Facilities
Between our renovated arts building Tyler Hall, modern spaces for clubs in Marano Campus Center and digital labs in Lanigan Hall, we offer you the most updated equipment and knowledgeable faculty members to help you say, create, master and achieve your ideas.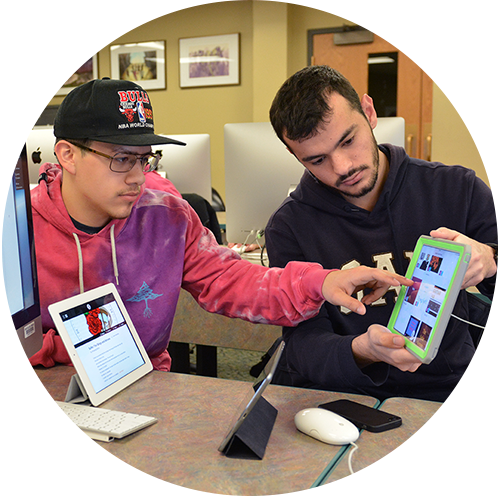 Art
Tyler Hall
Home to the studio art program for over 60 years, many of the spaces in Tyler Hall are undergoing a $22 million renovation project. The modernization of the art gallery has been completed, while renovations to classrooms and working spaces will continue for the next few years. We are happy to be in newly created temporary facilities in Hewitt that rival our home spaces during the renovation process.
Hewitt is a temporary home for printmaking, sculpture, ceramics and photography. Included in the mix of facilities are two state-of-the-art digital media spaces as well as two high-end digital print studios that support all areas of the department and the department's wood shop. Drawing, painting, traditional illustration and advance design is housed in Tyler Hall which is steeped in current technologies that offer students a professional environment to work in.
Lanigan Hall
Lanigan provides support for emerging digital media areas including graphic design, 3-D modeling and animation, motion graphics, web design and multimedia. Our two state-of-the-art digital media studios, an audio/video projects studio and a portfolio preparation and framing studio help students graduate fully prepared to enter professional life.
Studios and labs
Students can have 24/7 access to most art department studios. Studios and labs that require a technician have ample open times, including late night and weekends.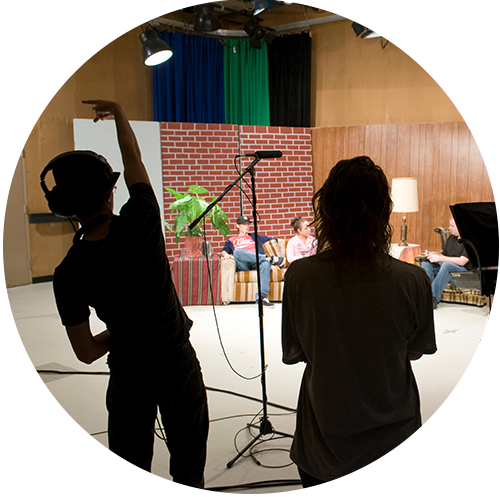 Communication studies
The two updated high-definition digital broadcasting spaces in Lanigan Hall are furnished with equipment you might see in the field as a professional. We also have high-definition video editing suites, a recording studio and multiple radio labs. The Center for Communication and Information Technology houses computers with Adobe Creative Suite for video editing, graphic design, screenwriting and publishing. Computers are also equipped with Pro Tools for sound recording and sound production.
Student communicators can share their stories in fully equipped spaces in Marano Campus Center for the Oswegonian newspaper, WNYO-FM and WTOP-TV. We are CNN News Source affiliates with facilities linked to the Central New York community via Time-Warner Cable System.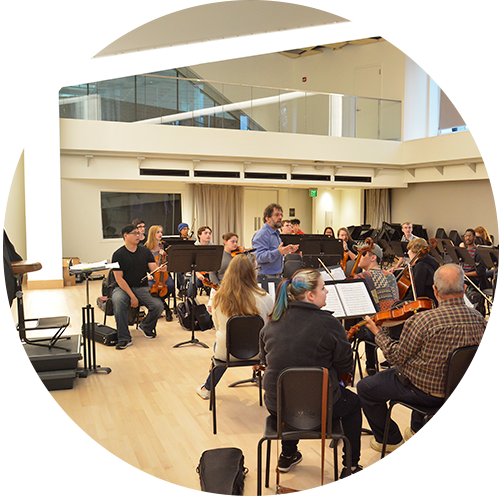 Music
The 450 seat Waterman Theatre is the site of many large ensemble concerts and large-scale combined works. Student musicians can utilize Tyler's fully outfitted recording studio, MIDI lab, large rehearsal rooms and over 50 pianos, along with a piano lab and SMART classrooms.
Our tunable rehearsal spaces utilize acoustic panels that can positioned to absorb or diffuse sound. This allows a single space to produce clean professional acoustics for both vocal, instrumental practice or performance.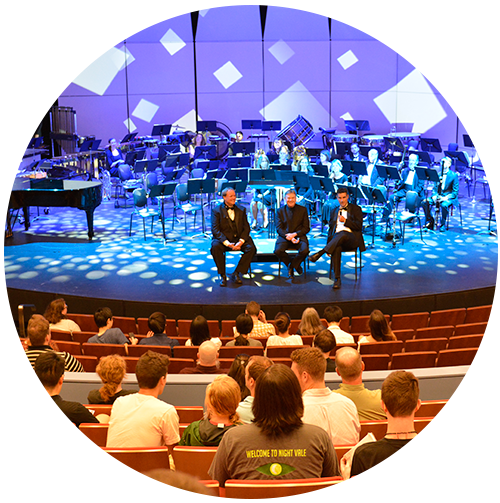 Theatre
The recently renovated 450 seat Waterman Theatre and 138 seat Lab Theatre  are where many of our productions are staged and where students learn behind the scenes what it takes to get a production up and running.
The theatre department has three hands-on labs that allow students to develop, design and create the aesthetic atmosphere for each individual performance through prop and scene design, and transform actors through costume and make-up.