Student experiences
Classroom study prepares you for the diverse opportunities that will successfully build your resume. Whether you're interested in joining active clubs, exhibiting in a gallery, performing music solo or in an ensemble, joining the cast or crew of a theatre production, reporting the news or crafting messages, you'll receive opportunities at Oswego.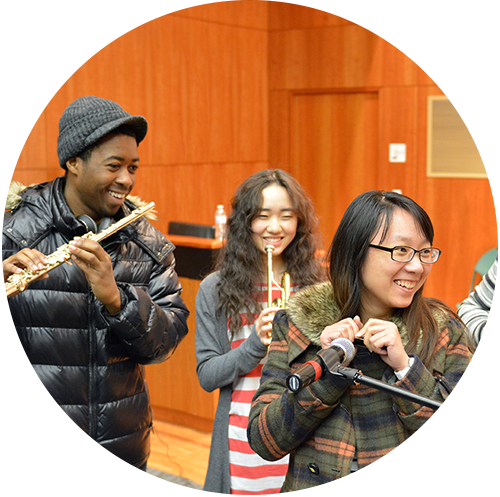 Clubs
You can build your experience and confidence, make great friends and help bring creativity to life through our many clubs and organizations.
Art
Art organizations encouraging expression and leadership include Arts Alive, Oz Design Club, Photography Club and the Student Art Exhibition Committee.
Cinema & Screen Studies
The Oswego Film Club is a place students can learn, develop ideas, and collaborate. The club also hosts workshops, organizes film festivals, sponsors student screening, and supports student productions.
Communication studies
Communication studies majors can find abundant opportunities through the Oswegonian student newspaper, WNYO-FM, WTOP-TV, Public Relations Student Society of America, National Communication Association-Lambda Pi Eta and National Broadcasting Society. A student steering committee also plans the annual, widely known Lewis B. O'Donnell Media Summit.
Music
Musical ensembles (and you need not be a music major to audition) include Wind Ensemble, Jazz Ensemble, College-Community Orchestra, Festival Chorus, College Choir and State Singers. Mu Beta Psi, a national honorary music fraternity, and Pi Kappa Lambda, a national music honor society, offer exceptional students the opportunity to provide greater service.
Theatre
Theatre majors can join the Blackfriars Student Association, a long-running group that supports and promotes top-level performing and technical achievements.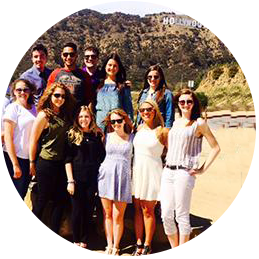 Internships and other opportunities
Whether you want to get hands-on experience at an art gallery, museum, recording studio, theatre company, performance space, newspaper, radio, TV station, public relations agency, digital production house or any opportunity you can imagine, Oswego offers a large selection of internships and volunteer placements.
Study abroad
Oswego encourages studying abroad, and we offer study-abroad classes that can tie to your academic program while allowing you to enjoy placements around the world. Some international internships allow you to travel and experience a work atmosphere as well.

Hollywood POV
Our Hollywood POV program takes you to entertainment capital of the world to explore the many career paths in the media production industry. You'll tour studios and soundstages, watch productions take shape and network with industry movers and shakers — many of them SUNY Oswego alumni!