Jonel Langenfeld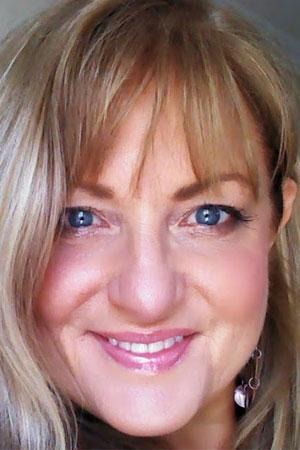 Department: Theatre
Rank: Associate Professor
Contact Info: jonel.langenfeldrial@oswego.edu
Office Hours: By Appointment
Personal Bio:
Associate Professor of Theatre & Theatre in Education, Prof. Langenfeld teaches courses in Acting/Directing, Movement/Fitness, Storytelling, Developmental Drama, special topics & she travels abroad. Also Co-Coordinator for New Voices & Director of Expressive Arts Therapy she also maintains an active professional life as an actor, director & writer.
Education:
B. A. in Theatre and Dance in 1985 from the College of Saint Benedict, St. Joseph Minnesota 
MFA in 1995 in Youth & Family Theatre and Education from the University of Hawaii, Manoa in Honolulu, Hawaii
Specialization:
Acting, Directing, Movement & Fitness for the Actor, Storytelling for Social Justice 
Theatre in Education,Director of Expressive Arts Therapy minor.
Honors/Awards:
Who's Who Among America's Teachers, SUNY Oswego: 2004, '05, '10
Excellence In Teaching Award , Illinois State University: 2001
Faculty Mentor Excellence Award, Illinois State University: 1999
Excellence In Teaching Award , MidPacific School of the Arts, MidPacific Institute, Hon. HI: 1997
Best Overall Play: The Elephant Man, Po'okela Award (Hawaii State Theatre Awards), Hon., HI: 1996
Best Director Nomination: The Elephant Man Po'okela Award, Hon., HI : 1996
Best Director: The Search for Signs of Intelligent Life in the Universe, Kauai, HI: 1991
Best Director: The Pirates of Penzance, Kauai, HI: 1989
Volunteer Awards: 
H. Lee White Maritime Museum, Outstanding volunteer Award: 2008-2015
ADAPCP Puppet Masters, Dept. of the Army, Schofield Barracks, Wahiawa, HI: 1994
Publications:
Langenfeld-Rial, Jonel.  "Literacy Through Drama: A Series of Lesson Plans." Lesson plans employing the theories of the Multiple Intelligences and
the application of Theatre exercises and techniques to teach across the curriculum, Creative Drama Magazine 1.1-3 (1998)
Performances/Exhibitions:
Professor Langenfeld has directed and choreographed over 25 productions at SUNY Oswego including musicals and devised theatre productions, some of which include The Rocky Horror Show, GREASE, Big, The Musical, The Little Shop of Horrors, The Secret Garden, Cabaret, Into the Woods, No Such Thing as Solo, and Lost in a Viral Paradise.Jonel also performs and directs professionally. Most recently she appeared as the Ring Master in the theatrical concert, SIDESHOW, at the Kraine Theatre in NYC and at the Forestburg Playhouse, in the Catskill mountains. She has also acted in several reality T.V. shows currently under consideration by various production companies.
Conferences/Presentations:
ATHA, AATE, Hawaii International Conference on Arts and Humanities
Current Research/Research Interests:
Theory of Multiple Intelligences, Storytelling for Social Justice, Theatre in Education, The arts and good mental health, Health and Fitness
Professional Affiliates:
Actor's Equity 100 year celebration: Creative Advisory Board Member, VPC Partners, New York, NY, 2012-13. 
International Fraternity: Eta Omicron chapter of Phi Beta Delta
Alliance for Theatre in Higher Education (ATHE)
American Alliance for Theatre in Education (AATE)
Kennedy Center American College Theatre Association, Region II
Hawaii State Theatre Association
National Education Association
International Association on Arts and Humanities
United University Professors 
H. Lee White Maritime Museum: Member, Board of Trustees, 2012-present
Oswego Music Hall: Member