SUNY Oswego students won three Broadcast Education Association (BEA) Awards in the Student Creative Competition, including a "Best of Show" honor for broadcasting and mass communication student Clarissa Karki (pictured). Karki's piece,  "Operetta: Lost, Found, Now on Stage," a project for professor Michael Riecke's Broadcast News Reporting class –- covered a local operetta, "The Golden Cage." The operetta, which was lost for decades, tells the story of the nearly 1,000 refugees –- a majority of them Jewish – who arrived at Oswego's center at Fort Ontario after fleeing persecution in Europe during World War II. In addition, Karki took home the "Award of Excellence" in the Radio News category for her piece "Nuclear Power: Is it Clean Energy?," produced as part of "Energizing CNY," a one-hour special airing on WRVO on Nov. 16. Other SUNY Oswego students Zac Nusimow, Cletus Tepas and Melinda Brancato earned an "Award of Excellence" in the Film and Video Narrative category for their piece "I Gave Al Roker an Al Roker Sub in Front of the Al Roker Studio." Read full story.
Connor Censak, a SUNY Oswego senior majoring in cinema and screen studies, is among the recipients of the 2023 Lake Placid Film Festival Student Summit Scholarship. The scholarship, awarded to 12 undergraduate students annually, offered students the opportunity to attend the Lake Placid Film Festival in late October. Read full story.
Barry Friedman of SUNY Oswego's School of Business reported a productive time completing a Fulbright Specialist Project at the Hamburg School of Business Administration in Germany. During several months in Germany, he taught two undergraduate organizational behavior classes and a master of science seminar, conducted two research projects, made several presentations to the campus community, and coached Ph.D. students about getting dissertations published. Read full story.
Criminal justice chair and faculty member Roger Guy and Piotr Chomczyński from the University of Lodz published an article titled "Urban Marginality, Neighborhood Dynamics, and the Illicit Drug Trade in Mexico City" in the journal Qualitative Sociology. The findings center on developing an adaptive strategy to resist criminal organizations encroaching on the drug market, and efforts by developers at gentrification; both of which would displace the residents from the neighborhood.
Matthew McLeskey of the criminal justice faculty has been appointed to the editorial board of the journal Teaching Sociology by The Publications Committee of the American Sociological Association.
SUNY Oswego senior biology major Naw Ka Paw Paw recently joined a distinguished list of SUNY Educational Opportunity student ambassadors, a role in which she advocates for and promotes this program that opens doors to higher education for students. Twenty-two students from 21 campuses serve as mentors to other students and encourage high school seniors to enroll, help build on the established student EOP support network across the SUNY system and advise the Chancellor on strengthening the program. Read full story.
Communication studies faculty member Samantha Quinn co-authored ""It allows me to be 'me'": Self-presentation, Authenticity, and Affordances among LGBTQ+ Social Media Users." It appears in the most recent edition of the journal Human Communication and Technology.
Biological sciences faculty member Karen Sime presented research at the national meeting of the Entomological Society of America, which took place in Baltimore in early November. Her poster, titled "An endangered moth, and its egg parasitoid: natural history in a peatland ecosystem," described her recent work with the bog buck moth, a rare species found in Oswego County. She also participated in several events at the meeting sponsored by the journal Annals of the Entomological Society of America, of which she is now an editorial board member. Also presenting research at the meeting was Robert Salerno, who earned his bachelor's in zoology from SUNY Oswego in 2022 and is now a graduate student in entomology at the University of Maryland. 
Francisco Suarez of the communications studies faculty has been recognized for his hard work and dedication –- both on and off campus –- in three recent public acknowledgments. Most recently, the Academy of Interactivity and Visual Arts has awarded "From Suarez's Basement" –- Suarez's podcast -– with the W3 Silver Award under the Best Individual Episode and Television and Film category, for his episode with Declan Lowney, the director of the hit TV show "Ted Lasso." Suarez also won the New York State Broadcasters Association award titled the "Serving New York" award for his work as director of the SUNY Oswego and WCNY Visual Storytelling Summer Camp Program in downtown Syracuse. Additionally, Suarez was also recognized recently for this work on News Channel 9 WSYR as part of their programming for Hispanic Heritage Month. Suarez spoke about his work at the Visual Storytelling Summer Camp Program, as well as his upbringing, finding his life purpose and his time teaching at Oswego. Read full story.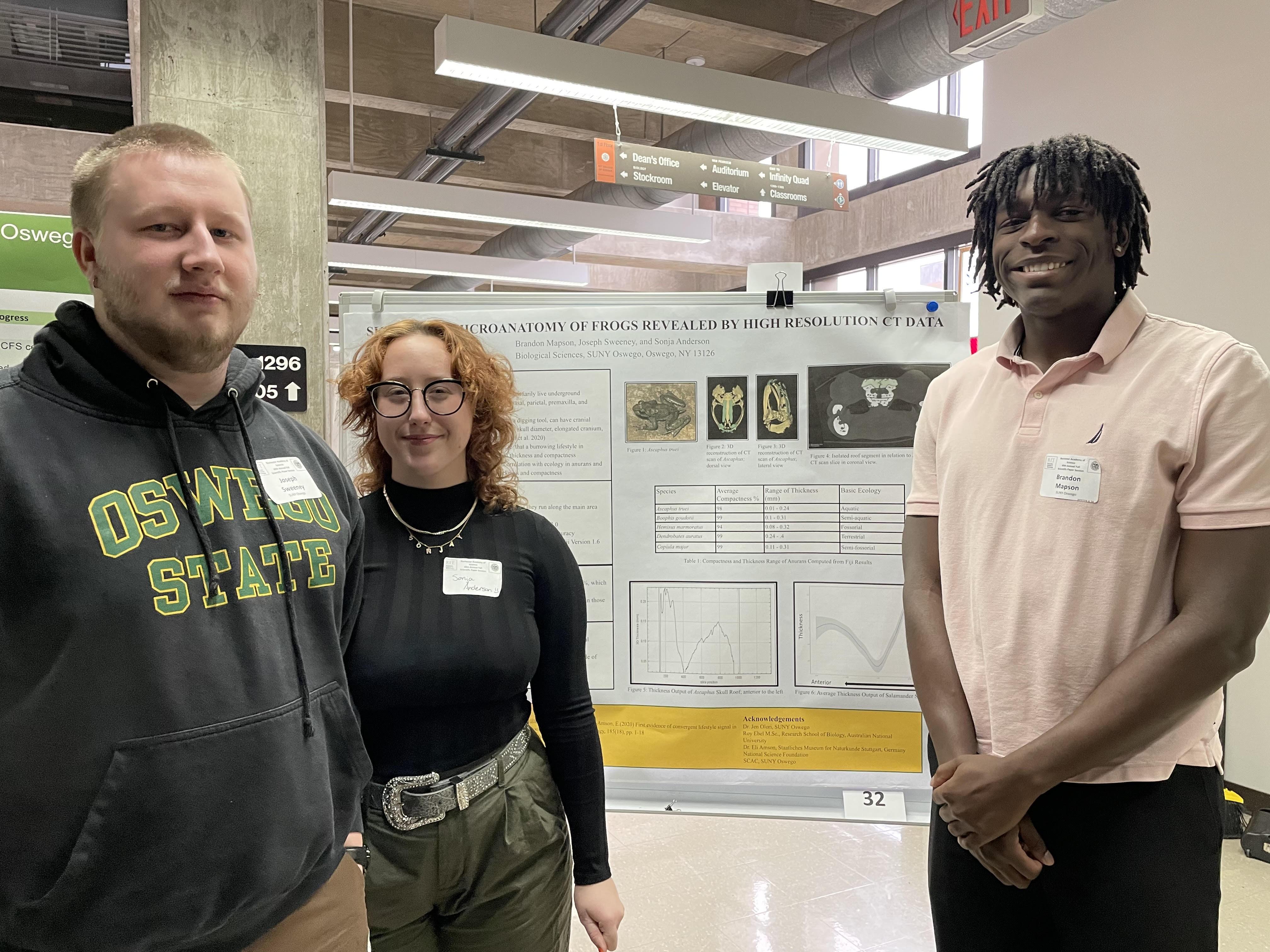 Students present at Rochester Academy of Sciences
On Nov. 4, 13 SUNY Oswego biological sciences students presented their research at the 49th annual Fall Paper Session of the Rochester Academy of Sciences. The meeting took place at the Rochester Institute of Technology. Five Oswego faculty members sponsored and mentored these projects.
(Oswego students and faculty highlighted in bold)
Oral presentations:
"A comparative study of PCR-based assays used to survey for ranavirus infections" by Najiyah Williamson (faculty sponsors Susan Hammerly, Jennifer Olori, Nicholas Sard)
"Monitoring the prevalence of ranavirus: an amphibian pathogen in Oswego County" by Grace Cordone (with co-authors Anica Sampson, Williamson and Joy Zientara and faculty sponsors Hammerly, Olori, Sard)
"Interesting interactions: pluronic F68 and a root-colonizing probiotic bacterium" by Amanda Streeter (with co-authors Mohamad Zargaran, Anagah Wankhade, Anne Anderson, and Dave Britt of Utah State University)
Poster presentations:
"Investigating a potential null allele affecting an assay used to identify larval coregonine species" by Ryan Gallagher (faculty sponsor Sard)
 "Identifying historically collected larval coregonines to species using a redesigned genetic assay" by Collin Atwood and Joe Sweeney (at left in photo above) (co-authors Morgan Bulger, Preston Fuerbacher, Kayelah Brown, and Jim McKenna, with faculty sponsor Sard)
"Monitoring the prevalence of two global amphibian pathogens in Oswego County" by Grace Cordone and Joy Zientara (co-author Anica Sampson, with faculty sponsors Hammerly, Olori, and Sard)
"Skull roof microanatomy of frogs revealed by high resolution CT data" by Brandon Mapson (at right in photo above), Sweeney and Sonja Anderson (in center in photo above) (faculty sponsor Olori)
"Examination of the role of the glycocalyx in shear flow-induced migration of Dictyostelium discoideum" by Juziyana Fortuna (faculty sponsor Yulia Artemenko)
"Determining the mechanistic relationship between KrsB and Rap1 in mediating cellular adhesion in Dictyostelium discoideum" by Megan Arnold (faculty sponsor Yulia Artemenko)
"Survey of emerald ash borer infestations and dispersal of introduced parasitoids in Oswego, NY" by Danielle Marichal (faculty sponsor Karen Sime)
Do you have an item for People in Action? Have you, for example, recently presented at a conference, published a research paper or earned a regional or national award? Submit your news via our Oswego Today form.
Comments