SUNY Oswego broadcasting and mass communication student Clarissa Karki recently won the "Best in Show" award at the Broadcast Education Association (BEA) Student Creative Competition for her video project on an inspirational local operetta and story, "The Golden Cage." 
The operetta tells the story of the nearly 1,000 refugees – a majority of them Jewish – who arrived at Oswego's center at Fort Ontario after fleeing persecution in Europe during World War II. The center, now known as "Safe Haven," was the first and only refugee center established in the United States during the war.
Karki, who is an international student from Nepal in her senior year, says the win was a complete surprise to her after one of her mentors on campus submitted her piece titled "Operetta: Lost, Found, Now on Stage" to be recognized.
"I had a meeting with my academic advisor Michael Riecke, and he said 'I have great news. I entered your piece for this academic competition and you won two awards,'" said Karki. "I was not expecting it."
Karki – who originally produced the piece for Riecke's Broadcast News Reporting (BRC 329) course - says she was inspired to pursue this story after seeing a news article and posters about the performance.
"I didn't know that Oswego was the first place to accept Jewish refugees from World War II, so I thought, if I don't know about it I'm not sure how many people in Oswego know," said Karki. "I wanted to dig deep into that story and know how the opera came to be."
Although the video is now award-winning, Karki says that was not her initial intent.
"I think my main objective was to really do justice to the story because this is an incredible story of people finding love and acceptance in a community after enduring so much trauma, and also how this piece is now revived after so many years and decades of it being lost, and how it's come full circle into Oswego," Karki explained. "So I just wanted to do justice to the story. I wasn't seeking any recognition."
Trusting the process, gaining experience
When Karki first sought to tell this story, she was pleased that those involved in the operetta welcomed her and her idea.
"One of the toughest parts about being a student journalist… is getting people to take you seriously and give you their time, because that's essentially what we're asking, is give us 30 minutes of your time," said Karki. "A lot of people are quick to brush student journalists off, but that's one of the only ways we can learn... so it was really great that these people didn't brush me off."
Karki expressed gratitude to those who made themselves available for this project.
"I emailed the director of the operetta, the staff, the students who were involved in it and asked 'Can I hang out with you in one of your rehearsals and see what it's about?' and they were gracious enough to do that and to allow me in," said Karki.
After sitting through two days of rehearsal and pre-planning the shoot, Karki says the creation of the video still brought some challenges, but the process allowed her to grow as a journalist.
Oswego professors Riecke and Michael Cleland were among the people Karki recognized as she reflected on the creation of this piece.
"There were many times I'd tell him [Riecke], 'Oh my gosh I don't know where to put the microphone' or 'I don't know how to get the right audio' because it's an operetta, you have to have crisp, clear sound… He guided me through all of that," said Karki. "I asked professor Cleland as well about how to shoot in the dark. I had to navigate through all of that and it really taught me a lot."
Karki was able to work with the Library of Congress to access archival footage of the refugees arriving in Oswego. While editing the footage, Karki says she even discovered a new part of the reporting process she enjoyed.
"I really liked digging up some of the archival footage and diving more into history. Sorting the archives, requesting them from museums in D.C. and other places... It was like time traveling."
Karki says the experience of telling this story has contributed to her overall growth not only as a student journalist but also her career journey after Oswego, including landing her internship with CNN International. 
"I talked about doing this story about the operetta in my interviews for [my internship with] CNN. I think it definitely helped me boost my resume and interviews, and land the internship too," said Karki. "This was one of the most important stories I've done, so it will probably go in my reel."
Karki spent the summer at CNN headquarters in Atlanta and was invited back this fall as a remote planning intern. As a planning intern, she assists with booking guests, finding sources related to news events across the globe and writing story scripts.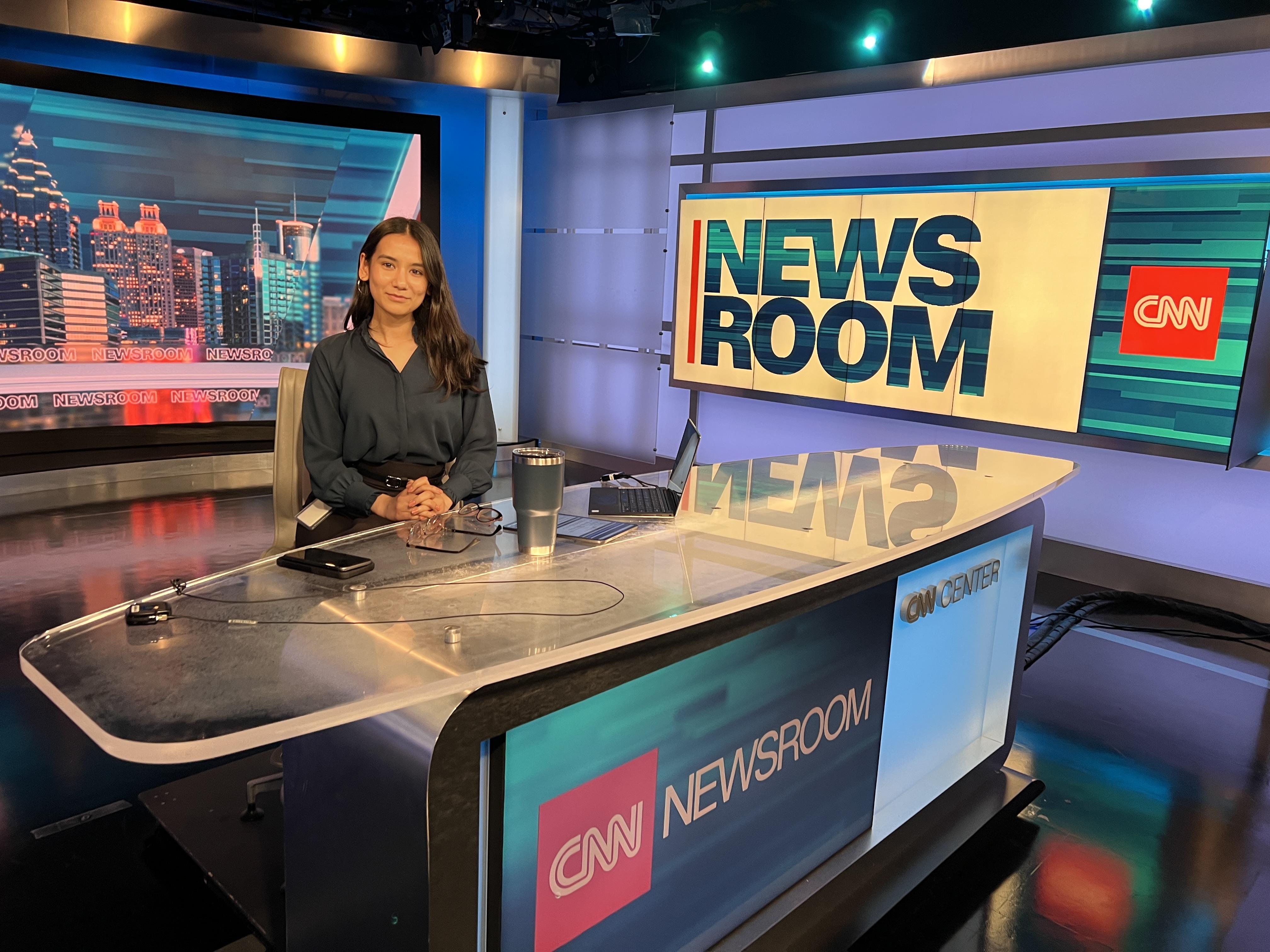 With the experience now under her belt, Karki says she recommends Riecke's "Broadcast News Reporting" class to all broadcasting and journalism students.
"That is a fantastic class and professor Riecke was really helpful throughout the entire process," said Karki.
Other BEA recognitions
In addition to Karki's "Best in Show" award, she also took home the "Award of Excellence" in the Radio News category for her piece "Nuclear Power: Is it Clean Energy?" The story was produced as part of "Energizing CNY," a one-hour special airing on WRVO this fall.
Other SUNY Oswego students - Zac Nusimow '23, Cletus Tepas '23 and Melinda Brancato '25 - were also recognized at the competition with the "Award of Excellence" in the Film and Video Narrative category for their piece "I Gave Al Roker an Al Roker Sub in Front of the Al Roker Studio." 
Facebook comments