Journalism
This program is designed to prepare students to gather, write, edit, package and produce news stories for newspapers as well as online reporting -including the role of graphic design in communicating the news.  The program emphasizes the social, ethical and legal contexts within which journalism is practiced in the United States. 
 "My experiences at SUNY Oswego taught me how to succeed at my internships, and the skills I mastered helped me land a job at my first-choice magazine straight out of college."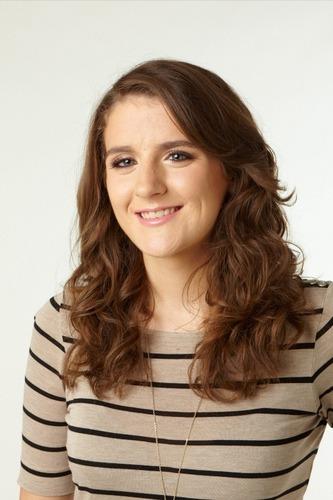 -Samantha Shelton '11, Web Editor, Redbook magazine  
An effective journalism education is broad-based.  Journalists are required to do much more than pass along the latest information on world events.  They must rely on their knowledge of social and political science, history, psychology, science and technology to interpret a complex world.  Whether students are preparing for a journalism career or enhancing their abilities as members of an informed news audience, they will need to study the disciplines that give insight into the human condition.
Students learn about the unique role the press plays among institutions in a democratic society and the rights and responsibilities of journalists.  They study the concise, objective style of journalistic writing and the investigative methods that are central to modern reporting.  They explore the different forces that shape the news on television and radio and the demands of writing news in broadcast style.  Finally, they learn how and why graphic design plays an increasingly critical role in effectively communicating the news.
Outside of the classroom, students have the opportunity to build a portfolio through their involvement in:
The Oswegonian, a student-run weekly newspaper/online news source
WRVO-FM, the campus-based National Public Radio (NPR) affiliate
WNYO-FM, a student run radio station
WTOP-TV, a student-run television station that broadcasts its own nightly newscasts
All students are required to participate in an internship before they graduate and study in another field to broaden their breadth of knowledge.  Skills gained across classes will allow students at graduation to enter the field and pursue their areas of interest, such as features, music, art or sports journalism.
Journalism core requirements:
BRC 108 - Introduction to Mass Media
BRC 229 - Broadcast News Writing
COM 380 - Communication Ethics
JLM 209 - Introduction to Newswriting/Reporting
JLM 220 - Copy Editing
JLM 309 - Advanced Newswriting/Reporting
JLM 310 - Investigative Reporting
JLM 319 - Practicum
JLM 498 - Journalism Internship
View the complete degree planner for the journalism major
For more information see the prospective student page or contact:
Professor Arvind Diddi, Area Coordinator
1 Lanigan Hall
Telephone: 315.312.2357
Email: Arvind.Diddi@oswego.edu