Need help quitting?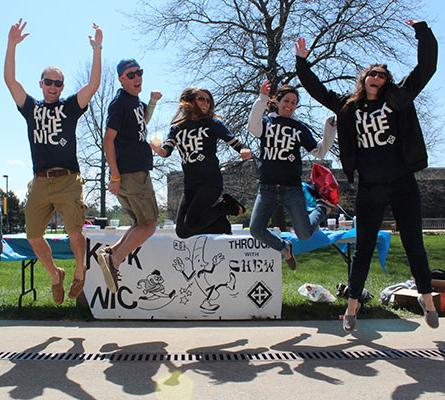 Photo taken at the "Kick the Nic" event hosted on the quad by SUNY Oswego public relations capstone students in April 2013.
OzQuits!
Quitting tobacco is hard work. At SUNY Oswego, we recognize many members of our community have tried to quit in the past or wish to quit for the first (and hopefully the last) time.
Following are resources the Clean Air Committee believes can be beneficial and cost-effective to you, especially if you've been thinking, "Wouldn't it be nice to say smoking is something I used to do?"

Health Services offers:
New York state booklets with information on how to quit and be successful with it
OzQuits! publications for the college's January 1 smoke-free/tobacco-free policy
Tobacco cessation counseling; starting this summer, faculty and staff may call appointments for confidential counseling on kicking the tobacco habit
Nicotine patches, gum and lozenges for (at this time) students
Support through the Great American Smoke Out and Kick Butts events
For more information about these services, call 315.312.4100.
Employee Assistance Program offers:
Confidential employee assistance services
Smoking-cessation workshops
For more information about these services, call 866-879-5591.
Oswego Health offers:
Smoking cessation counseling done on an individual basis.
To schedule an appointment, call (315) 349-5513.
Tobacco-Free CNY offers:
Information for tobacco-free resources throughout Central New York
Contact Integrated Community Planning: 315.343.2344 or Christina Wilson, Executive Director at cwilson@cnymail.com
New York State Smokers' Quitline offers:
Information about how to quit
Local services to make quitting a success
Call toll free 1.866.697.8487


* Your coverage may vary.

National Cessation Resources:
Did you know that your phone can be your best ally along the journey to becoming smoke-free
Healthline.com has a review of top quit apps
Oschner.org  - quit smoking with the help of your phone