Student experiences
Faculty and students at SUNY Oswego are involved in cutting edge research and world-renowned scholarly and creative activities. This vital research community provides a wealth of opportunities for motivated students to get involved. 
Jake Sauter_Computer Science_SPIE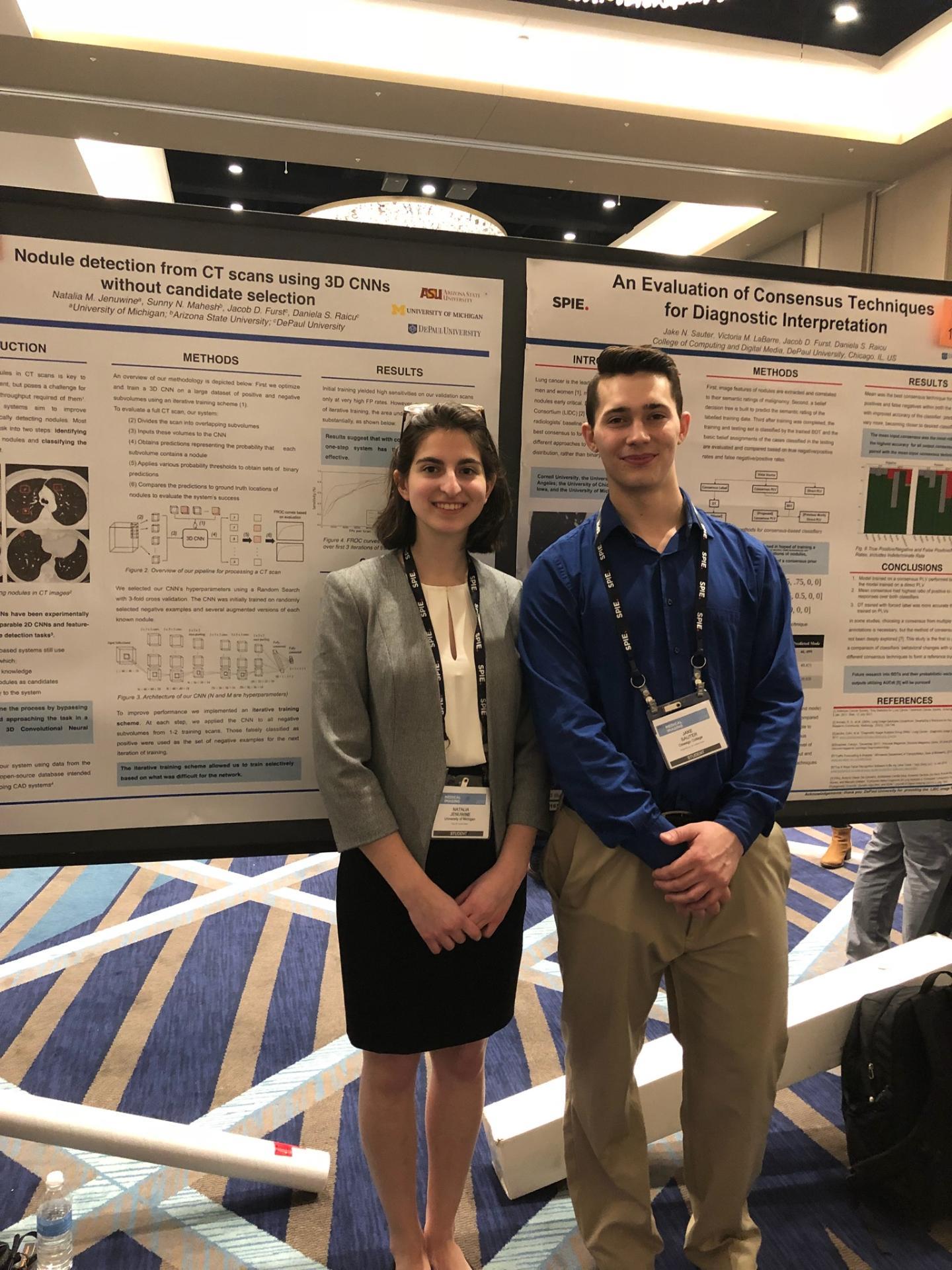 Learning diagnostic labels from various imaging modalities has been the standard in computer-aided diagnosis. Most computer-aided diagnosis systems use low-level image features extracted directly from image content to train and test machine learning classifiers for the diagnostic label prediction, such as the malignancy of a lung nodule. When the ground truth for the diagnostic labels is not available, that is the outcome of the disease for the imaged individual, reference truth is generated from experts' diagnostic interpretations of the image/region of interest. More specifically, when the label is uncertain, e.g. when multiple experts, such as radiologists, label an image and their interpretations are different, techniques to handle the label variability are necessary.
 In this project, we compared three consensus techniques that are typically used to encode the variability in the experts' labeling of the medical data: mean, median and mode, and their effects on simple classifiers that can handle deterministic labels (decision trees) and probabilistic vector vectors of labels (belief decision trees). Given that the NIH/NCI Lung Image Database Consortium (LIDC) data provides interpretations for lung nodules by up to four radiologists, we leverage the LIDC data to evaluate and compare these consensus approaches when creating computer-aided diagnosis systems for lung nodules.
 I was able to present this project at SPIE Medical Imaging with the funding assistance of the RISE office at SUNY Oswego. At this conference I was able to attend many presentations, including the keynote address, from leaders in the field of computer-aided diagnosis. Many radiologists and other medical personnel in the area also attend the conference to see what change is coming in the field in the near future. At the end of my experience at the conference it was my turn to present my work at the poster exhibition, sharting the stage with around 100 other posters in the same area, being present to answer any questions readers may have during the 90 minute presentation period. This was great fun as I was able to talk to experienced researchers about my 10 week research experience and answer many well formulated questions about the inner workings of my research. Due to my presence during the poster presentation period, the manuscript, the research I completed over the summer is now in the process of formally being published by SPIE in their conference proceedings.
Rachel Walsh

- Psychology - ISDP conference
The ISDP conference, 2017 was held in Washington D.C. and provided the opportunity for many people to present new research studies and their findings in developmental psychobiology. It allowed me the opportunity to assist my professor Leigh F. Bacher in a research study about the development of spontaneous eye blinking from infancy to early childhood. Spontaneous eye blinking has been used as an indirect behavioral index of central dopamine and is involved in many functions, such as certain aspects of cognitive activity. Our longitudinal study included 12 infants, studied at 10 months, 24 months, and 48 months. We studied the development of emotion and cognition, and how this may be related to spontaneous eye blinking. The cognitive tasks included involved working memory, episodic memory, inhibition, and cognitive flexibility. The IBQ was used at 10 months old and the ECBQ was used at 24 months old as measures of temperament. Blinking rate, temperament measures and cognitive performance scores were all examined using selected correlations and partial correlations.  
We found that there were wide individual differences in blinking rate at each age which is consistent with the findings from previous studies. We expected that baseline blinking rate would increase substantially from 10 months to 48 months, but did not find this. Also consistent with previous studies involving older children and adults, we found that blinking rate seemed to be more sensitive to the type of cognitive tasks at 48 months than at 24 months.  There is not much evidence relating spontaneous eye blinking to cognitive performance or temperament ratings, but there are some features of spontaneous eye blinking that did show change. There is a suggestive relationship between spontaneous eye blinking and working memory performance so future research should include further examination on this relationship.
Preparing for the poster was a great way for me to get hands-on experience working with data and doing different analysis. I was able to learn how to think more analytically about my own research, and it helped me better understand the other research that was presented at the conference. The conference was a great way for me to learn about other research going on in the field that I am interested in, as well as meeting many successful people. I was able to form connections with other students and they were able to answer my many questions about what the next step towards my career goal should be. This experience has helped me realize that I truly love the field of psychology and will help shape my decision for my future after graduating from SUNY Oswego.
Rachael Bishop

- Communication Studies - National Communication Association Conference

At NCA, I was able to present our research exploring college students' motivations to (dis)engage in the political process during the panel entitled, "Honoring Excellence in Undergraduate Scholarship."  I received great feedback and interest in the paper I presented, and it was a fantastic opportunity to learn about research being conducted in various fields and colleges across the country. I attended ten panels on the following subjects: Student Characteristics and the College Experience; Communicating about Disease Outbreaks as Part of Health Communication; Current Trends in Supportive Communication: Studying Enacted Support in Conversation and Across Relational and Health Contexts; Honoring Excellence in Undergraduate Scholarship; Role of Different Emotional Responses to Health Communication Messaging on Various Outcomes; Women and Health: Identity and Invisible Illness; Top Four Papers in Interpersonal Communication; Top Papers in Social Cognition; Queering and Querying Childhood, Security, and Citizenship; and Fasten Your Seatbelt: Transitions and Relational Turbulence in Romantic Relationships. In these panels, there was research presented by over forty scholars. I also attended a roundtable discussion called, "Our Methodological Legacy and Relevance: Issues and Advancements in Interpersonal Communication Research," where six top scholars in Interpersonal Communication talked about the different research methodologies employed in their scholarship, and the future direction of research methods. Additionally, I attending a session called, Great Ideas for Teaching Students (GIFTS) where I was able to learn about teaching strategies and activities used in the classroom to put theories and concepts into practice in a way that is relevant and interesting for students.

 

One of the most instrumental events of the conference was the NCA Graduate School Open House, where I had the opportunity to meet students and professors from all the top Communication graduate programs in the country, and talk about research and coursework. I was invited to meet with faculty and students from Penn State at their reception, where I got to discern the campus culture and rapport between faculty and students, both current and prospective. I made invaluable connections and now know exactly where I want to go to school and with whom I would like to study.
Kimberly LaGatta

- Chemistry - Fall Scientific Paper Session of the Rochester Academy of Science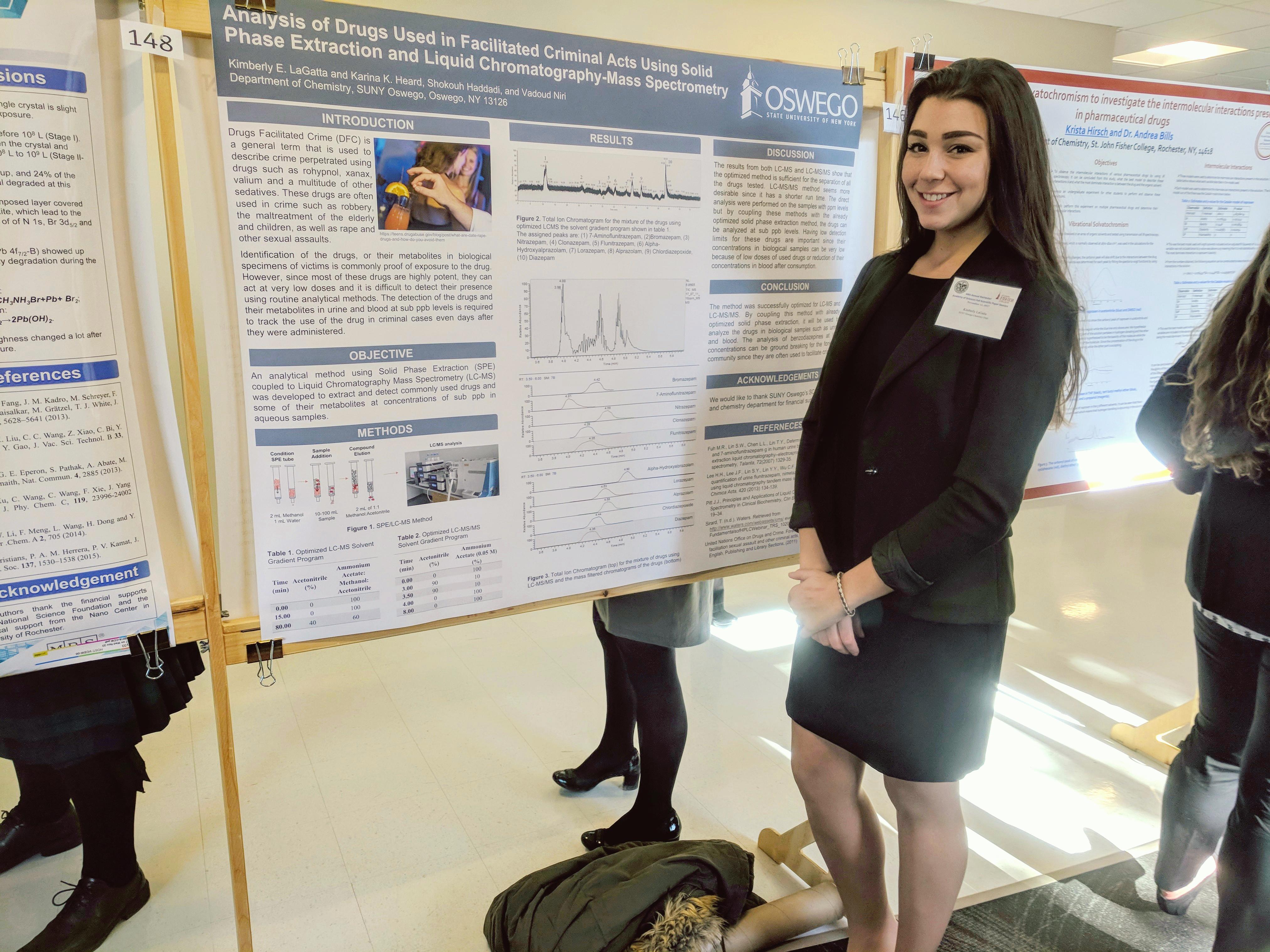 On November 11, 2017 I had the opportunity to present my summer research at the RAS Annual Fall Paper Conference. During the conference there was an option of different oral presentations to attend in the morning, while the afternoon was poster presentations. From 11:30 am to 1:50 pm, I explained to those who were interested in my poster about what research I had been conducting.
I have been working alongside my faculty advisor, Dr. Vadoud Niri, in the exploration of common drugs that are used to aid in the facilitation of crime. Currently in forensic labs, the methods used to detect such drugs in biological systems aren't sensitive enough to detect these compounds at low concentrations. Our goal is to couple solid phase extraction, to liquid chromatography- tandem mass spectrometry to lower the limit of detection of eight drugs that are commonly used to facilitate crime and two metabolites related to two of the drugs we are working with.
Mitchell Alpha

- Childhood Special Ed - NYS Council for Exceptional Children Conference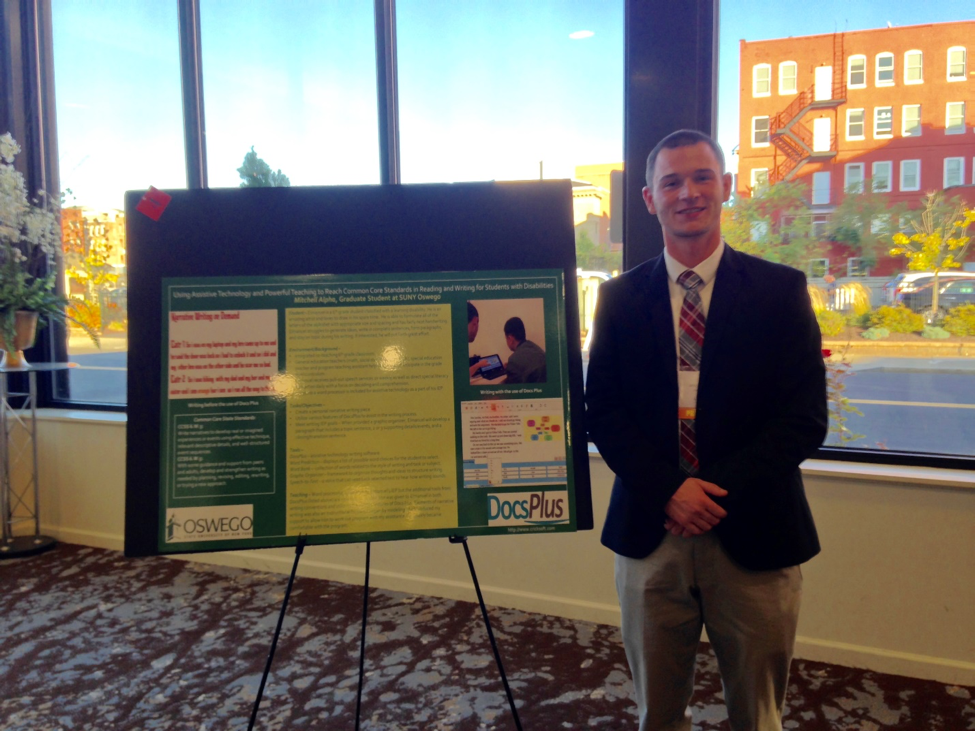 On October 20th, 2017, I traveled to Binghamton with other graduate students from SUNY Oswego in the graduate childhood special education program. We arrived in the morning and began attending various sessions related to teaching and teaching students with disabilities throughout the day. At 5:00 PM on that Friday, the other students and I presented our posters of case studies we have been working on. The following morning, Saturday, October 21st, there were more sessions to attend and then the conference concluded at noon.
            The most memorable and powerful session I attended was one Friday morning entitled, Top 10 (and more) Strategies for Deescalating Challenging Behavior. The information in this session was very relevant and applicable to my current situation and future anticipated role as a teacher. The presenter brought in her own experiences and shared anecdotes to help the audience see the strategies she explained in an actual school setting. Many of the strategies could be boiled down to just building a relationship with the student and understanding who they are.
            Posters from different students from different colleges were displayed around a large room. Students, professionals, parents, and presenters could walk around and look at these posters depicting case studies. My case study involved a 6th grade student who is a struggling writer. I instructed this student in elements related to narrative writing, writing conventions, and the assistive technology software, DocsPlus, that I implemented. As people traveled through the room, I was able to discuss my student, the technology that I used, and the progress that he made. People seemed very interested and nobody I conversed with was familiar with the software that I used. Overall, the conference experience was very informative and also allowed me to have a leadership role as a presenter as well where I could share some of my own knowledge and experiences.
Emma Strujo - Biological Science - The Sigma Xi Student Research Conference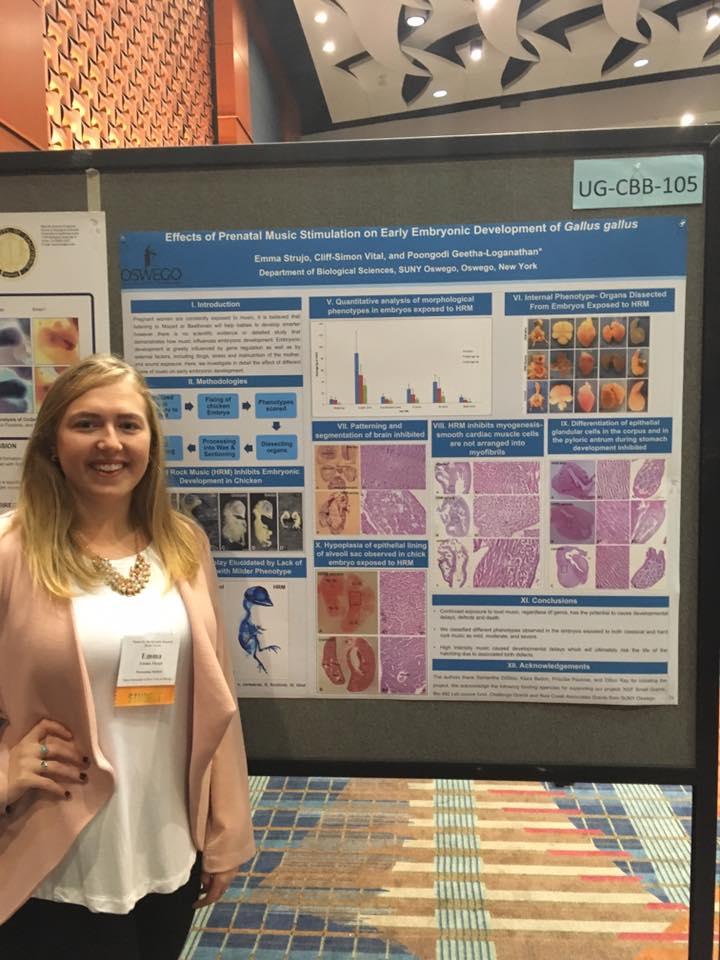 I attended the Sigma Xi Student Research Conference in Raleigh, North Carolina on November 10th – 12th, 2017. I am a member of the Sigma Xi Research Honor Society and it was very exciting to attend a conference where I had the opportunity to build my networking connections with researchers around the country in all aspects of science. I represented my ongoing research in developmental biology by presenting my poster to several judges in the field of cell biology and biochemistry while also interacting, building professional relationships with students who are performing research in high school, undergraduate research studies, and graduate level research studies. I learned a lot about different research areas such as, cancer studies, microbiology, physics, engineering, and more. The weekend was full of presentation talks, seminar panels, and more. At the conference banquet I was presented with the Student Choice Award for the best undergraduate poster presentation. This award was voted on by all student presenters at the event who expressed high interests in my research of looking at the effects of prenatal music stimulation on early embryonic development of chickens. People were intrigued to learn how exposure to high intensity sounds of classical and hard rock music genres has the potential to cause developmental delays, defects, and even death in chicken embryos. 
All in all, this was an experience of a lifetime which has helped me expand my research knowledge. I got to represent my wonderful school, SUNY Oswego and my amazing research lab team. I know continuing my research will provide me with many more opportunities to emphasize how important this research is because of the similarities it poses toward development in human studies. I would like to thank this travel grant for offering its support toward my travels because without it I would have not been able to attend this beneficial educational experience.
Jessie Buecheler - School Psychology - NYASP Conference Summary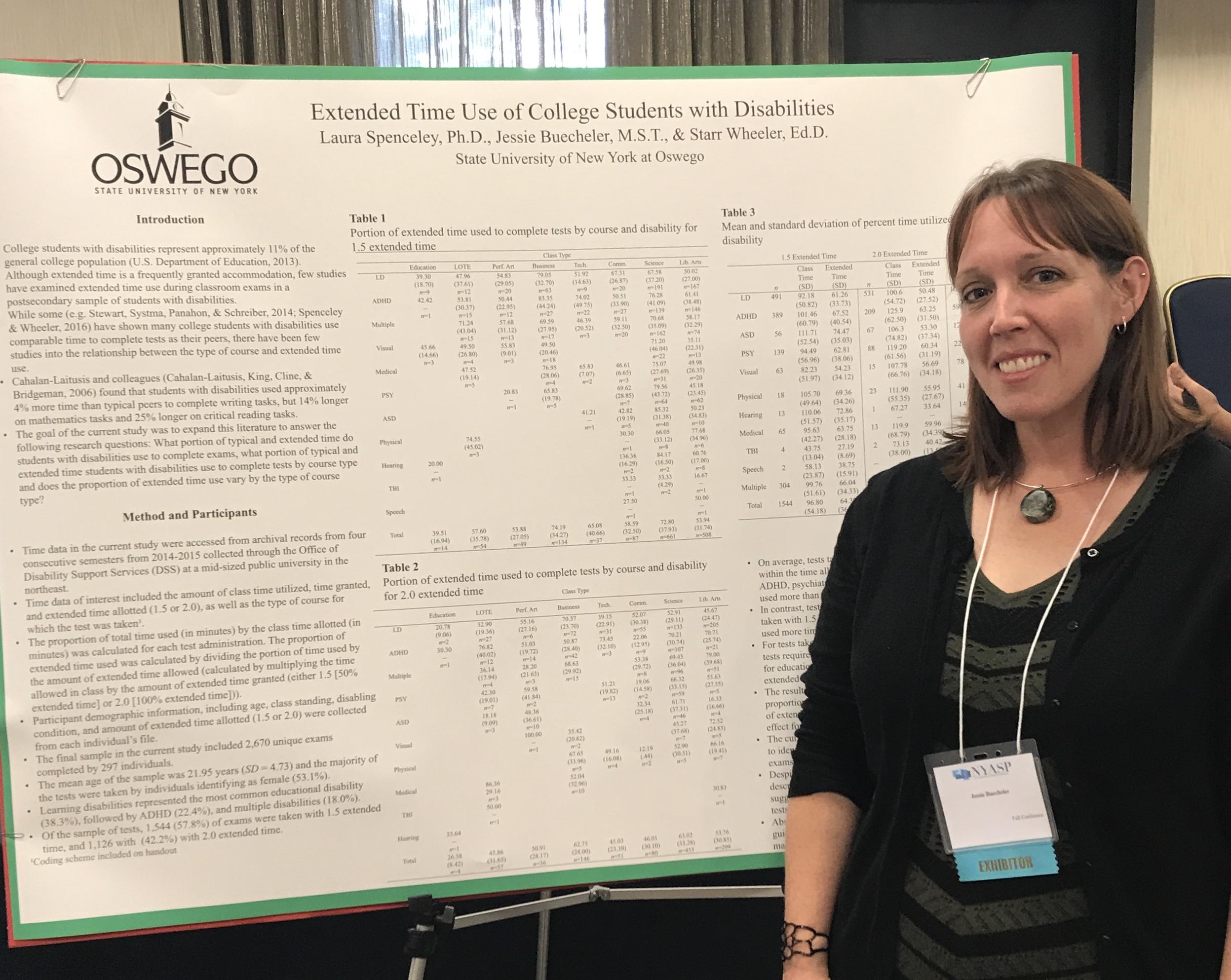 This October, I attended the New York Association of School Psychologists annual conference in White Plains, NY. Attendees of the NYASP conference are typically associated with a school or college, and presentation topics are usually related to current events or concerns in the field. Credit-earning sessions are also offered to help individuals retain their credentials. I participated in the poster session, along with my advisor, to present the findings of our own study, Extended Time Use of College Students with Disabilities.
            This year, I attended a number of talks about the practice of Mindfulness. I found the presenters to be quite knowledgeable and the information extremely useful. As this is a new interest of mine, I was happy that NYASP provided these particular breakout sessions. I was also appreciative of the materials that were offered for sale after the discussions, and I was able to purchase some preferred books while speaking with the author.
            I was happy to be able to not only refresh my knowledge surrounding the ethics of school psychology by attending Dr. Garruto's session, but also to become more informed of the legalities and issues raised in schools regarding LGBTQ and transitioning students by attending Lisa Scott and Christopher Oldi's session. The current climate of our country has created tensions and misunderstandings about what is acceptable in schools, and what is legally allowed. Though it was frustrating to hear that certain laws regarding the sexual orientation and/or gender identification of our students are being targeted and repealed, it was helpful to have up-to-date information. I also appreciated the number of resources provided by both presenters.
            This was my third year attending the NYASP conference. As with the other experiences, I found this one to be extremely useful and informative. The opportunity to hear experts in the field present on current topics is helpful to the development of my own skills as a school psychologist. The time to network and interact with professionals from other schools and districts is also always an educational experience, and one that is invaluable to graduate students. I look forward to attending the NYASP conference next year, as well.
Megan Dignean - Childhood Special Education - NYS Council for Exceptional Children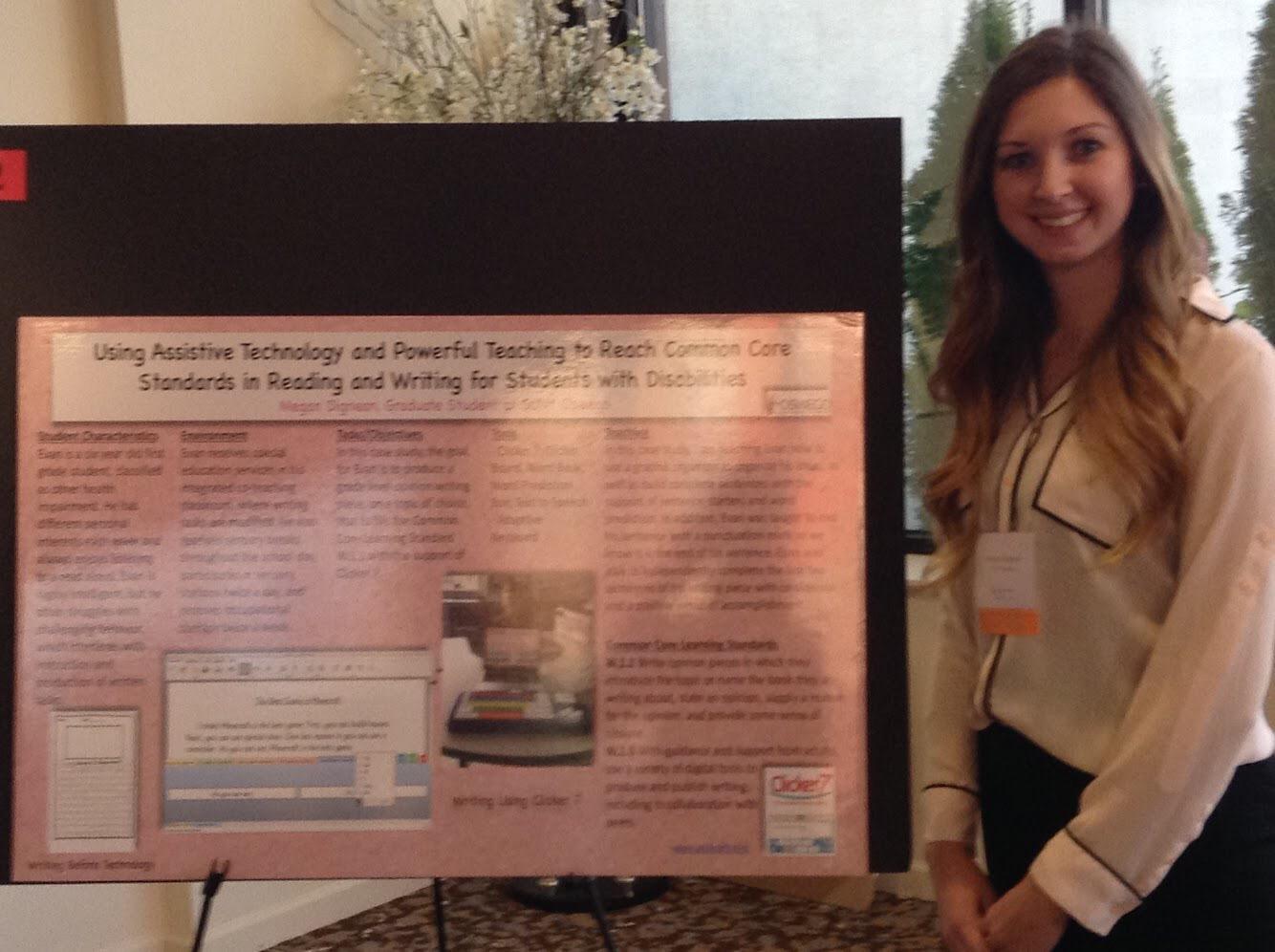 In the beginning of the semester, when professor Fenlon first explained we will be presenting a case study at a conference as part of our graduate work, I was filled with mixed emotions. As the weeks went on in student teaching, it was time to select a student who would be a good candidate for the case student; A student who struggled with transferring their thoughts to paper, and could benefit from using assistive technology to support their current skills. I selected a student that not only struggled with written tasks, but also struggled emotionally when it came to written tasks. The process that took place to develop a case study was highly rewarding. Being able to work with a student that has significant challenges with written tasks and expose him to assistive technology, specifically a program called Clicker 7, was a rewarding experience for me, the student, and his family.
As a final semester, special education graduate student, we as students have not had much time together compared to previous semesters. Attending the conference was an opportunity for us to collaborate as professionals on our current student teaching experiences, specifically discussing each of our case studies. Upon arriving at the conference, we were warmly welcomed by our professors and the conference staff. We were able to travel from table to table at our own pace to learn about each organization that was there. During this time I was able to obtain a lot of new information, as well as collect useful free items that were handed out. The best part about this conference was the opportunity to evolve it around myself. I was able to select which presentation I wanted to attend at each time frame, centering around my interests.
Friday evening was the two hour time slot for our poster presentations. We were spaciously set up with an easel to hold our poster and all conference attendees leisurely walked around to the various poster presentations. I had a wonderful conversation with professors at SUNY Binghamton, students from other colleges, and an administrator from a southern tier public school. Some individuals challenged my thoughts about my presentation and made me reflect in different ways than I already had. Overall, it was a great way to expose individuals to Clicker 7 software and the benefits of using assistive technology, as well as network with professional individuals around New York State.
Lynn Szczygiel - Special Education - New York State Council for Exceptional Children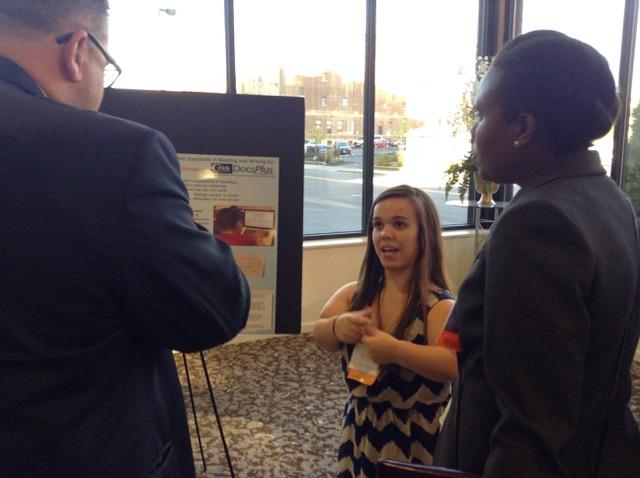 On October 20th and 21st I traveled to Binghamton, NY for the New York State Council for Exceptional Children.  At this conference, I was able to meet and speak with many different educators from different schools.  I went to many different presentations as well as give a presentation of my own. This conference was a great experience and I learned a lot from going. I had the opportunity to present about one of my students from my student teaching placement.  I showed how using technology can improve a student's writing.  At the presentation I was able to share my findings and introduce professionals to the new technology that I used.  I used a program called DocsPlus and many people did not know what it was.  I informed them on the features of the program so they could use it for their students if necessary. It was a good experience sharing my teaching and advocating for technology for students. One of the best presentations I went to was titled "Top 10 (and more) Strategies for De Escalating Challanging Behavior."  No only was the presentor engaging and knowledgeable, I also learned so much from this presnetation.  I learned that many of the things I was doing in reaction to behaviors was making the behavior worse.  I also learned a lot about personal space and body language.  This presnetation helped build on the information I learned from my courses at SUNY Oswego.
Amanda Whitney - Childhood Special Education - NYS CEC Conference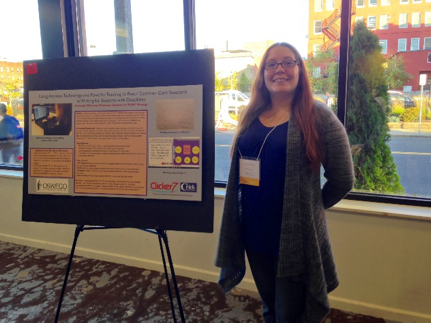 Amanda Whitney attended the New York State Council for Exceptional Children Conference on Friday, October 20th and Saturday, October 21st, in Binghamton, New York.  She also gave a presentation on assistive technology on Friday, October 21st from 5:00pm-7:00pm. 
Her presentation was titled, Using Assistive Technology and Powerful Teaching to Reach Common Core Standards in Writing for Students with Disabilities.  Amanda presented on a student in her student teaching placement whom she taught how to use the assistive technology program called Clicker7.  She presented her student using the SETTT Framework (student, environment/background, tasks/objectives, tools, teaching).  Her poster included a before writing sample, and an after writing sample, to show just how much Clicker7 helped my student succeed in writing.  She also included the common core ELA standards that aligned with the writing lessons.
Amanda attended presentations on both Friday and Saturday.  These presentations were given by professors, school administrators, and/or teachers.  The presentations covered a wide variety of topics including; de-escalating difficult behaviors, promoting good mental health/well-being of students, social/emotional skills, lesson planning, tiered interventions, academic instruction for students with severe disabilities, mindfulness practices that can be used in the classroom, and many more.
Bailey Woodard - Curriculum and Instruction - 2017 Adirondack Assistive Technology Expo

The 2017 Assistive Technology Expo was put on by the Clarkson University department of Occupational Therapy.  It was a two day event held at The Wild Center in Tupper Lake, NY on Monday October 23rd, and Tuesday October 24th.  The conference offered  a number of different breakout sessions about assistive technology and using technology to teach.  There were also a number of AT vendors, separate from the breakout sessions, that were available to show off new technology and answer questions. Bailey attended a breakout session about Crick Software, using Clicker on a Chromebook and further exploring the Learning Grids and a session on Breakout Edu, which is a very cool activity to get students engaged. 
Bailey's presentation was about the Crick Software program, Docs Plus, previously called Write Online.  As part of the project leading up to the presentation, she used the SETT framework to help a 10th grade student with ADHD and a learning disability in written expression to write an argumentative essay for his general ed. English class.  The student had previously shown a great deal of anxiety when it comes to writing, struggles with organizing his thoughts, and specifically had trouble introducing a quote, when citing from text.  Bailey used many of the features of Docs Plus to help the student.  Using word prediction helped the student get his ideas out on paper instead of letting him struggle with spelling.  We also used the workspace to create a graphic organizer, word bars, and text to speech for editing purposes. 
During my presentation, Bailey shared this experience with many people who came to view my poster, and shared a short video clip of myself working with the student.  She answered questions concerning the independence level of the student using Docs Plus, the accessibility of Docs Plus on Chromebooks and iPads, and questions about the features available with Docs Plus.
Emily Marshall - Counseling and Psychology - New York Association of School Psychologist 2017 Annual Conference
Emily attended the New York Association for School Psychologists' (NYASP) conference in White Plains, New York. This is a two and half day conference that offers a wide range of talks and presentations. She was able to present a poster at the conference with her faculty advisor, Laura Spenceley. The poster was about whether or not the Woodcock Johnson Cognitive had built in effort validity and if those could be used in determining if examiners had ADHD or were faking ADHD symptoms. Our study was a pilot study that was used to determine if we had justification for a larger study in order to better determine the use of effort validity factors in the Woodcock Johnson and if our methods were sound. The results from our study indicated that there was evidence of effort validity factors in the Woodcock Johnson and that our methods were effective. Besides presenting, she also attended several presentations ranging from Mindfulness, ADHD, legal rights of transgender students, and ethics. She found this conference to be very educational and an excellent experience.
Jessica Parzych - Special Education - 2017 NYS CEC Conference, Oct. 20-21st, Binghamton, NY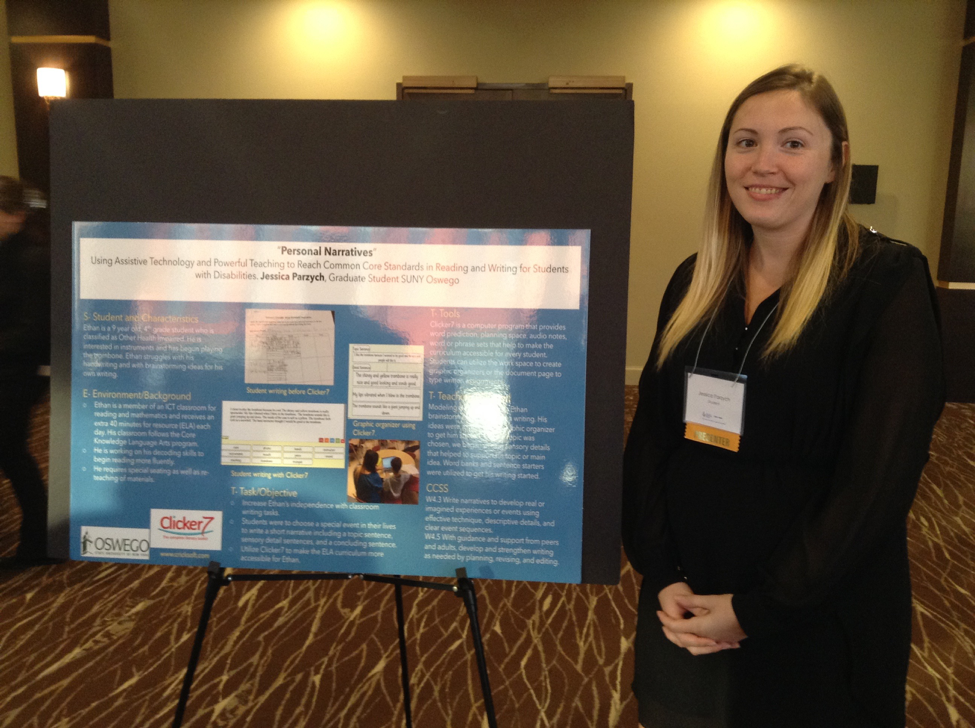 On Friday October 20, 2017,  Jessica Parzych attended the NYS CEC conference in Binghamton, NY. The event featured several presenters focused on research and practice working with students with disabilities. The conference offered a wealth of knowledge that will be utilized in our future endeavors as special education teachers. For this conference Jessica had the opportunity to also present the use of technology with a student whom struggles with the writing process in a classroom setting. During her experience in the Masters of Special Education program at SUNY Oswego she have learned to utilize the program clicker7 to help support students who otherwise find it very difficult to write in the traditional method with paper and pencil.
During her presentations she was able to share her case study with other professionals and college students alike in the field of education. Some attendees had not heard of such programs and it was a great opportunity to share her new expertise and offer ways to utilize it in a school setting with students at varying levels.
Curriculum and Instruction - The New York State Council for Exceptional Children conference in Binghamton, NY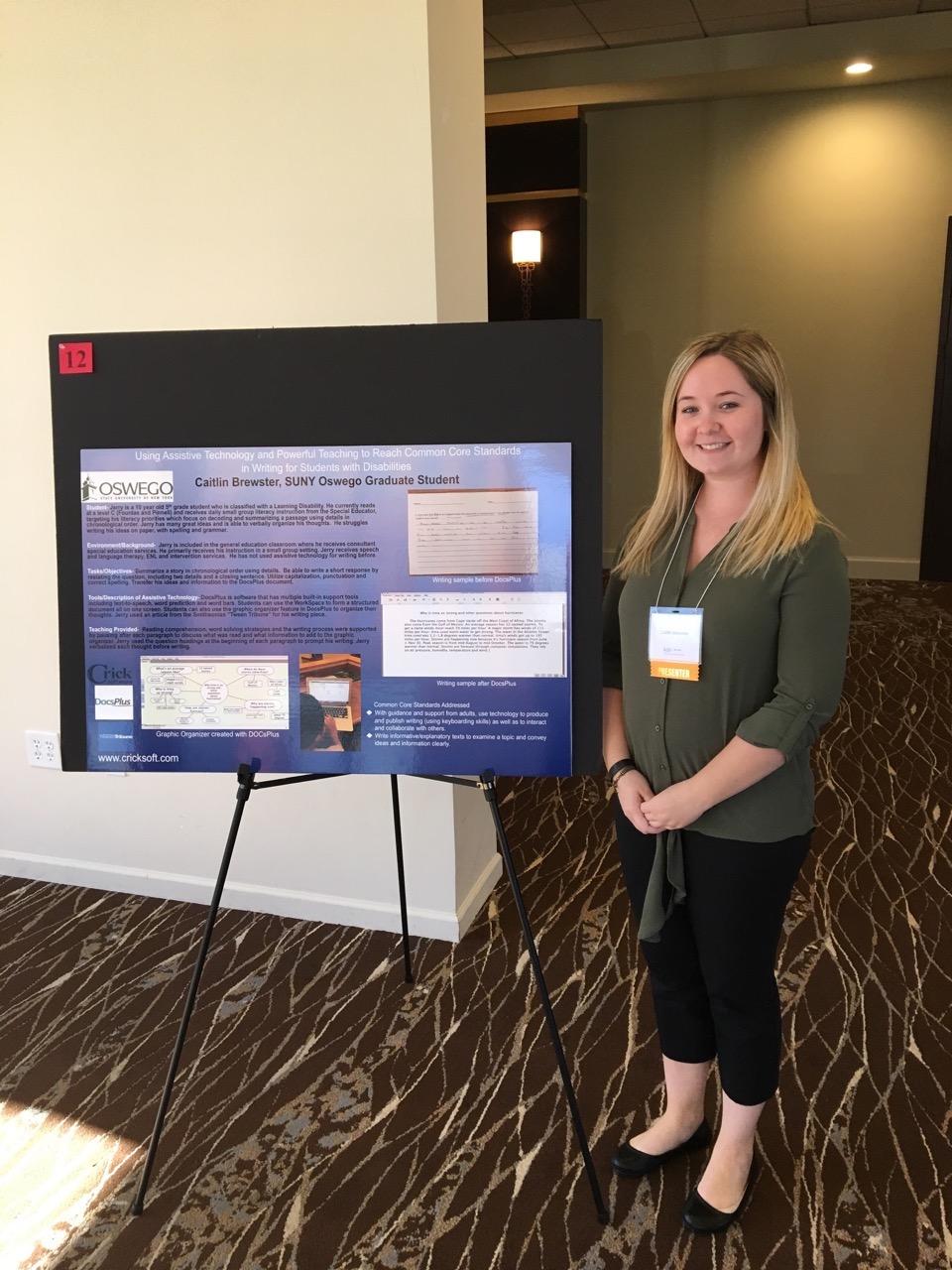 During the weekend of Friday, October 20th-Saturday October 21st, Caitlin Brewster had opportunity to attend the New York State Council for Exceptional Children conference in Binghamton, NY. At the conference, she had the opportunity to present the case study on a specific student in my placement. Her poster included information about her student including IEP goals addressed, a summary of what she had to teach the student in order to utilize the DocsPlus program and before and after writing samples. While presenting she spoke about my student, what she had to teach him and the DocsPlus program. Caitlin was able to share how the DocsPlus program helped her student become more confident as a writer and improve his writing conventions and grammar. During the poster presentation hour she was also able to speak with students from other colleges about their case study. Caitlin was happy to have had the opportunity to attend the conference and present her case study. It allowed her to become more knowledge on the programs and resources available for Special Educators and Student Education students. 
Biology - Undergraduate Research Day at the University of Rochester's School of Medicine and Dentistry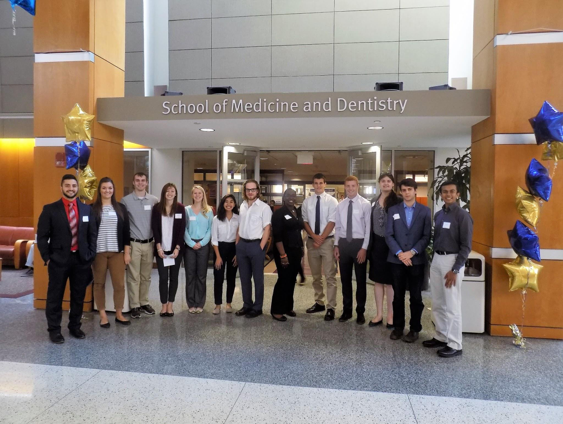 Jack Marcucci attended Undergraduate Research Day at the University of Rochester's School of Medicine and Dentisry. He and about fifteen other undergraduates attended a lecture given by the head of the dentistry department at Rochester. He emphasized the value of gaining a Phd, and the benefits that Rochester would be able to offer us. Because his talk was geared at undergraduates studying science, he paid special attention to the dynamic of the lab and the collaborative scientific  environment at Rochester. Following the lecture, all the undergraduates  presented their posters for an hour and a half. During this time, various members of the school staff came up and asked us about our research. During his presentation, Jack talked at length with several principal investigators in the Immunology department. Jack found the experience to be more engaging and eye opening than he had anticipated. Jack learned a lot about graduate school and what he might consider looking for after Oswego.
Cinema and Screen Study - Diversity in Glocal Cinemas: Language, Culture, Identity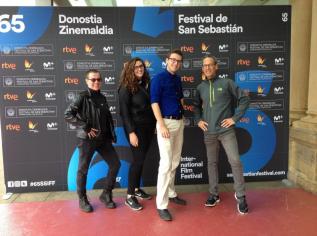 "During the summer of 2017 the three students revised and deepened research begun in Schaber's World Cinema and North-African Cinema classes.  The completed papers were submitted and accepted for presentation at the conference with Schaber as chair and moderator of the panel.  Each presentation was approximately 20 minutes with 30 minutes devoted to questions and discussion.  The conference was attended by well over 100 scholars and graduate students from six continents.  Alex, Jackie and Ethan were the only undergraduate attendees to deliver papers.
The papers investigate how recent "mobility studies" might help us understand the "politics of movement," kino- or cine-politics—migration, nomadism, dance, gesture, animation, etc.--as these are deployed across a series of recent films from West Africa by Ousmane Semebène, Khady Sylla, Djibril Diop Mambéty, Souleyman Cissé, Moussa Touré, and Abderrahmane Sissako.   In particular, the papers explore some of the ways in which the philosophers Thomas Nail and Gilles Deleuze's theories of movement sensitize us to a kinetics ranging from large social movements to the most intimate gestures,  from film stylistics to geo-aesthetics.  Our hypothesis, borne out we believe by the films themselves, is that, through images, cinema can introduce us novel, exhilarating, and potentially liberating individual and collective movements, even and especially where they seem to be most thwarted, crippled or otherwise disabled.
In addition, we were able to tour Bilbao and visit San Sebastian on the opening day of the San Sebastian Film Festival.  We lodged in a university hostel with other students, from all over Europe, currently studying at universities in Bilbao."
MATHEMATICS - CONSERVATIONAL DATA GATHERING IN NEW YORK STATE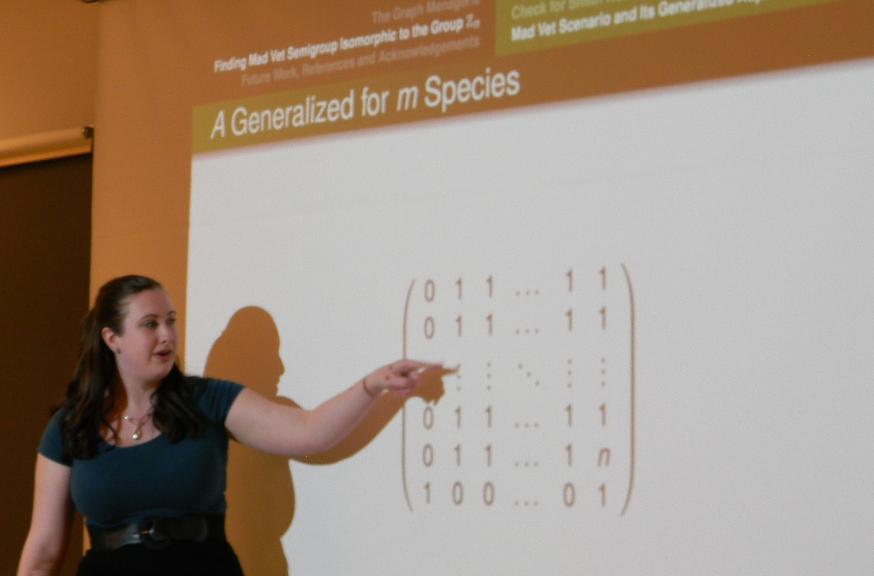 Julia Martin, Class of 2016, participated in several mathematics and statistics research projects over the course of her time at SUNY Oswego. One project, titled "Bats, Ecology, and Public Health" led Julia to attend the national Mathematical Association of America conference, MathFest 2015, in Washington, DC.  This project required that Julia work with the Department of Environmental Conservation and the New York State Department of Health Rabies Laboratory to gather data on rabies among animal populations in New York.
In Spring 2015, Julia gave a presentation on an independent project about Mad Vet puzzles (pictured above). She read a paper and then solved a new problem regarding Mad Vet puzzles using graph theory, matrix algebra, and abstract algebra ideas. This presentation was given at the Spring 2015 MAA Seaway Section meeting at Colgate University.

FINANCE - INVESTIGATING THE DETERMINANTS OF MICROFINANCE LOAN DEFAULTS BASED ON A PROBIT MODEL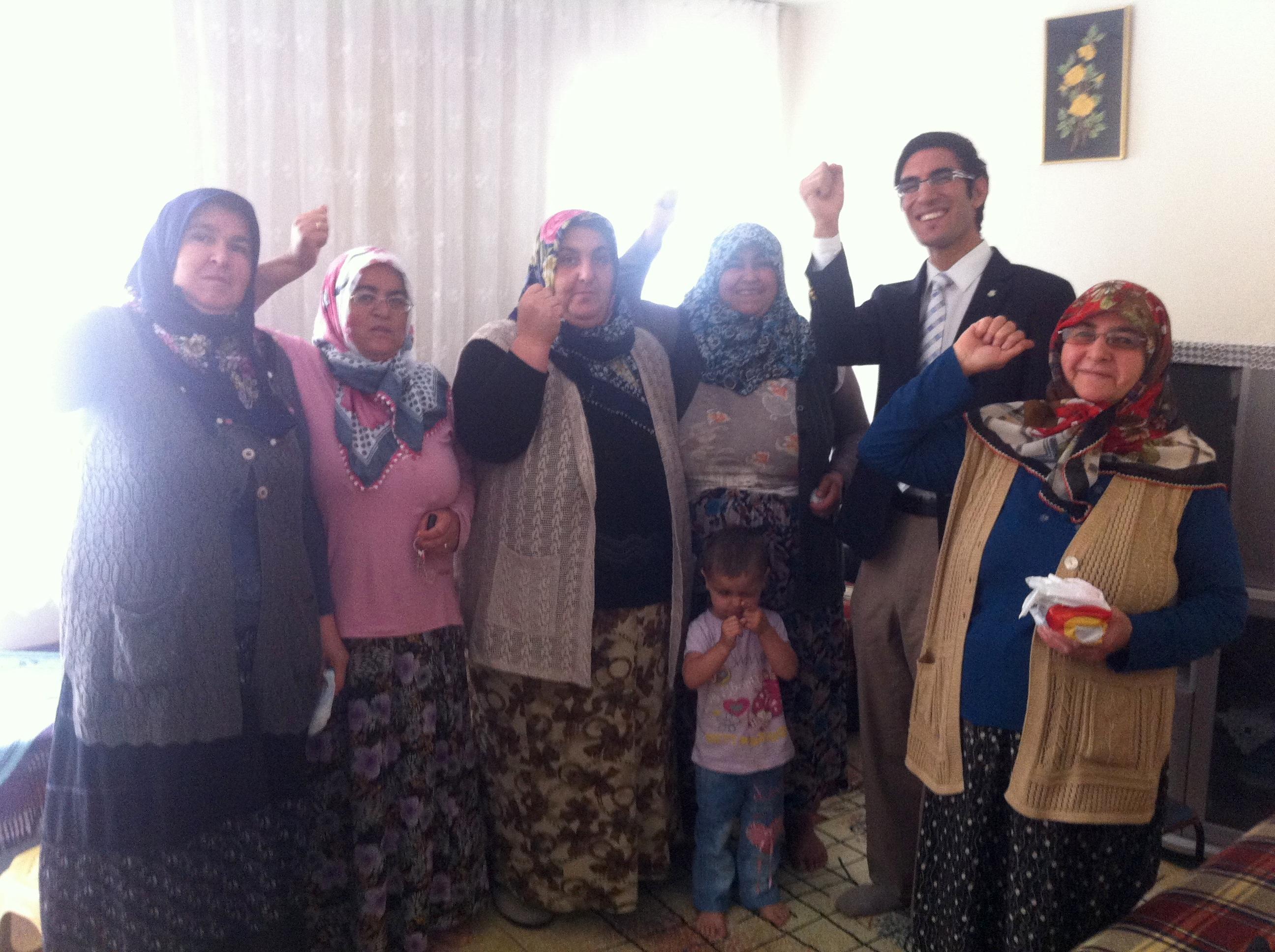 Eyub Yegen, a double major in finance and applied mathematical economics with an applied statistics minor, was a financial and statistical researcher at the Turkish Grameen Microfinance Program during summer 2013. His research investigated the determinants of microfinance loan defaults based on a probit model. Additionally, he presented his paper at one national-level and four international conferences.

Eyub: "This research project started as a class assignment and turned into a study that was presented at several faculty level international conferences. After this experience, I had the motivation and the privilege to work on seven research papers. SUNY Oswego's slogan, the sky's the limit is mine also."  
THEATRE - PERFORMING AT THE EDINBURGH INTERNATIONAL FESTIVAL
Clarissa Bawarski, a theater major, traveled to the Edinburgh International Festival in Edinburgh, Scotland to perform Desdemona, A Play about a Handkerchief by Paula Vogel.  The play focuses on the lives of three female characters from Shakespeare's Othello. She journeyed with five other students for 11 days and perform the play a total of four times.
Clarissa: "I've wanted to perform since I was a kid, so this is a big step towards exploring the world and getting to see if performing as an actress in front of tons of people is really what I want to do with the rest
of my life." 
GEOLOGY - SEARCHING FOR THE OLDEST FLOWERING PLANT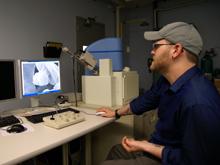 Brett St. Pierre, a geology major, used a scanning electron microscope to examine clay from Martha's Vineyard and classify the fossilized plant material he finds. This work is following in the footsteps of Dr. Bruce Tiffney and his discovery of an unknown fossilized plant from the same area during the 1970s. Brett hopes that with the technological advancements and new information gained since then, the work may lead to the classification of the oldest known flowering plant.  
Brett: "Working on this research project has given me tons of hands-on lab experience with multiple techniques and different instrumentation. This opportunity has put me in touch with a lot of experts I would have never met without doing this work and will be extremely helpful as I go into industry after graduation."
ZOOLOGY - INVESTIGATING THE INTERACTION OF WOLBACHIA IN ARTHROPODS
Yadong (Don) Wang, a zoology major with a photography minor, spent a summer studying the interaction of wolbachia bacteria in arthropods to determine if feminization will occur. By focusing on the evolution of sex-linked genes in the arthropod, he hoped to gain a more introspective view of human evolution as well. 

 Don: "This experience allowed me to combine my research skills with my passion for
photography. In the future I hope to continue this research abroad somewhere with a diverse
range of wildlife such as Australia." 
PSYCHOLOGY - STUDYING FLUCTUATIONS IN CORTISOL BASED ON PERSONALITY FACTORS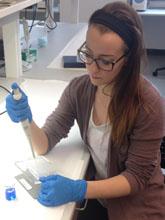 Holly Granat, a double major in psychology and public justice with a forensics minor, researched the fluctuations of cortisol levels based on personality factors and negative peer interactions in college students. Her study involved recording cortisol samples of over 40 participants before and after completing a questionnaire concerning aggressive behavior. From this experience, she hopes to build upon her research skills by pursing a master's degree in environmental management.

  Holly: "This experience really taught me a lot about myself and what I am capable of. At first I was very overwhelmed, but eventually I adopted better time-management skills that allowed my research project to be a success."
ANTHROPOLOGY - ANALYZING SKELETAL REMAINS IN SCOTLAND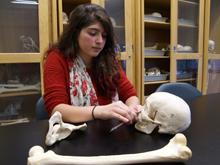 Alexa Lucera, an anthropology student, traveled to the University of Dundee in Scotland, in summer 2013
to study bones at the only active repository of juvenile skeletal remains in the world. She is interested in bio-archeology which involves studying historic remains such as those found in mass graves, and plans to continue her studies in graduate school. 
Alexa: "For me, I just love studying bones because we can learn so much from them. These, essentially lifeless things that wouldn't be able to speak to anyone else, we can give them back a voice. I really want
to continue studying this subject so we can learn things about these people after they are gone." 
ART - QUESTIONING ISSUES OF HOMOSEXUALITY AND MASCULINITY IN OUR CULTURE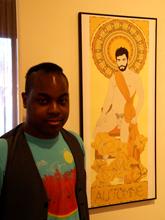 Logane Robinson, a double major in theatre and graphic design, finished a series of four digital illustrations of personifying the four seasons and exploring masculinity in relation to homosexuality.  The project began as a study of the male figure within the art nouveau style but has evolved into a much broader work questioning how the male figure is used in our culture and art. 
Logane:"This project is important to me as a gay man because it allowed me to find my personal aesthetic as an artist and a way of expressing my feelings about masculinity and homosexuality in a creative manner."

BIOLOGY -  INVESTIGATING THE HORMONAL SIGNAL OF CHILDHOOD OBESITY
Johana Lambert, a biology major, spent the summer doing field research investigating how certain hormones may be linked to childhood obesity. As a result of her hard work, she will presented her research at the Rochester Academy of Science Fall Paper Session. Johana hopes to attend graduate school to study biomedical sciences or physiology. 

Johana: "This was different experience than inside the classroom, it was very hands on and I had control over the experiments and research involved in the study. Most of my research was done outside of the lab, which made it a very rewarding experience for me."  
HISTORY - STUDYING DECLASSIFICATION AT THE NATIONAL ARCHIVES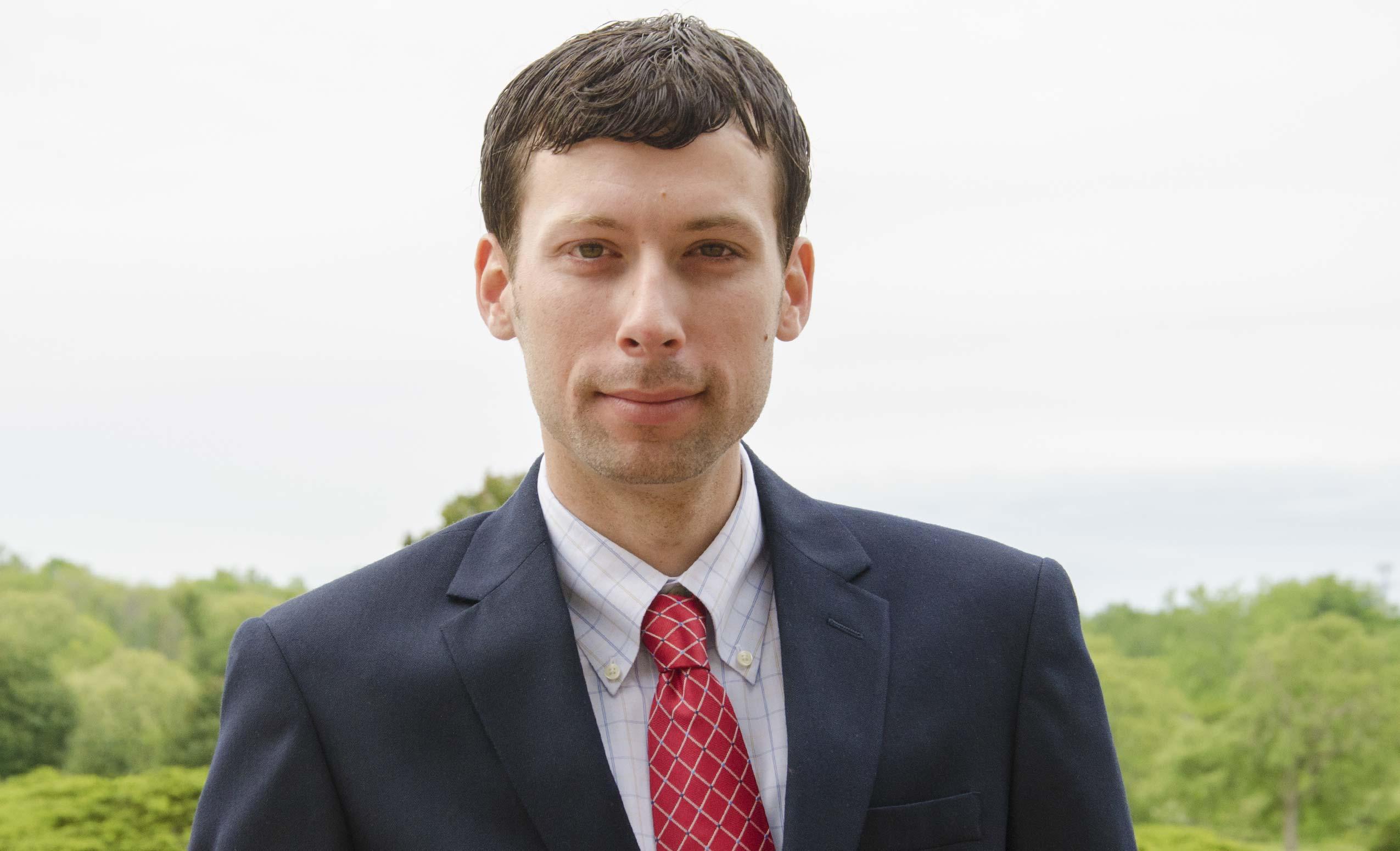 Michael Pittavino, a master's history student, received a SCAC Challenge Grant to travel to Washington D.C. to work with the Department of State for 12 weeks doing archival research on classified documents as conducted by the National Archives and Records Administration. Mike used this research in a historiography seminar discussing some of the anomalies of diplomatic correspondences, and how certain aspects of these documents can lead to further avenues of research. In the future, he hopes to build upon the experience he has gained while exploring the declassification process.  

Michael: "From this experience, I hope to encourage others to think more critically about the documents they use for their own historical research projects."
POLITICAL SCIENCE - STUDYING SOCIAL ASSISTANCE PROGRAMS IN MEXICO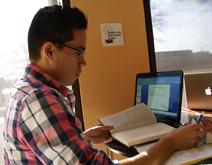 Francisco Perez, a political science major, traveled to Mexico to look at the effects of Oportunidades, a government social assistance program, on poverty in the country. His research also involved looking at the difference between income poverty and experience poverty. He analyzed government reports and interviewed people to get their perspectives on what is working and not working with the program.  
Francisco: "I want to go to graduate school and ultimately work in the Foreign Service. So I want to do something with international politics. My undergraduate research gives me the opportunity for self reflection and connects me to the rest of the world."
PSYCHOLOGY - HOW PARENTS' COMMUNICATION AFFECTS THEIR CHILDREN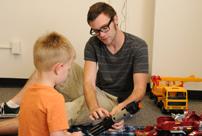 Ryan Spall, a psychology student, worked with Dr. Matthew Dykas on a study of parent-child communication. The study examined how parents' communication affects their children. He interacted with young children and their parents to see how children mimic and are otherwise affected by their parents' behavior when it comes to communicating.
Ryan: "It was an enjoyable experience that allowed me to explore a field of work that could very well be in my future. It is something that I would recommend to anyone that knows research may be in their career."
METEOROLOGY - USING WIND POWER FOR SUSTAINABILITY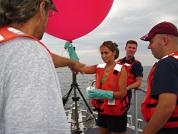 Through independent study, Brittany Gibbons studied windpower and meterological data collection methods. This
has lead her to pursue a career in sustainability and wind farming.
Brittany: "I have learned so much from these research experiences. They helped me build my resume while also finding out what I want to do after I graduate. It has lead me to a career in sustainability and wind farming that I plan
to pursue following graduation."
ANTHROPOLOGY - UNCOVERING RUINS IN THE BAHAMAS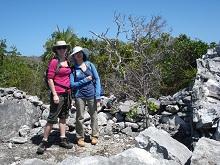 Khrystyne Tschinkel (left), an anthropology student, had the opportunity to travel to the Bahamas on three separate occasions to visit the structural ruins of persecuted English loyalists of the late 18th century. By surveying the site, analyzing artifacts, and reviewing documents in archived collections at Kew in London, Khrystyne hopes to discover more about who occupied the island, when it was occupied and the reasons it was abandoned.
Khrystyne: "The first trip I went on in the Bahamas opened up so many doors for me. Actually utilizing research methods in the field is pretty amazing. The experience has given me knowledge I could never have learned in the classroom. I can apply the methods we used and learned, to all aspects of research. This will help me in any career I wish to pursue in the future."
BIOLOGY - LINKS TO OBESITY IN THE BLOOD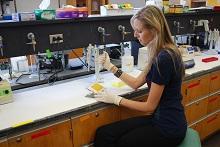 Alena Habrykava, a biology major, worked on her research in the Molecular Biology and Biochemistry lab
testing for a correlation between obesity and certain proteins found in the blood. She received funding through
the Summer Scholars program and presented her findings at Quest.
Alena: "You will carry out a lot. Now I know that when I go to medical school or start a job the skills I learned
over the summer will give me an edge and something to talk about in interviews."
MUSIC - CHOPIN PERFORMANCES REGIONALLY AND ABROAD
Evangeline Canfield, a music major, worked on a composition with Dr. Robert Auler. As a result of this personalized studio learning, she has had the opportunity to perform Chopin pieces at numerous local and regional concerts.
Evangeline: "I enjoy the hands-on experience and have learned how to prioritize, and discipline. I really like going out into the community to share my work."
GEOLOGY - UNCOVERING A MASS EXTINCTION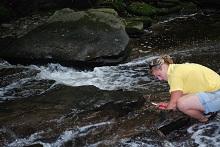 Emily Seeger, a geology student, spent six weeks in the field over the summer of 2011 researching the Devonian mass extinction event. She collected and sampled evidence preserved in rocks of Western New York.
Emily: "The Undergraduate research program at SUNY Oswego has benefited me immensely. Through the program, I have been able to network myself and I have started to gain knowledge through my own means. My research at Oswego has been guided but still independent, which allows for my own development as a scientist."
GEOLOGY - ROCKS HOLD CLUES TO ANCIENT OCEANS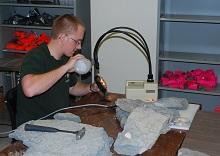 C.J. Spath, another geology major working on a summer research project, has gained the opportunity to use many tools and instruments. He cuts and planes his specimens before analyzing them using a powerful rock saw.
CJ: "Undergraduate research at SUNY Oswego permitted me to operate many instruments used for experimental research in the geoscience field, which I would have never used without these research opportunities. The skills I learned will continue to prove fruitful in the rest of my undergraduate years and in my future career."
ASTRONOMY - NEW METHODS FOR GAUGING DISTANCE ON A COSMIC SCALE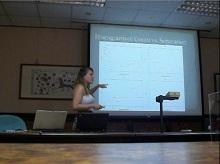 Danielle Citro, an astronomy major, worked on aproject investigating the patterns of change in luminosity for Cepheid stars in the Large Magellanic Cloud. She traveled to Taiwan as part of her project and presented her findings at Quest 2011.
Danielle: "I learned a lot about what it means to do research by going to the conferences, presenting and interacting with colleagues and other researchers. It's different when you're not handing everything in for a
grade. It was a valuable experience."
CHEMISTRY - UNDERSTANDING HEAVY METAL TOXICITY AND ABSORPTION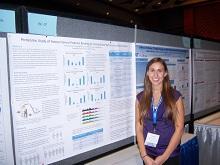 Christyne Chmil earned travel funding to attend and present her research at the annual Sigma Xi meeting in Raleigh, N.C. She studied the heavy metal binding properties of human proteins and presented a poster detailing her study. Through the conference and travel, she gained valuable interaction and advice from accomplished professionals in the field.
Christyne: "Overall, this experience has allowed me to self-reflect. I think Oswego should require students to do some type of research. Conducting summer research forced me to become independent and improve my critical thinking skills. Because of research, I have confidence in my abilities to succeed."
COMPUTATIONAL PHYSICS - USING MACHINES TO REVEAL THE SECRETS OF THE UNIVERSE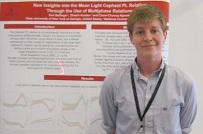 Earl Bellinger, a major in computer science and applied mathematics, traveled to Brazil twice to do research,
and worked on software for two major satellites that will explore planets and moons in our solar system and
stars within our galaxy.
Earl: "The research opportunities available to students at Oswego are phenomenal. The faculty here work on unique projects that are changing the world. I never expected that it would be so easy to get involved in something so important."


Find faculty sponsors to suit your individual interests: