Communication is constantly evolving with the ever-changing technology and business trends. That's why our faculty has designed this program to produce advanced-level communication professionals who can craft and distribute ethical messages to achieve desired outcomes through the strategic use of face-to-face and mediated channels.
Quick Facts
Rolling Admission Apply Anytime
You Can Start Fall, Spring or Summer
Delivery Option Main Campus, Online
Cost Per Credit Hour $471
Estimated Completion Time 2 Years
Overview
Candidates will examine theoretical and practical applications of communication research within environments that require strategic communication, such as organizational and mediated contexts. Recent baccalaureate graduates and current professionals will have an opportunity to examine the creation, perception, interpretation and implications of communicated messages. 
Curriculum
Our flexible curriculum gives you the opportunity to customize your coursework by selecting from a wide range of courses in consultation with your advisor.
Master of Arts
SUNY Tuition
Achieving your long-term career goals shouldn't come at the expense of your immediate financial security. Our programs are affordable — providing a quality education at a reasonable cost. 
Outcomes
Graduates of the program will have gained knowledge and a fine-tuned skill set in producing effective and appropriate messages intended to facilitate systematic change, solve complex problems, influence others, and strategically communicate with others through face-to-face and mediated channels.
Career Opportunities
Agency or in-house digital marketing specialist

Communications and public relations

Content developer

Human resources

Marketing manager

Multimedia specialist
Regardless of the workload each individual had based on their own schedules, I could always count on my graduate studies peers to review a paper for me or make sure my surveys in my research were pristine.
This program is an ideal blend of theory and application that reveals how communication can become much more than just clever PR or a well-written press release.
There are many Graduate Assistantship positions available for students and they are exactly what I needed to make my dream of having a master degree possible.
The Strategic Communication program offered me something unique from all other graduate communication programs. Our supportive instructors and fellow students made my graduate studies a rewarding experience.
Program Resources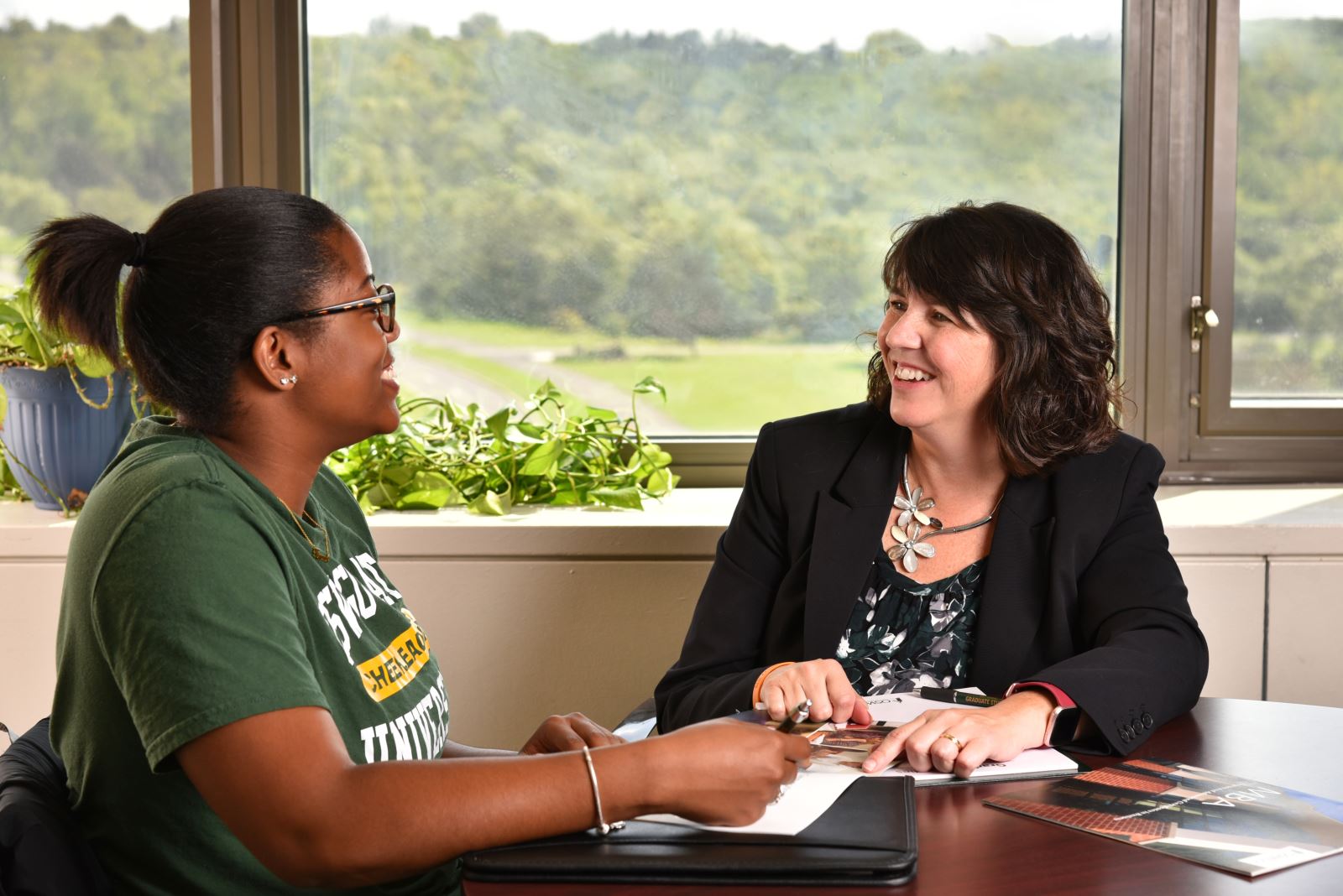 Information Sessions
Learn about our graduate programs through our information sessions today!
Register Today
PROGRAM HIGHLIGHT

Master's project examines students' relationships with technology
A group of master's in strategic communication students, working a large-scale student survey from 2019, found students have a complicated relationship with technology and their smartphones.
Read More
Diversity Graduate Fellowship Program
Prospective students may be eligible for an award which includes an annual stipend, in addition to fully-paid tuition for full-time study.
Learn More
More than 120 Graduate Assistantships Offered
Assistantships provide an opportunity to gain experience through professional work on campus.
Learn More
The Power of SUNY Tuition
Achieving your long-term career goals shouldn't come at the expense of your immediate financial security. Oswego offers low tuition compared to many private colleges. Never sacrificing quality for affordability, our graduate students are receiving a nationally accredited program that will translate into effective knowledge and opportunities.
Admission Requirements
Submit official transcripts confirming your bachelor's or master's degree/advanced certificate. This includes graduate-level coursework or post-baccalaureate degree/certificate. U.S. transcripts must be sent directly from the granting institution (electronic or mail). All international transcripts require verification via a 
World Education Services (WES)
 credit evaluation. If you are a SUNY Oswego alum, your official transcript will be automatically requested after entering your student ID and identifying SUNY Oswego as your school on the application upon submitting your application.
GRE scores are not required for an applicant to be considered for admission into this graduate program. Applicants who believe that a GRE score would strengthen their credentials have the option to submit a test score as part of their application package.
In 500 words or less, describe your personal achievements relating to your academic interests, and detail your educational and professional objectives with reasoning for applying to SUNY Oswego. This statement will help the review team better understand and evaluate your application.
Include a professional resume or curriculum vitae that includes your academic history, professional background and any accomplishments of note. This document should provide details that support your admittance to the program.
Two letters of recommendation
Indicate two names with valid email addresses. We will send an email request directly to the references on your behalf. These references should be able to speak to your character, work ethic and abilities.
Prospective students are charged a non-refundable $65 fee for processing the application.
Tuition and Costs
Graduate school can be affordable. See our in-state and out-of-state tuition and costs.

View tuition and costs
Visit Oswego
Experience what makes Oswego special in person. We have a variety of visiting options through the year.
Contact us to plan your visit
Next Steps to Apply
Ready to get started? We're here to make the application process as smooth as possible. Take the next step by creating an application account and save your progress at any time.