Globally connected networks, big data, decision analytics and the genomic revolution are shaping the future of global healthcare systems. That's why our faculty have created a master's program that addresses these advancements.
Quick Facts
Application Deadline Rolling
You Can Start Fall, Spring or Summer
Delivery Option(s) Syracuse Campus, Online
Cost Per Credit Hour $471
Estimated Completion Time 2 Years
Overview
Students will explore methods for assessing information practices, evaluating needs of providers and patients and creating technology solutions to address challenges the industry is currently facing. Our curriculum coincides with our existing computer science programs with specialized health informatics and health information management coursework.

The framework is guided by the Commission on Accreditation for Health Informatics and Information Management Education (CAHIIM), the pre-eminent accrediting body for graduate health informatics and information management education. Biomedical and Health Informatics Accredition Information.
Our program provides three tracks, each specifically designed to focus on the needs of today's healthcare settings.
Tracks
Health Information Management: Health Data Science
This track focuses on biomedical data analytics and applications. Students learn best practices in utilizing health care and public health data to improve health outcomes in individuals and communities. Areas covered include data analysis and data science methods, processes and tools for big data; machine learning; statistical data analysis and inference; spatiotemporal and signal analytics; text mining; data/reference terminologies; and data collection, storage and administration models.
Health Informatics: Intelligent Health Systems
This track focuses on smart and connected health information systems analysis, design, implementation and management. Areas covered include digital health, telemedicine, decision support systems and cognitive systems, artificial intelligence in medicine, smart health, mobile health and healthcare quality assurance.
Health Informatics: Professional
This track focuses on a more business management and administration approach to health informatics with electives selected from our award-winning Master of Business Administration programs. Students will take courses such as organizational management to prepare for the application of business principles to health informatics.
Introduction Video
Program Director: Dr. Isabelle Bichindaritz
Oswego offers generous graduate student support.
We have 120+ graduate assistantships totaling over $369,000 per year in tuition waivers and stipends.
Outcomes
Graduates of the program will be able to demonstrate advanced proficiency in health information technology and health informatics with a focus on systems integration, safety and security, as well as intelligent health systems practices. Graduates foster relationships with leading health care businesses in the area and have opportunities to work with organizations such as Upstate Medical Center, MedTech, Welch Allyn and the Veterans Health Administration through internships and research projects to build experience and a professional network.
Career Opportunities
Health information technician

User interface developer 

Health information exchange manager

Data integrity specialist

Network security engineer

Data Analyst/Scientist

System Analyst IT

Manager Chief

Information Officer
The professors at Oswego know my strengths and put me in a position to excel. They are phenomenal people, they enjoy being at Oswego. I love that they are accessible to chat and discuss at any time.
Program Resources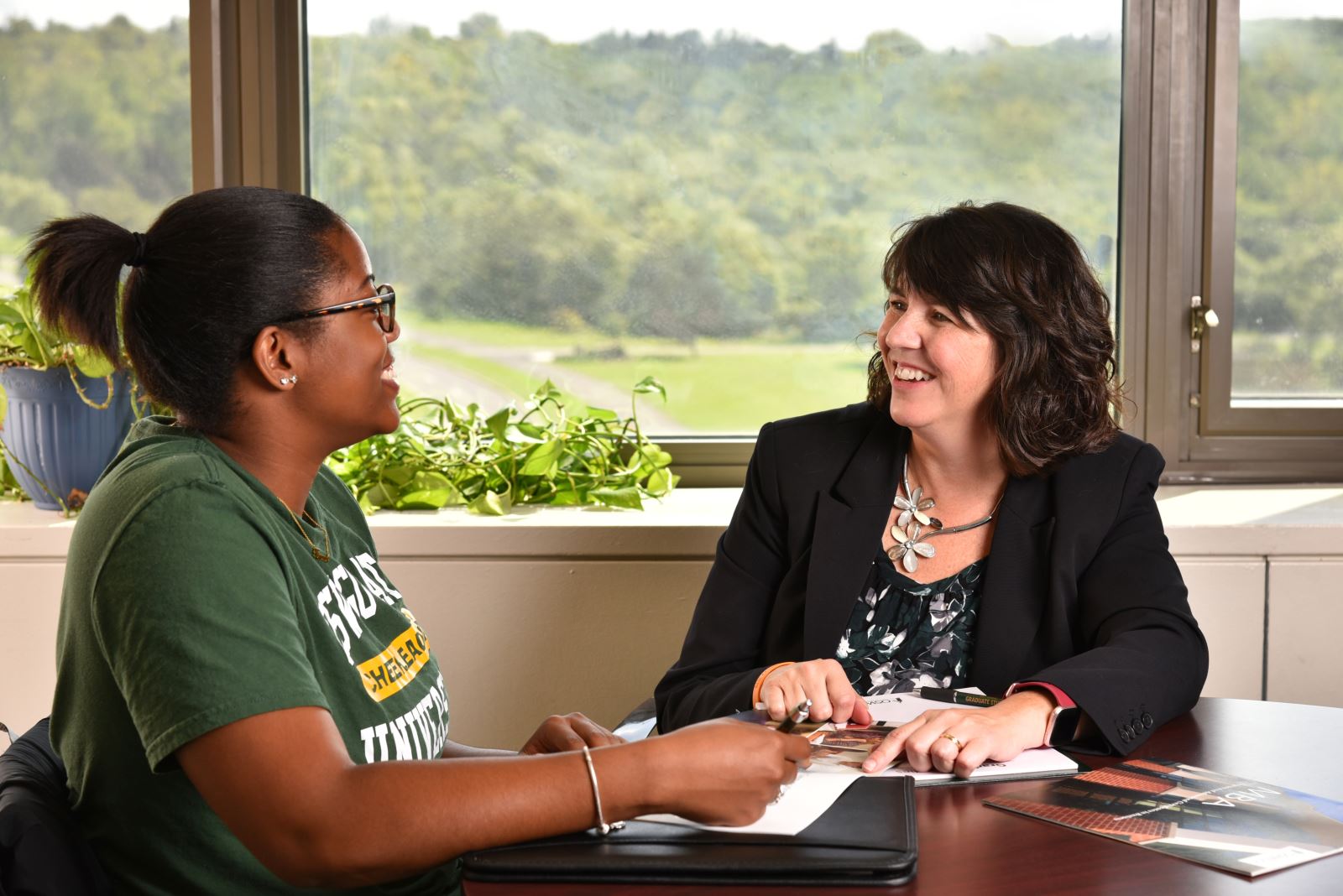 Information Sessions
Learn about our graduate programs through our information sessions today!
Register Today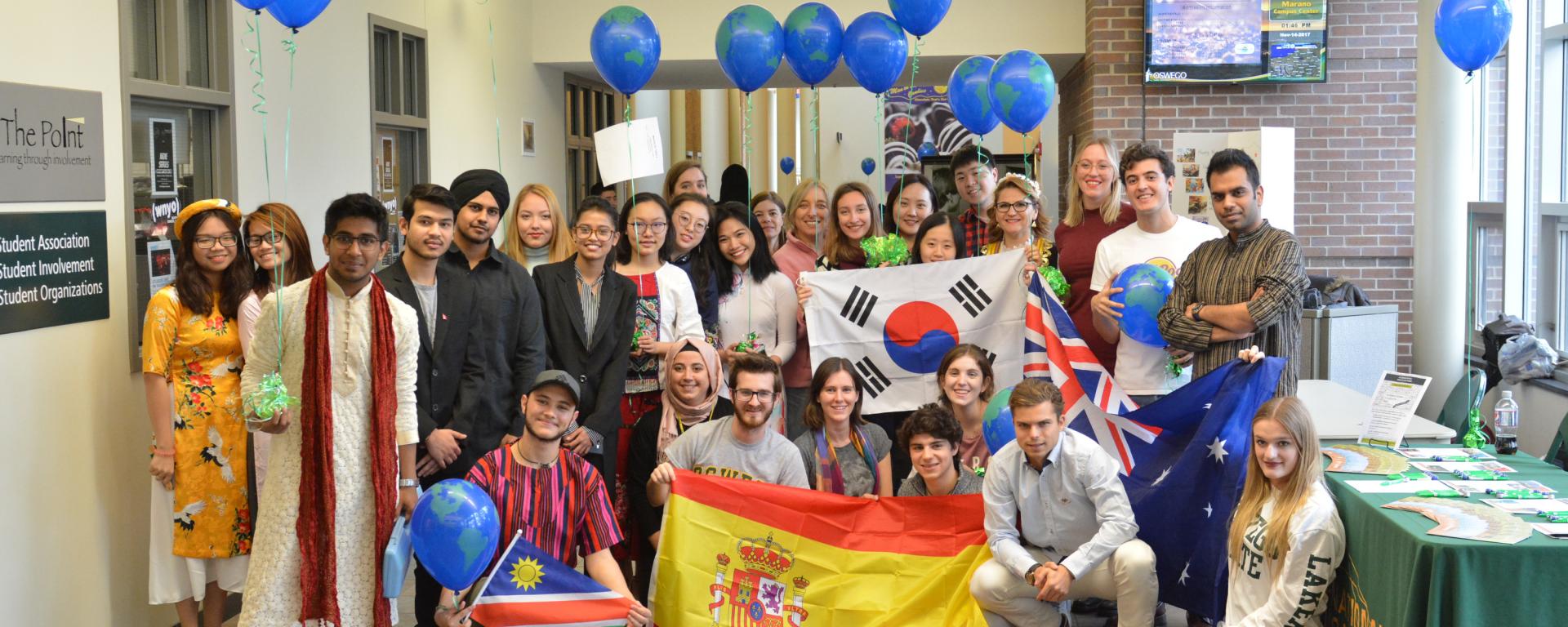 International Student and Scholar Services
SUNY Oswego is committed to making your transition to the university and to the United States as seamless as possible. We provide many services to help you adjust to campus life including the New Student Orientation, programs and events, support with cultural adjustment, and more.
Learn More
F1 OPT
STEM Designated
STEM designated educational programs make it possible for international graduates to remain stateside longer to not only establish their careers but also to help meet the demand for STEM-educated professionals.
More than 120 Graduate Assistantships Offered
Assistantships provide an opportunity to gain experience through professional work on campus.
Learn More
Diversity Graduate Fellowship Program
Prospective students may be eligible for an award which includes an annual stipend, in addition to fully-paid tuition for full-time study.
Learn More
The Power of SUNY Tuition
Achieving your long-term career goals shouldn't come at the expense of your immediate financial security. Oswego offers low tuition compared to many private colleges. Never sacrificing quality for affordability, our graduate students are receiving a nationally accredited program that will translate into effective knowledge and opportunities.
Admission Requirements
Each applicant is required to provide evidence of a biomedical professional degree or the successful completion of a bachelor's degree from an accredited academic institution (3.0 GPA for the last 2 years). Prior knowledge of statistics and computer applications is required. Students not meeting prequisites will be considered for admission and may be required to enroll in prerequisite courses through personalized advisement.



Submit official transcripts confirming your bachelor's or master's degree/advanced certificate. This includes graduate-level coursework or post-baccalaureate degree/certificate. U.S. transcripts must be sent directly from the granting institution (electronic or mail). All international transcripts require verification via a 
World Education Services (WES)
 credit evaluation. If you are a SUNY Oswego alum, your official transcript will be automatically requested after entering your student ID and identifying SUNY Oswego as your school on the application upon submitting your application.
Graduate Record Examination (GRE) scores are optional, but help in evaluating your academics. Strong GRE scores allow your application to stand out.
In 500 words or less, describe your personal achievements relating to your academic interests, and detail your educational and professional objectives with reasoning for applying to SUNY Oswego. This statement will help the review team better understand and evaluate your application.
Include a professional resume or curriculum vitae that includes your academic history, professional background and any accomplishments of note. This document should provide details that support your admittance to the program.
Two letters of recommendation
Indicate two names with valid email addresses. We will send an email request directly to the references on your behalf. These references should be able to speak to your character, work ethic and abilities. 
Prospective students are charged a non-refundable $65 fee for processing the application.
Tuition and Costs
Graduate school can be affordable. See our in-state and out-of-state tuition and costs.

View tuition and costs
Visit Oswego
Experience what makes Oswego special in person. We have a variety of visiting options through the year.
Contact us to plan your visit
Next Steps to Apply
Ready to get started? We're here to make the application process as smooth as possible. Take the next step by creating an application account and save your progress at any time.