Communication studies faculty member Francisco Suarez won the international 2022 Silver Signal Award for his video podcast "From Suarez's Basement," where he goes in depth on the behind-the-scenes of visual storytelling. Suarez said he started his podcast during the COVID-19 pandemic and it has grown significantly since. He has had special guests such as Paul Hirsch, a film editor and Oscar winner whose projects include the "Star Wars" franchise; Deborah Riley, production designer for "Game of Thrones"; John Hoffman, the co-creator and writer of "Only Murders in the Building," and many more. Read full story.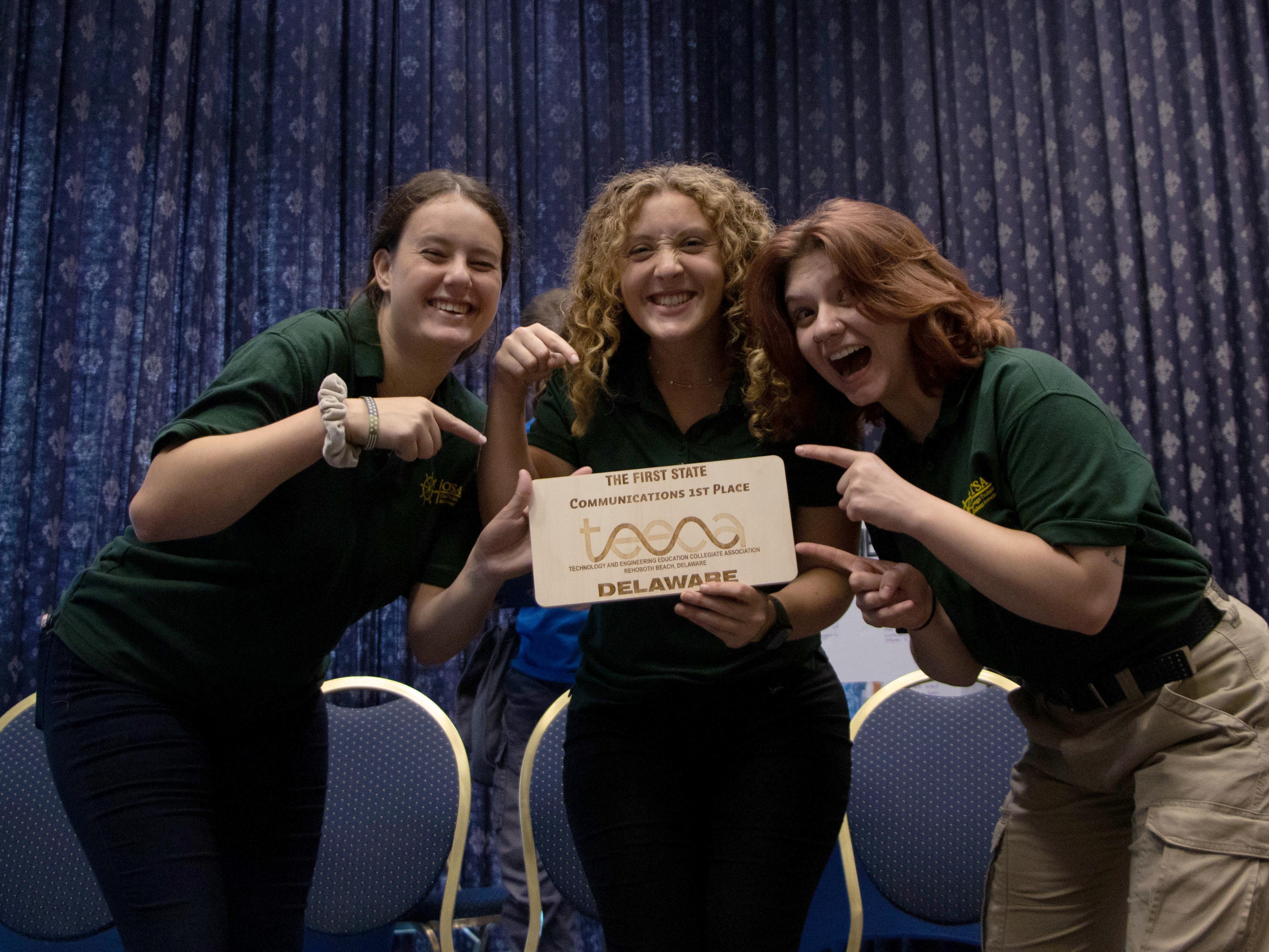 The OTSA (Oswego Technology Student Association) finished first in three competitions, and in the top three in several others, in a prestigious regional conference in Delaware. The team earned top marks in the Communication Challenge, Problem Solving Challenge and Game On Night 3-on-3 basketball tournament at the annual TEECA (Technology and Engineering Education Collegiate Association) East Regional Conference. OTSA also finished second in both the Integrated STEM and Manufacturing Challenges, and third in both the Robotics and Teaching Lesson categories. Pictured are technology education students Bryleigh Beauchat, Eliza Sarigiannis and Taylor Mackowiak celebrating their win in the Communication Challenge. Read full story.
David Crider of the communication studies faculty recently had two new publications appearing in research journals. The first, "Listening, but not being heard: Young women, popular music, streaming, and radio" was published in the October issue of Popular Music & Society. The study involved focus-group research with many SUNY Oswego students sharing their perspectives on gender representation and parity in the music they enjoy, as well as their thoughts about radio, streaming services, and the music industry in general. The second article, "A dose of public health and community pride: Local radio at the outset of the COVID-19 pandemic," was published in the December issue of Radio Journal: International Studies in Broadcast and Audio Media. This study compared and contrasted the coverage four local talk-radio stations from different regions of the U.S. covered the COVID-19 pandemic during its early days in March 2020.
Distinguished Service Professor Alfred Daniel Frederick of curriculum and instruction recently continued his global impact on education by presenting to representatives of five nations. Frederick was invited as the principal speaker at the 5th English Teachers' Celebration and Annual Conference for Teachers' Professional Development on Dec. 28 in Ouidah, Benin, West Africa. The participants represented the Republics of Benin, Burkina Faso, Nigeria, Togo and the United States of America. The topic of his presentation was "The Impact of the Eurocentric Male-defined Curriculum on the Self-concept, Self-esteem and Academic Achievement of Culturally Diverse Student Populations: A Case for Culturally Responsive Pedagogy." Read full story.
Physics faculty member Shashi Kanbur had a paper published, co-authored by his former Ph.D. student Anupam Bhardwaj, titled "Precise Empirical Determination of Metallicity Dependence of Near-infrared Period-Luminosity Relations for RR Lyrae Variables" in Astrophysical Journal Letters, which covers items results worthy of rapid publication. 
Gwen Kay, director of the Honors Program and professor of history, gave a virtual talk on Feb. 8 titled "National Issues of Concern for Shared Governance" to the faculty at the University of Arkansas for Medical Sciences, part of its Faculty Excellence Series. Kay was asked to present in her role as president of the National Council of Faculty Senates. 
Physics faculty member and planetarium director Natalia Lewandowska recently published her second Astronomy Picture of the Day feature for a website co-managed by NASA. This entry depicted the image of a Wolf Rayet star WR 40, located toward the constellation of Carina. The website, provided by NASA and Michigan Technological University, is dedicated to astronomical images, each day featuring a different image or photograph of the universe, with a brief explanation written by a professional astronomer. In addition, Lewandowska announced her recent inclusion in the Marquis Who's Who: Top Educators. The inclusion "is an honor limited to individuals who have demonstrated leadership and achievement in their industry and occupation," Marquis notes on their website.
Damian Schofield, director of the master's in human-computer interaction program, delivered a three-hour online guest lecture to students in the forensic science program at Trent University in Canada. Schofield said there were over 200 students in the audience in what is considered Canada's top forensic program. The lecture – titled "Alternative Facts: How Do You Know If Evidence Presented in Court is 'True' ?" – introduced research Schofield has conducted over the past 20 years experimenting with visual-based presentation technology in court cases. The presentation connected psychological research with human cognitive and perceptual processes, to allow the evaluation and optimization of digital evidence presentation. 
SUNY Oswego's Office of Sustainability and its manager, Kate Spector, earned the 2022 College Recycling Leadership Award from the New York State Association of Reduction, Reuse and Recycling (NYSAR3) for its composting project. In its first year, the composting pilot project diverted more than 80,000 pounds of food waste from landfills and incinerators, attracting many supporters and becoming implemented at all dining facilities. Spector and the Office of Sustainability partnered with Auxiliary Services, the college's dining services provider, and the Oswego County Division of Solid Waste to start up the program. Read full story.
Serenity Sutherland of the communication studies faculty had a virtual launch on March 8 (International Women's Day) for "Visualizing Women in Science" with the American Philosophical Society. The Visualization project focuses on finding and communicating information about women in science in the 19th and 20th centuries. "I really wanted to start to recover some of these women's stories, and that was a big part of the Visualization," Sutherland said. "They are represented in the archive, their names appear there, but we just really don't know anything about them." Read full story.
Do you have an item for People in Action? Have you, for example, recently presented at a conference, published a research paper or earned a regional or national award? Submit your news via our Oswego Today form.
Comments