David Andrews, professor and chair of economics, has been elected to a two-year term on the Executive Committee of the History of Economics Society. He previously served two three-year terms on the council of the other professional association for historians of economics, the European Society for the History of Economic Thought.
SUNY Oswego alumna Kimberlyn Bailey gave a talk "STEM-Non-STEM divide structures undergraduate beliefs about gender and talent in academia" at the Global Status of Women and Girls Conference, as part of the Panel 22: Activism and gender equality in education, March 22 to 24 at Christopher Newport University. This survey was designed by Bailey, a 2016 graduate who is now a computational neuroscience research assistant at the National Institutes of Health, and Carolina Ilie of Oswego's physics faculty, and the statistics were done with the contributions of Ampalavanar Nanthakumar and Scott Preston, both of Oswego's mathematics department. Other co-authors include a data scientist at Harvard University.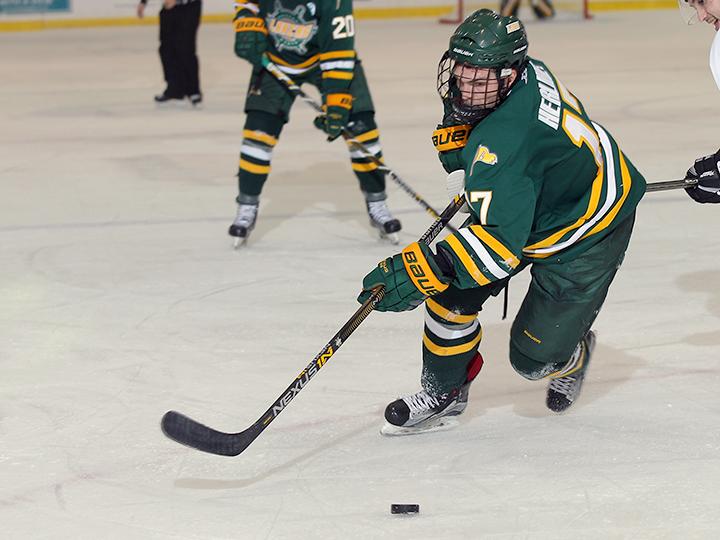 Senior Laker men's hockey forward Mitchell Herlihey was named a second-team All-American by the American Hockey Coach Association. The team captain, who also earned the SUNY Athletic Conference Herb Hammond Player of the Year honor, scored 13 goals and 17 assists this season to cap a Laker career with 38 goals and 103 assists, solid defense and ongoing leadership. He becomes the 30th All-American in the program's history. 
Senior meteorology major Zachary Hiris, a 2018 SUNY Chancellor's Award for Student Excellence recipient, co-presented "An Evaluation of Significant Wind-Driven Hail Events across the United States" at the 22nd annual Severe Storms and Doppler Radar Conference March 22 to 24 in Ankeny, Iowa. His co-presenter was Michael Fowle of the National Weather Service's Des Moines office, where Hiris interned and researched this destructive weather phenomenon.
Carolina Ilie, associate professor of physics, had the research project "Optical Properties of Inkjet Printed CsPbBr3 Quantum Dot Perovskite Films" presented at the March 2018 International Meeting of American Physical Society in Los Angeles as part of Session B11: Organometal Halide Perovskites II. Her co-authors came from the University of Nebraska at Lincoln, University of Wyoming, Doane University and Bayreuth University.
Ilie also is first author in a paper published in the Journal of Physics: Condensed Matter: "Inkjet printable-photoactive all inorganic perovskite films with long effective photocarrier lifetime." Other co-authors include SUNY Oswego undergraduates Benjamin Swanson and 2018 SUNY Chancellor's Award for Student Excellence recipient Ian Evans, as well as researchers from California State University-San Bernadino, University of Nebraska at Lincoln, Doane University and Bayreuth University.
In addition, Ilie is the recipient of a new National Science Foundation Research Experiences for Faculty and Students at Undergraduate Institutions Program of the University of Nebraska at Lincoln's Materials Research Science and Engineering Center, focusing on polarization and spin phenomena in nanoferroic structures for summer 2018. Oswego physics undergraduate students Dylan Richmond and Andres Inga will join her for 10 weeks of summer research.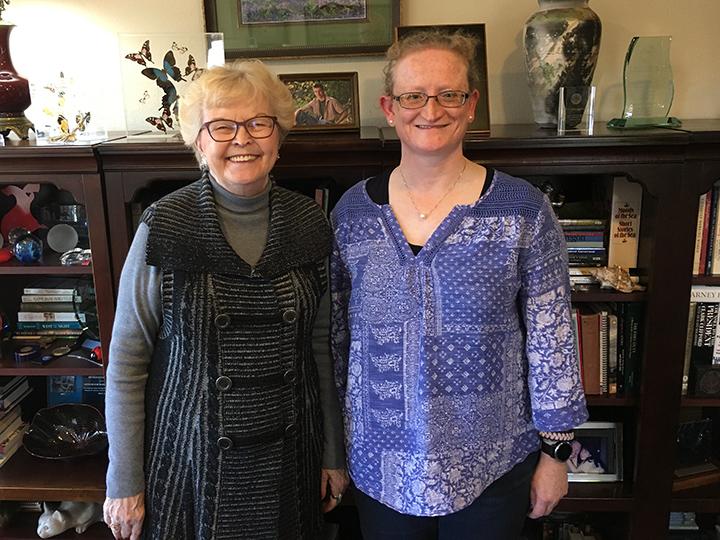 Political science faculty member Helen Knowles (right) notes that she had the opportunity to meet and interview Barbara Roberts (left), the first female governor of Oregon (from 1991 to 1995). "Unbeknownst to her before I contacted her last year (with the aid of the office of the current Oregon Governor Kate Brown), Barbara is the great niece of Elsie Parrish. I am writing a book about Elsie, whose 1930s minimum wage lawsuit ended up being decided by the U.S. Supreme Court (in her favor) in 1937," Knowles explained. 
If you have an item to submit for People in Action consideration, please send it to proffice@oswego.edu.
Comments