Gonzalo Aguiar Malosetti of the modern languages and literatures faculty has been elected as the new member of the MACLAS Executive Committee for a one-year term. MACLAS stands for Middle Atlantic Council of Latin American Studies, a leading professional organization in the field. In addition to promoting the study of Latin American cultures, Aguiar Malosetti will lead the organization of meetings, events, and outreach initiatives within the academic community.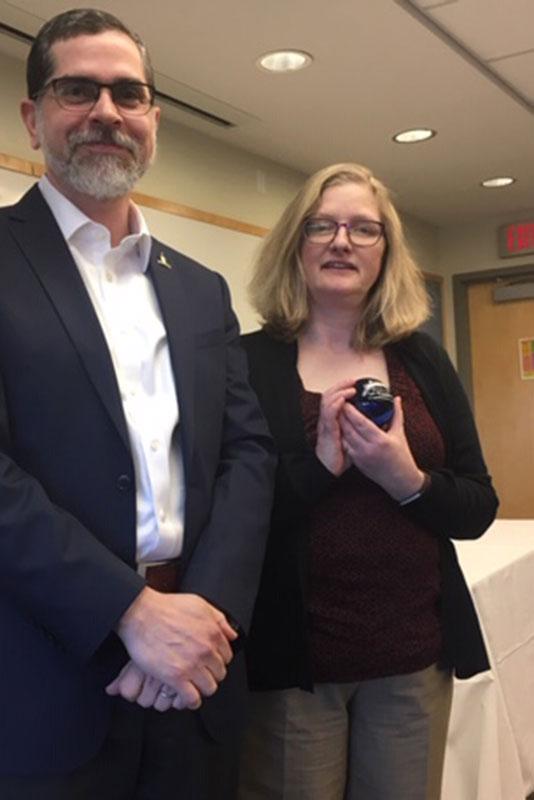 History faculty member Lyn Blanchfield (right) received the college's Institute for Global Engagement Award at an IGE session during Quest on April 3. "Thanks to Lyn's leadership and efforts (as well as the efforts of the Fulbright Committee she chairs), SUNY Oswego was named a Top-Producing Institution by the Fulbright Program, based on the number of successful applicants for Fulbright U.S. Student awards in 2018-19," said communication studies faculty member Ulises Mejias (left), director of the IGE. "For her part," said Mejias, "Lyn writes: 'Thank you so much! I truly appreciate receiving the first IGE award for mentorship and, more importantly, I am thrilled that you are acknowledging my work with our students. Thank you to IGE and all the Fulbright Committee members; your work with our students has been so valuable and appreciated. If anyone wishes to join the Fulbright Committee or if you know of any student or alum who might be interested in the Fulbright, please let me know.'" Blanchfield can be reached at lyn.blanchfield@oswego.edu. The IGE Award was created this year to recognize outstanding contributions to the work and mission of the institute. It will be given as determined by the IGE director and the associate provost for international education and programs.
Several faculty made presentations at the International Studies Association (ISA) annual convention March 30 in Toronto: Lisa Glidden of political science and Evelyn Benavides of sociology made a presentation titled "Reflections in a fun house mirror -- re-situating the U.S. in global studies." Joshua McKeown, associate provost for international education and programs, presented "Chinese Faculty Abroad: Experiences of Visiting Scholars and Researchers." Steve Rosow, professor of political science, was elected vice president of the Interdisciplinary Studies Section of ISA, chaired a panel on "The Liberal World Order at the Crossroads" and made a presentation titled "The University, IR (International Relations), and Global Studies as a Democratic Project in a Precarious Age." 
Lawrence Spizman, professor emeritus of the economics department, and John Kane, professor of economics, presented "Update of Educational Attainment Model for a Minor Child: Round 17 of NLSY (1997)" at the Eastern Economic Association Annual Meetings in New York City in March. This paper examines the impact of using a race-neutral economic model on predicted educational attainment and earnings of an injured minor child in a personal injury legal matter. This is accomplished by comparing the results of the updated ordered probit model that includes race, to the ordered probit without race. Their results suggest that the effect of race on educational attainment varies by gender. Spizman was an economics professor at Oswego for 37 years and is a nationally known forensic economist and past president of the National Association of Forensic Economics.
Hong Wan of the accounting, finance and law faculty in the School of Business was co-author of "Institutional Investors and Corporate Environmental, Social and Governance Policies: Evidence from Toxics Release Data," appearing in the Management Science journal, with co-authors Incheol Kim, Bin Wing and Tina Yan,. 
Many SUNY Oswego students participated and placed in various categories at the Phi Beta Lambda State Leadership Conference April 6 in Morrisville, including:
Rachel Cronin: first place in three categories: Human Resource Management, Management Analysis and Decision Making, and Job Interview
Daniela Aquino: two first-place finishes: Statistical Analysis and Macroeconomics
Nayancie Matthews: two first-place finishes: Economic Analysis and Decision Making, Community Service Marketing Brochure
Alysa Urbanczyk: first place in two categories: Justice Administration, Marketing Analysis and Decision Making
Amanda Plourde: first in Forensic Accounting and in Marketing Analysis and Decision Making, thi

rd in Community Service Marketing Brochure

Kimberly Dunst: first in Social Media Challenge
Shelby Stewart: first in Network Design
Bailey Forrett: first in Network Design
Valerie Long: first in Microeconomics
Randy Nguyen: first in Programming Concepts, second in Computer Concepts
Olivia Smith: first in Business Communication, third in Macroeconomics
Lillian Meaney: first in Management Analysis and Decision Making, second in Business Ethics and third in Sports Management and Marketing
Nicholas Duffy: first in Accounting Principles, second in Personal Finance
Mitchell Denman: second place in three categories: Macroeconomics, Microeconomics and Community Service Marketing Brochure
Kayla Holley: three second-place finishes: Business Decision Making, Project Management and Community Service Marketing Brochure
Regan Saltzer: second place in two categories: Justice Administration and Business Decision Making
Devin Higgins: second in Retail Management
Sonali Kumar: second in Job Interview
Nicole Wong: second in Network Design, third

in Community Service Marketing Brochure

Lillian Jensen: second in Business Ethics, third in Community Service Marketing Brochure
Makenzie Wilczek: third in Accounting Principles
Justin Grose: third in Business Decision Making
Comments