2021 Honors Convocation Ceremony
April 16, 2021, at 3 p.m.
Virtual live stream
Honors Convocation continues as a tradition observed each spring semester to recognize Oswego student award winners and those who have demonstrated excellence in their field of study or in service to the college community.
Awards from departments, the Oswego Alumni Association, Oswego College Foundation and Division of Extended Learning, as well as the Chancellor's Awards for Student Excellence, will mark this joyous celebration of academic success. 
Sponsored by Vega, the Junior and Senior Women's Honor Society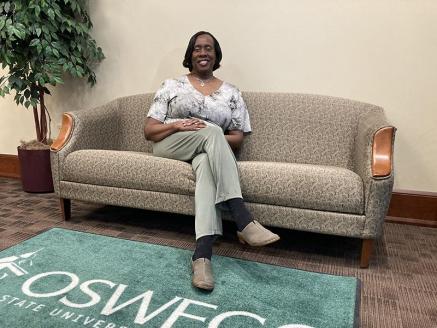 Alumni Speaker
Phyllis Moore Holloway, a lifelong resident of Syracuse, graduated from SUNY Oswego in 1976 with a Bachelor of Science Degree and she earned a Certificate of Advanced Study in School Administration in 2001. She holds a master's degree in urban education from Syracuse University.
Immediately after graduating from college, she worked a year as a youth service coordinator with the Dunbar Association in Syracuse before accepting a teaching position with the Syracuse City School District. She worked for the district for nearly 35 years, including 22 years as a classroom teacher working with students from kindergarten to middle school. She then transitioned to become an assistant principal for the last 15 years of her career before retiring in July 2014.
In July 2015, she accepted a position as interim executive director of the struggling Dunbar Association, without receiving compensation. She brought her skills, energy, dedication and integrity to help Dunbar remain open through a turbulent time in its long history. In 2018, Dunbar, a settlement house named after the famous African American poet Paul Laurence Dunbar, celebrated 100 years of service to the Syracuse community. 
Today, Phyllis is pursuing another passion as the proud owner of one of Syracuse's newest restaurants, "Joe's to Go," which opened in June 2019. She continues to support her community by training and hiring people from the community to work at her restaurant. Since 2015 Phyllis has sponsored and served at the annual Election Day Fundraising Breakfast at the Dunbar Association.
True to her belief in lifelong learning as a staple to maintaining one's productivity and usefulness to society, she actively participates in various senior exercise programs, and enjoys travelling, cooking, visiting new restaurants, doing volunteer work and attending jazz concerts. She serves on the Dunbar Association Program Committee, volunteers on the annual Earth Day Neighborhood clean-up, and is a board member of the West Onondaga Street Association. She has been recognized with NAACP Unsung Hero Award in 2016, Syracuse United Neighbors Outstanding Community Service Award in 2017, and the Onondaga County Office of Aging Serving Seniors Honoree of the Year in 2017, as well as earning the Syracuse City School District's Excellence in Administration Award.