Faculty profile
Karol Cooper
Associate Professor, Director of Literary Studies
---
Contact
310 Marano Campus Center
315.312.2614
karol.cooper@oswego.edu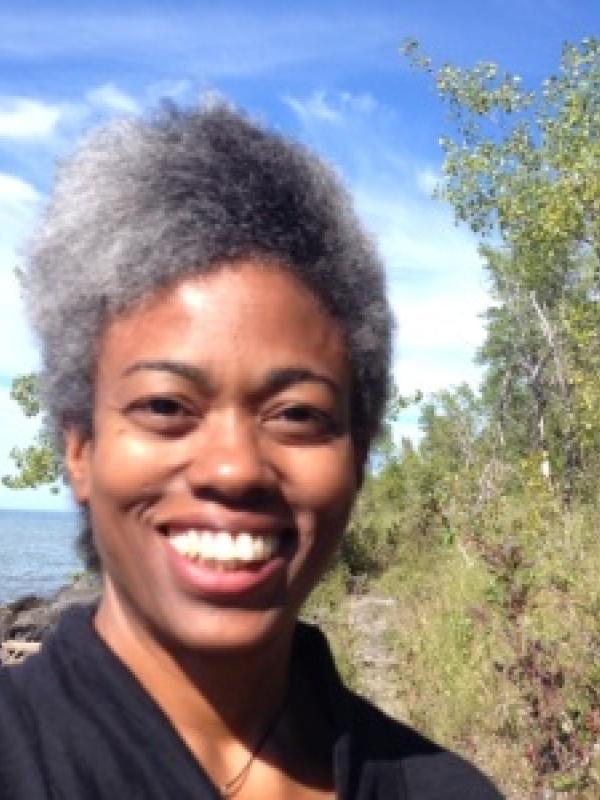 In my teaching and research, I trace the historical precedents for issues of current concern as they are portrayed in British drama, satire, and romantic prose from the 1600s and 1700s, and in literatures of recent times. In my research, I examine the history of soul rhetoric in early modern British literature, the tactics of anti-romantic women writers, the commercialization of intimacy, discourses of personal identity, the history of blackness and whiteness in the West, the deconstruction of representation in twentieth- and twenty-first-century avant-garde drama, and critical theories of language, politics, culture, gender, violence, and race. I am presently working on an essay, "Dice and the Commercial End of the 'Pleasing Delusion' of War-Like Love in Aphra Behn's The Luckey Chance," for an edited collection, The Games of War in British and American Literature, 1588-1783.
Since 2010, I have served as faculty sponsor for Alpha Sigma Eta, the Oswego chapter of the international English honor society Sigma Tau Delta. Our latest project, "Employment and Literary Critique," gives members practice in using their unique gifts with language to find a place for themselves, and their voices, in the world of work. Members will go beyond the notion of the job search to undertake writing- and community-based tasks that will help them fashion a critical, ethical approach to the workplace and its language, and create a vision for how their own work in language could be valued there.
Publications
"'The man is either mad, or I am in a dream':  Masculine Prerogative as Mental Disease in the Late Novels of Eliza Haywood," in Symptoms of Disorder: Reading Madness in British Literature 1744-1845, edited by Ilaria Natali and Annalisa Volpone, Cambria Press, 2016.
 "Raping Justice in John Webster's The White Devil," in Woman on Trial: The Construction of Gender in Plays about Women Accused of Crime, edited by Amelia Howe Kritzer and Miriam López-Rodríguez, Teneo Press, 2015.
 "The Modernization of the Medieval Staging of Soul in Marlowe's Doctor Faustus." Early Modern Literary Studies, Special Issue 23: Christopher Marlowe: Identities, Traditions, Afterlives, vol. 17, no. 2, 2014. https://extra.shu.ac.uk/emls/journal/index.php/emls/index
"'Too high for souls like mine to hide':  Feminine Retreat and Exposure in Aphra Behn's The Feign'd Curtizans." Restoration and Eighteenth Century Theatre Research, vol. 23, no. 1, 2008, pp. 34-45.
Education
Ph.D., English, University of Washington
B.A., English and Journalism, Indiana University
Classes taught
SPRING 2020 COURSES
| | | | |
| --- | --- | --- | --- |
| ENG 304/820 | TR | 11:10-12:30 | 210 Marano CC |
| ENG 326/800 | TR | 12:45-2:05 | 142 Marano CC |
ENG 304 LITERARY CRITICISM:
ENG 326 ENGLISH DRAMA: CITY COMEDY- Crossdressing, Sex and Power in Early 1600s England. After the death of Queen Elizabeth in 1603, and the arrival of King James and the Scottish Stuart monarchs, English drama turned further to the dark side. John Webster's The White Devil exploited boy actors in feminine costumes to evoke a sense of loathing and terror of unnatural female desire, even while obsessing over women's supposed natural modesty. Plots that hinged on sex, money and political power delivered a massive body count by the tragedy's end. In the comedies, violence came in the form of witty attacks. Middleton's and Dekker's The Roaring Girl was based on the real-life Moll Cutpurse, a female criminal who liked to go about in men's attire. The character of Moll satirized decadent aristocrats as well as the new-money cits—middle-class citizens who were starting to have more social and economic power. Ben Jonson's The Masque of Blackness, was performed by and for the elite social class at the king's court. The masque, the only type of play in which women were permitted to act, explored the symbolic value of dark African beauty when set off against a heroicized England. Women writers had to be careful of their reputations, but still managed to gain fans for their work. Elizabeth Cary's Mariam, the Fair Queen of Jewry was circulated among a wide circle of friends and admirers, but never performed on the public stage. All this dramatic productivity would be interrupted by the English civil war of the 1640s, when class and religious conflicts led to the beheading of the king, and the shutdown of the majority of theatrical outlets for nearly two decades.    Coursework:  (1) one presentation paper on British social history; (2) frequent homework assignments about the literary and critical texts; and (3) a final research paper.
FALL 2019 COURSES
| | | | |
| --- | --- | --- | --- |
| ENG 102/890 | MW | 3:00-4:25 | 314 Mahar Hall |
| ENG 204/8MO | MW | 4:40-6:10 | 231 Marano CC |
ENG 102 COMPOSITION II-Practice in college level writing, includes preparation of a research paper.
ENG 204 WRITING ABOUT LITERATURE- Represent. In rap, to represent means to show off who you are by showing off your connection to a group, population, or hood. In literature, to represent is a crucial first move in building an imaginary world. But what, and who, is the text supposed to be representing? If we get caught up in that question, debating how well, or how poorly, or how accurately, the text is representing what we consider to be the real world, we may be missing other, more groundbreaking truths about how language works.
 We will read a variety of literary texts from different genres and historical periods, as well as critical texts that explain more about the histories, and controversies, of literary representation. Coursework:  several handwritten interpretive analyses, a draft and revision of a short midterm paper, and a final paper.