Lead the technology revolution and prepare to advance emerging technologies that will make a difference for people all over the world. Oswego prepares future engineers with a well-rounded competitive education that delves into high-demand areas.
Overview
Study in the five high-demand concentration areas of embedded systems, robotics, biomedical instrumentation, wireless communications and modern energy systems. Our ECE program prepares you for successful careers in engineering or related professional disciplines, or the successful pursuit of graduate studies with contributions to improving society and the global community.
Join prestigious engineering societies — such as the IEEE (Institute for Electrical and Electronics Engineers, ACM (Association for Computing Machinery), SWE (Society of Women Engineers) and others — to network with other students and professionals. Extracurricular activities include participation in special-interest student clubs in robotics, power systems, telecommunications and others, as well as participation in academic student competitions.
SUNY Oswego's bachelor of science degree program in Electrical and Computer Engineering (ECE) is accredited by the Engineering Accreditation Commission (EAC) of ABET – the global accreditor of college and university programs in applied and natural science, computing, engineering, and engineering technology.

Shineman Center for Science, Engineering and Innovation
This $118-million dollar facility serves as the home for the mathematics, science, computing and engineering programs. The 230,000 square-foot center features a planetarium, three observation decks, a greenhouse, extensive laboratories and state-of-the-art equipment.
Outcomes
Ability to design and conduct experiments, as well as to analyze and interpret data
Ability to identify, formulate and solve engineering problems
Understanding of professional and ethical responsibility
Ability to communicate effectively, and function in multidisciplinary teams
Broad education necessary to understand the impact of engineering solutions in a global, economic, environmental and societal context, and recognition of the need to engage in life-long learning
Career Opportunities
Telecommunication systems
Control systems for electronic and electromechanical devices
Entertainment and information systems
Medical and prosthetic devices
Computing devices and systems
Defense and protection systems
Energy production, transport and distribution systems
"I know all of the upperclassmen in ECE ... We are all friendly and help each other — it's a good community. There are small class sizes and we get to know our professors."
Program Resources
ABET accredited
SUNY Oswego's engineering programs are accredited by the Engineering Accreditation Commission of ABET — the global accreditor of college and university programs in applied and natural science, computing, engineering, and engineering technology.
About ABET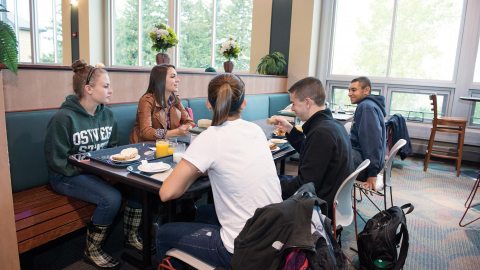 The Oswego Guarantee
No increase in room & board 
Timely course offerings
High touch connections to alumni 
Small student to faculty ratio
Full Details
Tuition and Costs
Our college education is affordable, see our in-state and out-of-state tuition and costs.

View tuition and costs
Visit Oswego
Experience what makes Oswego special in person. We have a variety of visiting options through the year.
Plan your visit
Next Steps to Apply
Ready to get started? We're here to make the application process as smooth as possible. Just answer a few quick questions, and get your customized application guide.