As a school psychologist, you can make a positive, lasting difference in children's lives. Schools today serve increasingly diverse and dynamic student populations; every child brings unique strengths and challenges to the learning process. School psychologists are a vital part of the effort to unlock each child's potential for success. 
Quick Facts
Recommended Deadlines February 1st for Summer or fall 2024 Start
You Can Start Summer or Fall
Delivery Option Main Campus
Cost Per Credit Hour $471
Estimated Completion Time 3 Years
Overview
The program prepares graduates to work with children in schools to provide comprehensive behavioral and mental health services, including diagnostic assessment, academic and behavioral interventions, consultation to promote both individual and school-wide learning, and school-based counseling.
We have designed our curriculum to align with the National Association of School Psychologists' training standards and have enjoyed consistent accreditation since the program's inception. With our accreditation, graduates are eligible to apply to become Nationally Certified School Psychologists. Consistent with these training standards, students will receive training from faculty with extensive experience working in various educational settings, from K-12 public schools to private schools to diagnostic clinics. In addition, students will have the opportunity to engage with faculty from our school counseling and mental health counseling programs to strengthen their ability to support the needs of all learners.
Hands-on Learning the First Year
Throughout the program, our goal is to provide students with the opportunity to gain hands-on learning through campus-based training with integrated experiences in local school districts within the first year of training. 
Outcomes
Graduates of this program will be prepared to provide psychoeducational services at schools by being able to provide assistance to students, parents and other education professionals. Our program offers the option to earn a master of science or post-master's advanced certificate. Upon graduation, you are eligible for provisional New York State certification as a School Psychologist. The New York State Education Department may award permanent certification upon completing two years of successful experience.
The professors provided a collaborative and supportive approach to instruction. The skills I learned after completing the program prepared me to take on a leadership role in the field, as well as the knowledge to support the students I work with in a holistic manner. 
With our ever-changing world there's a continuous necessity for school-based professionals to remain relevant, and this program does an exceptional job at accommodating its content to parallel current events and legislation.  
Program Resources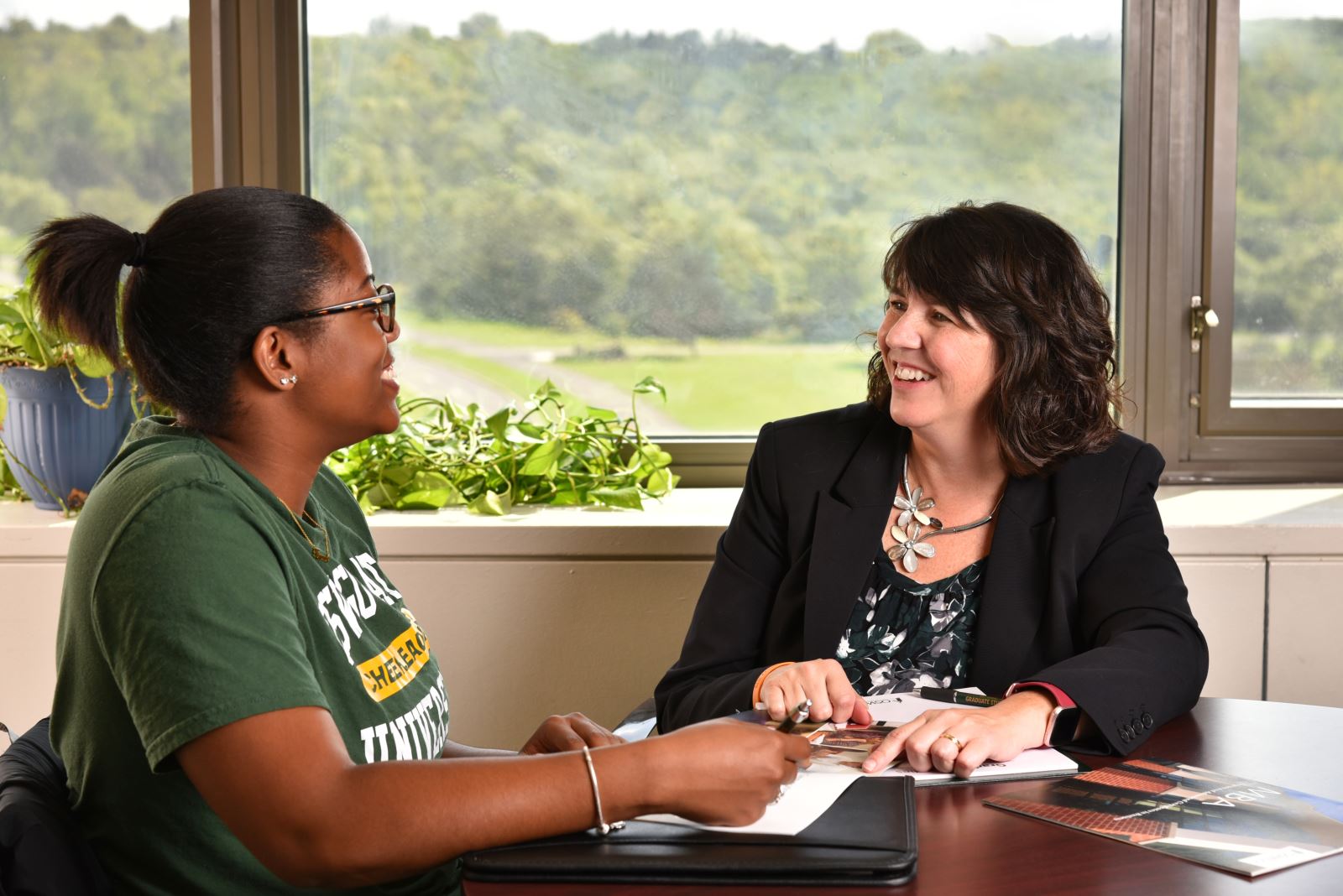 Information Sessions
Learn about our graduate programs through our information sessions today!
Register Today
School Psychology Graduate Fellowship Program
Students who are eligible will receive full tuition scholarships, graduate assistantships with stipends of $35,000 a year, placements in Syracuse City Schools, supervisory and mentoring opportunities, and support to become active members of the professional community.
Learn more
Diversity Graduate Fellowship Program
Prospective students may be eligible for an award which includes an annual stipend, in addition to fully-paid tuition for full-time study.
Learn More
More than 120 Graduate Assistantships Offered
Assistantships provide an opportunity to gain experience through professional work on campus.
Learn More
The Power of SUNY Tuition
Achieving your long-term career goals shouldn't come at the expense of your immediate financial security. Oswego offers low tuition compared to many private colleges. Never sacrificing quality for affordability, our graduate students are receiving a nationally accredited program that will translate into effective knowledge and opportunities.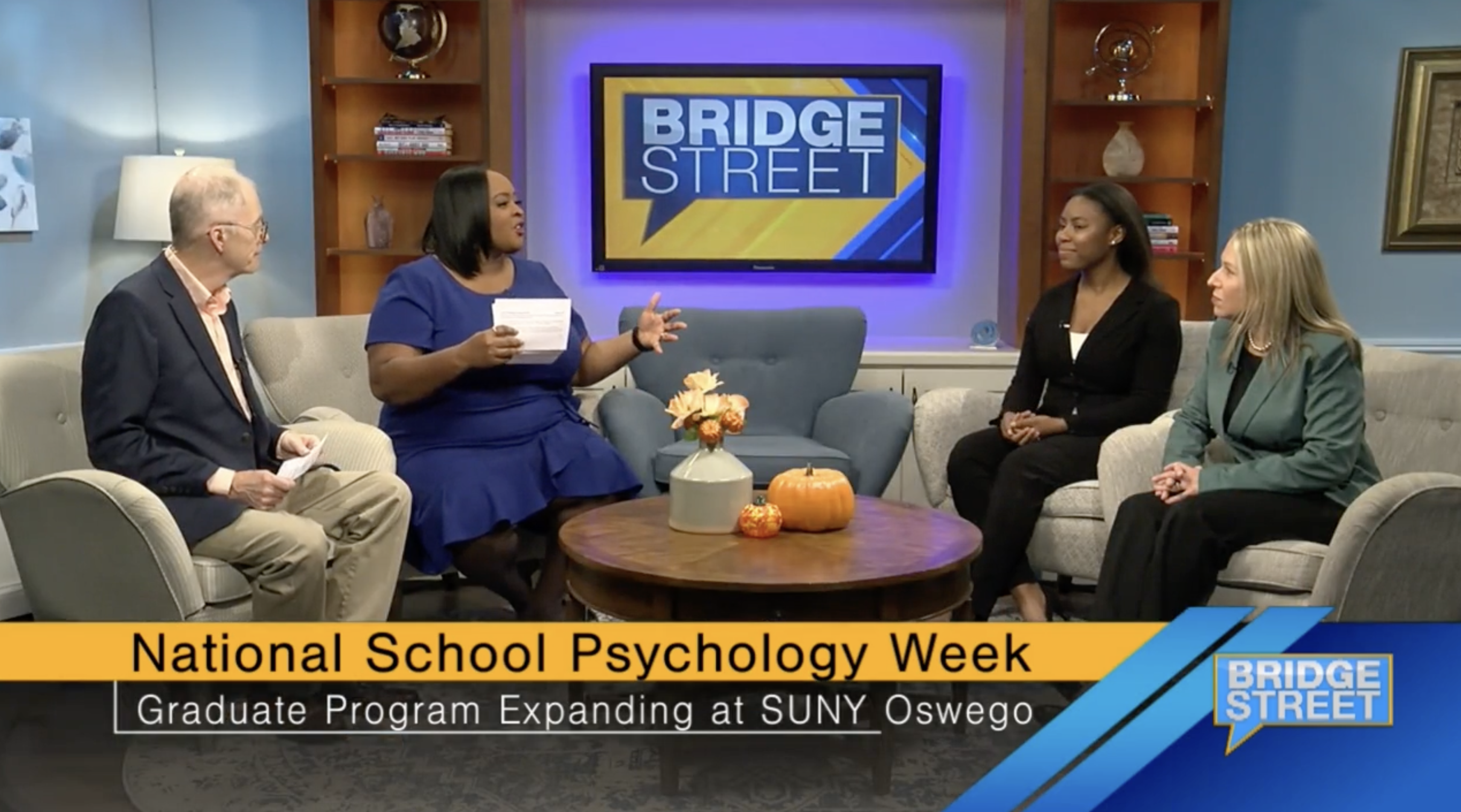 National School Psychology Week 2023 celebrates educators and promotes SUNY Oswego's graduate school psychology program. Professor Michelle Storie and graduate student Nocyia Logan share insights.
Admission Requirements
Submit official transcripts confirming your bachelor's or master's degree/advanced certificate. This includes graduate-level coursework or post-baccalaureate degree/certificate. U.S. transcripts must be sent directly from the granting institution (electronic or mail). All international transcripts require verification via a 
World Education Services (WES)
 credit evaluation. If you are a SUNY Oswego alum, your official transcript will be automatically requested after entering your student ID and identifying SUNY Oswego as your school on the application upon submitting your application.
A minimum cumulative grade point average of 3.0 or better is required for applicants. If you have questions regarding your GPA, please speak to the department advisor for further information.
GRE scores if GPA is under 3.0
Graduate Record Examination (GRE) scores are required for admission into the program for those who have a GPA of under 3.0. Acceptable scores are dependent on course of study. Speak to your department advisor about what GRE scores are acceptable to the program.
As a prospective student, you will meet with faculty to assess your skills and goals for attending the program. Email confirmation regarding interviews with a time and date will be sent out two to four weeks after submission deadline.
In 500 words or less, briefly describe your achievements relating to your professional interest in school psychology. Detail your educational and professional experiences (including unpaid or internship experiences, if relevant) with reasoning for applying to the school psychology program at SUNY Oswego. Briefly explain how these experiences have informed your choice of school psychology as a future career and what you hope to achieve professionally following graduation. This statement will help the review team better understand your background, knowledge of the work of the school psychologist, and evaluate your application.
Include a professional resume or curriculum vitae that includes your academic history, professional background and any accomplishments of note. This document should provide details that support your admittance to the program.
Two letters of recommendation
Indicate two names with valid email addresses. We will send an email request directly to the references on your behalf. These references should be able to speak to your character, work ethic and abilities.
Prospective students are charged a non-refundable $65 fee for processing the application.
Tuition and Costs
Graduate school can be affordable. See our in-state and out-of-state tuition and costs.

View tuition and costs
Visit Oswego
Experience what makes Oswego special in person. We have a variety of visiting options through the year.
Contact us to plan your visit
Next Steps to Apply
Ready to get started? We're here to make the application process as smooth as possible. Take the next step by creating an application account and save your progress at any time.