For overall leadership and for addressing student and campus needs in many areas, three SUNY Oswego staff members have earned the 2022 SUNY Chancellor's Award for Excellence in Professional Service.
Receiving these high honors were Lisa Evaneski, Title IX coordinator; Joshua McKeown, associate provost for international education and programs; and Sean Moriarty, chief technology officer.
Serving, supporting students
Evaneski is widely viewed as one of the most proactive and productive professionals in this field in the nation as well as in SUNY, nominees noted. Her 2022 recognition as a Diamond Honoree by the American College Personnel Association shows she is among the best in the fields that serve students. This major lifetime achievement reflects Evaneski's more than 30 years in higher education, continuously taking on bigger challenges and opportunities to make a difference.
Her passion, purpose and excellence in serving students, victims and those needing assistance in many ways is where Evaneski really shines, nominators wrote. Evaneski joined SUNY Oswego in 2008 and began serving as Title IX coordinator in 2015. 
Mary Toale, SUNY Oswego's current officer-in-charge, previously supervised Evaneski while deputy director to the president and wrote a support letter in that role praising Evaneski's superlative skills in supporting students.
"Because of Lisa's exhaustive efforts to engage and educate, our campus community is aware of our policies, practices and resources in regard to sexual and interpersonal violence," Toale wrote. "Lisa's expertise and insight are highly sought after on and off campus. She is seen beyond campus as a leader in her field and has represented SUNY Oswego in local, regional and national conversations about Title IX."
In addition to leading campuswide compliance with Title IX regulations, Evaneski helped create the SUNY Title IX Coordinators Association and serves as past president. She has presented and consulted at the national and regional level on Clery regulations, Title IX, the Violence Against Women Act, higher education compliance, inclusion, social justice and other topics.
"Lisa is readily available and accessible to those in need of her expertise virtually 24 hours a day," wrote Anneke McEvoy, associate director of the James A. Triandiflou '88 Institute for Equity, Diversity, Inclusion and Transformative Practice. "She has developed a range of educational workshops and programs for students, faculty and staff on topics ranging from dating violence to stalking to affirmative consent."
Evaneski spearheads awareness efforts including the popular annual Yards for Yeardley campus walk/run, One Love workshops and It's on Oz events supporting the It's on US national pledge to end sexual violence. She was among the first to join SUNY's Got Your Back initiative to create backpacks full of supplies for victims of domestic violence. Evaneski also has developed an exemplary program for students workers that led to former interns entering the student affairs field.
"I have attended several trainings and conferences with Lisa, and when she enters the room, it's like one of the Beatles just walked in," wrote Jennifer Knapp, interim dean of the School of Communications, Media and the Arts.
"Students know her, faculty and staff know her, alumni know her, SUNY Title IX professionals certainly know her, and that is all due to her tireless work to make our campuses and communities the most inclusive, safe and informed as possible," Knapp added. "I have seen first-hand the care she takes with the people she works with, both victims and those accused, and I know she is the reason many of our students are able to persist and successfully finish their degrees."
When the pandemic hit, Evaneski moved quickly in developing resources and using technology to ensure trainings and investigations could continue effectively.
"Lisa Evaneski works to give our campus the tools to be a more informed and accountable community, to take care of ourselves and each other, and to go out into the world as agents for positive change," Toale wrote. "Her characteristics represent all that is good in our community."
Evaneski earned her master of education in college student development and counseling from Northeastern University and a bachelor of science in education from Wheelock College.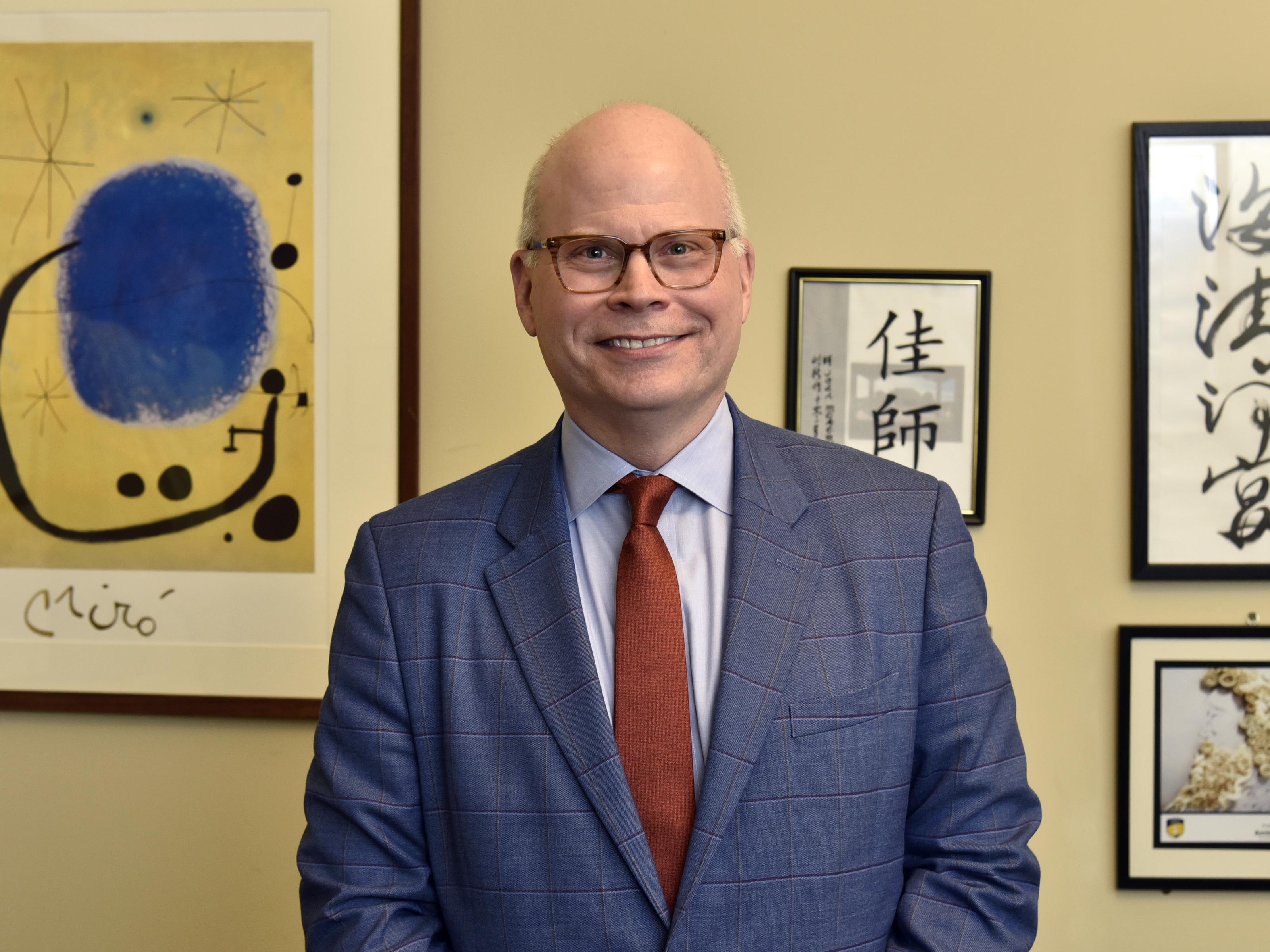 Joshua McKeown
Global engagement
McKeown's nomination noted that Oswego's reputation in SUNY and beyond, the number and diversity of students who engage in education abroad, and the expansion of education abroad under his leadership reflect his excellence and commitment to continuing improvement.
Scott Furlong, provost and vice president for academic affairs and enrollment management, wrote that McKeown "has lifted SUNY Oswego's status in regards to our efforts within international education and programs to the point that SUNY Oswego is seen as a leader within SUNY, where colleagues throughout SUNY, including SUNY Administration, seek him out for advice and help." 
In leading the Office of International Education and Programs (OIEP), McKeown redesigned the education abroad diversity, equity and inclusion strategy to engage new faculty in underserved disciplines, develop sustained student mentoring and outreach programs, develop new and expanded scholarship and funding opportunities, and recruit a talented and diverse office staff resulting in increased underrepresented student participation in education abroad (now 1 in 4 total participants).  
Under his leadership, education abroad expanded to become a SUNY leader with over 100 study-abroad and exchange programs in more than 30 countries, which often enroll more than 400 students annually.  
Nominators pointed to the variety of programs and the success of faculty-led courses that deeply embedded educational experiences into offerings. These include education and sustainability in Benin; the geopolitics of energy in Turkey; transitions from authoritarianism in Qatar, South Korea and Myanmar; theatre in Buenos Aires; storytelling in Abu Dhabi and Ghana; World War I in Vienna; fermentation in Germany, Ireland and Scotland; and how to build a sensor to measure air quality in London, among other topics.
Awards recognizing the innovations and accomplishments of McKeown and his OIEP team include the 2019 Excellence in Diversity Abroad award recognizing the rate of underrepresented minority students who study abroad from Oswego, the Chinese Service Center for Scholarly Exchange International Partnership Award (2018), the American Association of State Colleges and Universities Award for Excellence and Innovation in International Education (2017) and the Heiskell Award Honorable Mention from the Institute for International Education in 2016 for the "I, Too, Am Study Abroad" program. 
McKeown, who came to Oswego in 2001, won a Fulbright-Nehru International Education Administrators program and serves on the national-level Fulbright Award committee. 
But among these accomplishments, colleagues praised McKeown's emphasis on making students' experiences educational, meaningful and –- most of all –- safe.
A scholar of education abroad, McKeown's books include "The First Time Effect: The Impact of Study Abroad on College Student Intellectual Development," which has been cited almost 300 times and is based on a broad range of data he collected and analyzed, and a 2021 co-edited volume "Global Higher Education During COVID-19:  Policy, Society and Technology."
"His commitment to educational excellence is no more evident than in his tireless work to ensure global learning is inclusive and accessible for all students," wrote Andrew Gordon, CEO and founder of Diversity Abroad. "Josh McKeown's contributions to diversity, equity and inclusion in international education are well known and have been recognized with the highest awards in our profession."
Gordon added that McKeown "has built permanent structures and instilled a thorough culture of respect and inclusion in his division that creates space and opportunities for talented and diverse team members to thrive and for students to achieve their goals and dreams," noting especially the peer-engaging Study Abroad Mentors and Diversity Mentor Program. 
McKeown earned his Ph.D. in higher post-secondary education and bachelor of arts in international relations from Syracuse University, and a master of business administration from Clarkson University.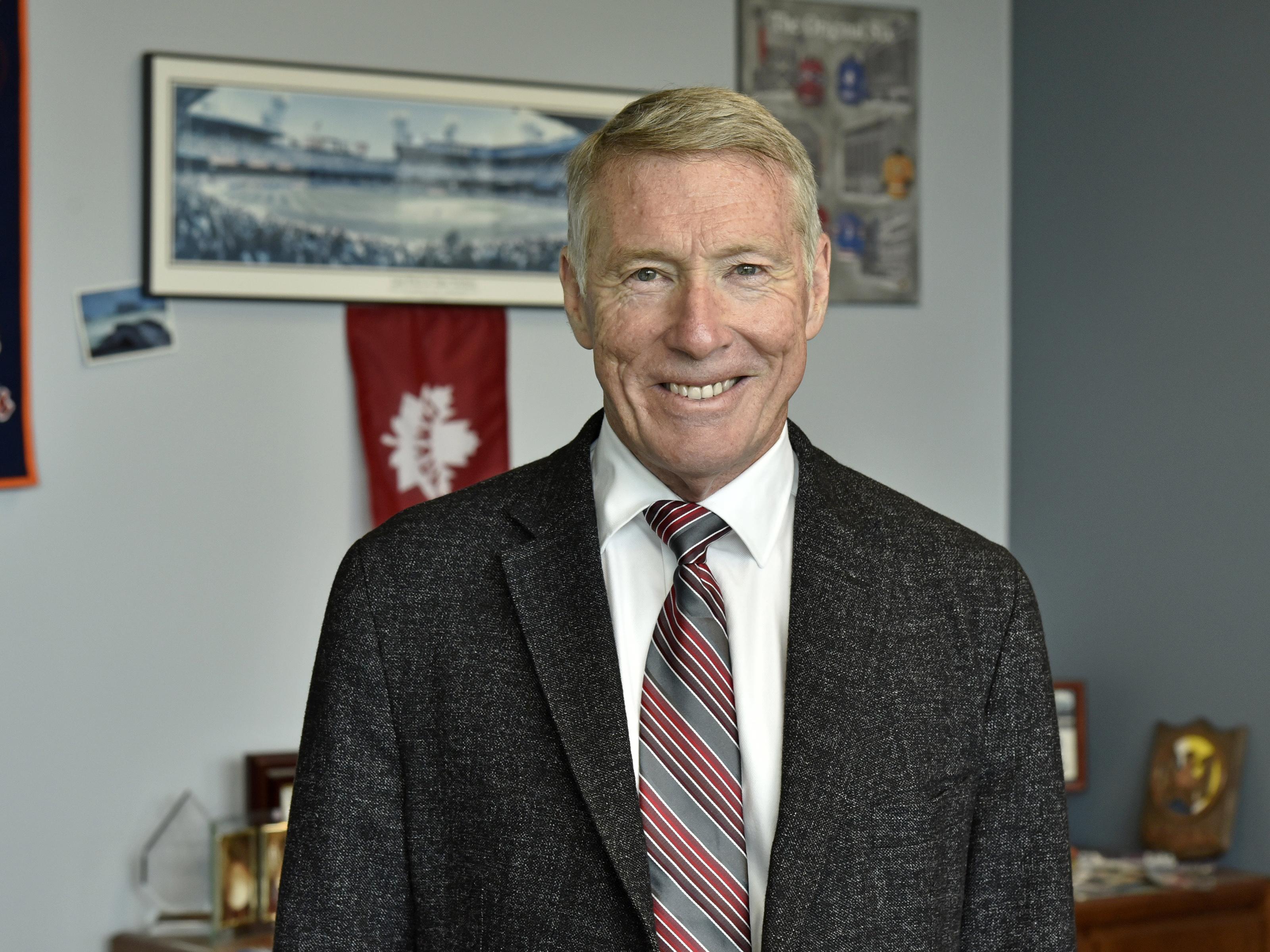 Sean Moriarty
Technology for good
Moriarty received praise for his outstanding leadership in technology development to support the college's instructional mission since joining Oswego in 2013 as chief technology officer (CTO). In leading Campus Technology Services (CTS), he has deployed software solutions for all areas of the college, ensuring the reliability and security of campus networks, supporting effective instructional technologies and advancing digital accessibility – while prioritizing the end-users of technology in all areas of college operations.
"The position of Chief Technology Officer is extremely critical for a university and takes on many roles serving faculty, students and staff," Furlong wrote. "Having a critical understanding of the diverse needs of these users cannot be understated, and Sean has such a grasp and works equally well with stakeholders from all areas . . . Sean engages with the needs of the campus and its personnel and works diligently to find effective and efficient solutions."
CTO is a position that involves managing technology but with a deft and inclusive human touch, wrote Rebecca Mushtare, associate dean of graduate studies, who also is an art faculty member and former accessibility fellow. 
"Sean's primary role as a leader and as an administrator is to take the time to listen, bring the right people to the table to work together on solutions, and then be at the ready to find and advocate for the resources necessary to make this work happen," Mushtare noted. 
"Sean has a superb understanding of the role that technology plays in supporting all aspects of the college mission, and he has been very effective in nurturing a shared sense of this mission throughout the CTS organization," wrote John Kane, who directs the college's Center for Excellence in Learning and Teaching and is long-time member of the Campus Technology Advisory Board and economics faculty member.
Furlong also noted that Moriarty has elevated Oswego's status in planning and technological infrastructure to the point that colleagues throughout SUNY, including SUNY's administration, seek his advice and help. 
Moriarty served as vice-chair and chair of the SUNY Council of Chief Information Officers from 2016 to 2020, and for numerous other SUNY and national Educause committees. In 2020, Morirarty was recognized with the SUNY Council of CIOs Collaboration Award.
Nominators also praised Moriarty's work in leading the charge on web accessibility to meet both the requirements and the honest responsibility of ensuring that technology supports all audiences in a fair way. 
"Not interested in just meeting the requirements, he also worked to create a Faculty Accessibility Fellows program that would begin the process of developing faculty in this space and creating champions for the entire campus," Furlong wrote. "Now in its third year, the Fellows program has been very successful in sharing information regarding the accessibility of the web and other electronic materials. This was particularly important as the entire campus had to engage in more online teaching due to the pandemic."
During the pandemic, and most notably with the quick pivot to remote instruction in March 2020, Moriarty succeeded in demonstrating institutional flexibility and developing creative, innovative solutions in short periods of time. To prioritize students and educational needs, he worked with CTS staff to offer just-in-time professional development with workshops on educational technology for recording, video conferencing and handling electronic documents and assignments. Moriarty also worked to find hardware and technological solutions for students who suddenly had to maintain their college coursework from home.
Moriarty earned a master of business administration, bachelor of commerce and bachelor of science in math and computer science, all from the University of Windsor.
Facebook comments