Fueled by his passion for theatrical productions and lighting design, theatre staff member and 2005 SUNY Oswego graduate Greg Brewster has transformed his Brewerton home into a holiday sensation that has captured the eyes of thousands (potentially millions) of viewers.
The Brewster family's animated light show, Lights on Jacob Lane, is one of four holiday light displays across America that are competing for a $50,000 prize on the season 7 premiere of ABC's "The Great Christmas Light Fight." The reality show episode featuring the Brewsters airs Monday, Dec. 2 at 8 p.m. on ABC.
For Greg and his wife and fellow 2005 Oswego grad, Jessica Miller Brewster, and their two small children, the TV show appearance added some excitement to an already eventful season. 
"This was a once-in-a-lifetime opportunity to be part of the show," he said. He recruited several SUNY Oswego theatre students to help with set up, run a light board and assist with some "specials," including fobbles (fog-filled bubbles) he added for the live recording. They made their own version of the Times Square New Year's Eve ball to get the show started.
For the past seven years, Brewster has converted his home at 9406 Jacob Lane in Brewerton into his own personal stage, which uses nearly 25,000 individually controlled RGB pixels, more than 15 Christmas trees, thousands of LED lights, strobes, video projection, over 5 miles of cable and more than 60,000 channels of computer animation.
He spends approximately a month setting up the physical props and lights for the show, which is different every year.
"With my theater background, I can't do the same show twice," Brewster joked. In addition to the physical set up, dozens of hours are spent syncing music to the lights -- using equipment that his wife first bought for them before they even had their own house to decorate.
"She bought me my first controller when I was touring with the Broadway tour of 'Les Mis[erables],'" said the theatre gradaute, who today is a lighting designer and electronics specialist for SUNY Oswego's theatre department. "I remember that year racing back to my parents' house in New York to set up a Christmas light show."
During the tour, he also would create holiday decorations and lighting backstage for the cast and crew to enjoy during their long stays in one city over the holidays.
For Jess, she supports Greg's passion in any way she can. She shares Greg's love of the theatre, and they actually met during a play in high school and studied dance together at a studio in the Oneida area. Jess continued to dance with Del Sarte at SUNY Oswego, and Greg did lighting and sound for the student dance club.
Jess manages the Lights on Jacob Lane Facebook page, helps with marketing and public relations, and coordinates the connections with such community partners as Toys for Tots. The Brewster Family will collect new, unwrapped toys from 6 to 8 p.m. Dec. 6 through 8 for Toys for Tots.  
Most generously, she also allows their garage to be packed full with the holiday decorations throughout most of the year when they're not in use, Greg joked. The couple also works together on selecting a theme or idea to build around, and Jess often takes the lead on the plan for the physical layout of the props and set pieces in the yard as well as the music choices.
Jess encouraged Greg to put together the application to get on "The Great Christmas Light Fight," and she recruited her former students at a dance school in Boston to be the Radio City Rockettes, who appear in the ABC show.
This year's Lights on Jacob Lane 20-minute long animated light show includes "Let it Snow," 'O Holy Night," Blake Shelton & Gwen Stefani's "You Make Me Feel Like Christmas," "I Want A Hippopotamus for Christmas,"  "Hot Chocolate" from "Polar Express" and many Disney/Pixar favorites - "The Lion King," "Cars," "Aladdin," "The Little Mermaid," "Moana," "Toy Story 4" and just released "Frozen II."
The shows kicks off on Thanksgiving (Nov. 28) and will run nightly through New Year's Eve (Dec. 31) during the following hours: Sunday through Thursday: 5 to 9 p.m. and Friday and Saturday: 5 to 10 p.m.
For more information and guidelines for those who attend, check out the family's Facebook page.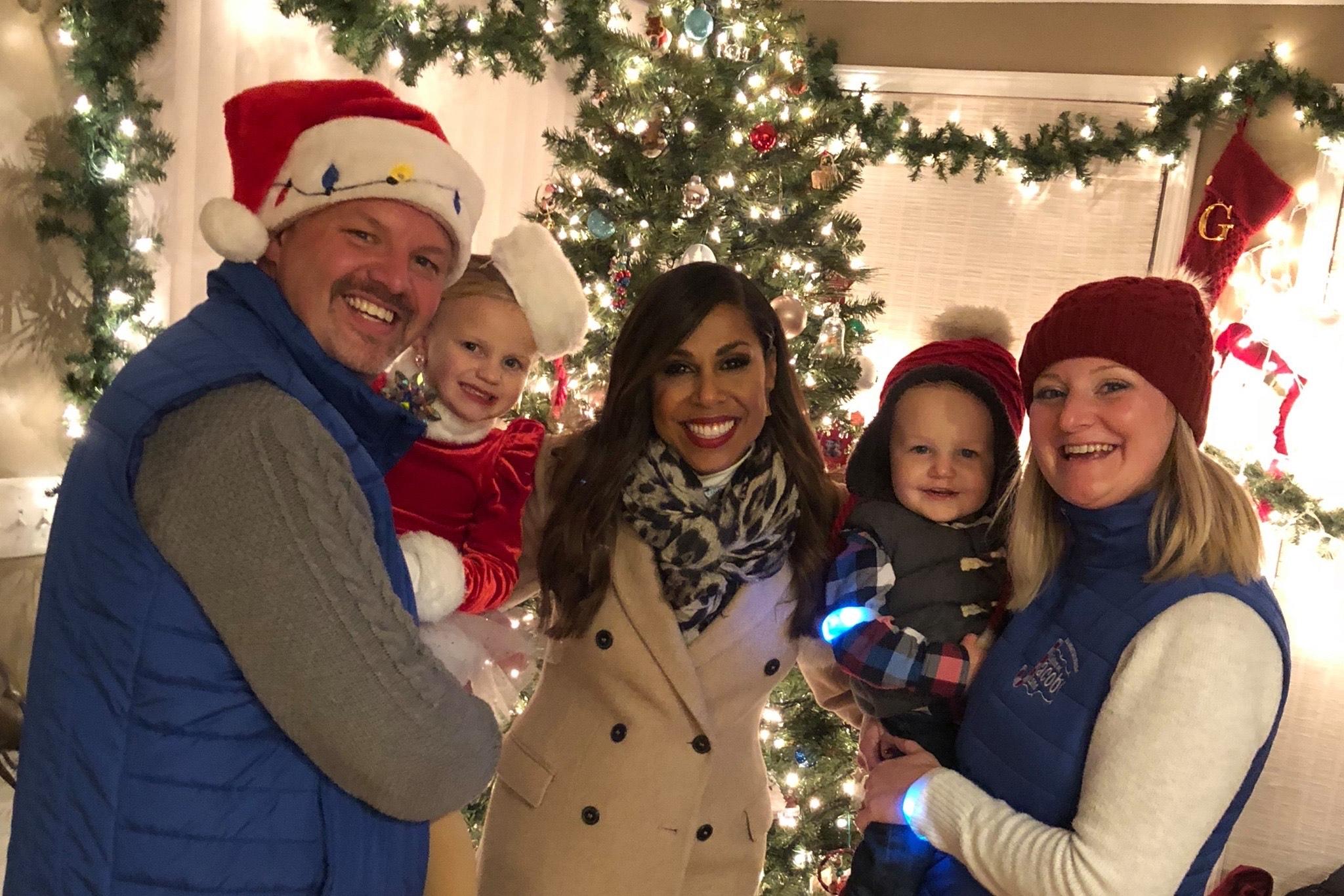 Holiday cheer -- The Brewster family share a moment with ABC's "The Great Christmas Light Fight" host Taniya Nayak (center) during filming for an appearance on the Dec. 2 episode of the show.
More like this
Facebook comments