SUNY Oswego's Launch It competition, now in its second year, provided opportunities for student teams to compete for seed money while learning more about the process of starting, funding and operating a business.
"Launch It is a competition that students will get to come and pitch their business idea," said Daniel Bergan, a junior accounting and finance major and project manager for the Enactus student club that organizes the competition with Oswego's School of Business. 
"And we put them together for a product we like to call ChaPen," said Brain Abad in pitching his team's idea for a pen that also includes lip balm.
"After that, they'll get to talk to other like-minded students, who also came to the competition," Bergan explained.
"The judges are gonna have to like at least one of those three prototypes," Abad, a senior dual major in finance and economics, said in a meeting with fellow team members Amy Alba and Cer Par.
"They'll form teams of up to five, and they'll get to decide on one business plan and work on it," Bergan noted.
"Elementary school kids have kind of book sales that have all kinds of creative office supplies products for them, so we thought we would capitalize on this market, and create a product called ChaPen," Abad said.
"My vision for ChaPen was not just to capitalize on students, I also thought that it would be more professional to moisturize with a pen in a corporate setting, too," said Alba, also a senior finance and economics major. "I could picture it, I don't know if my teammates can."
Mentors help
After the pitch round, Oswego alumni now in the business world -- Paloma Sankar, assistant vice president of credit risk at Pathfinder Bank, and Tucker Sholtes, an advisory associate at PwC -- had mentoring sessions with student teams. 
"Would you see it being the type of thing, where the ChapStick is integrated into the product?" Sholtes asked the ChaPen team.
"They'll meet with real professional mentors. They're gonna get to learn from them about real-world experience," Bergan said.
"It's where you're able to show that you've done some market analysis," Sholtes told the team.
"They'll get to connect with them, and then the mentors will help them build their business plan," Bergan said.
"It's what makes me so excited to be an alum of Oswego is my ability to pay it forward, and to hear from all these fantastic students," Sholtes, a 2015 Oswego graduate. said after his mentoring sessions.
"They give us great advice on being able to predict and assess customer behavior based off surveys, focus groups, and how to weed out statistical inconsistencies, or sampling biases that we may come up with," Abad said.
Final pitches
"On the last date, they'll come, and they'll get to present in front of a panel of judges," Bergan said of the Nov. 2 final pitch. The judges included Eli VanOrman -- a 2018 Oswego alumnus who co-founded the compeition and is now merchant services consultant at Paychex -- David A. Divinchenzo, district sales manager for merchant services at Paychex, and Oswego alumnus Curt Schultzberg, asset management advisor for Gerstein Fisher.
"What am I looking for as a judge? Definitely creativity is gonna be a big one for me," VanOrman said. "I'd love to see something that could potentially shake up a market, it's the first time I've heard of it."
"So they'll present their final business plan that the worked on for the last five weeks, and they'll have a chance to win $1,000, if they come in first place, $600 in second and $400 in third," Bergan said.
"It was pretty challenging trying to figure out the whole market for pens," Alba said. "There was a lot of limited information, just because most people that sell pens, they sell so many other things. It was difficult, but I think we did good. We tried to back it up with financials, and as much background information as we could."
All that work for the ChaPen team earned them a second-place finish. Magnetic Retention -- a team proposing a magnet-based solution to prevent shark attacks -- landed the first-place prize.
But even those who did not win learned a lot from the experience.
"How it feels to start up a business, when you have so many competitors, so many people that can easily substitute your product and kind of kick you out of the market, and how you manage your profit margins, in the wake of all of those challenges," Abad said of what his team learned. "That's something we're gonna, now with this seed money, face head on."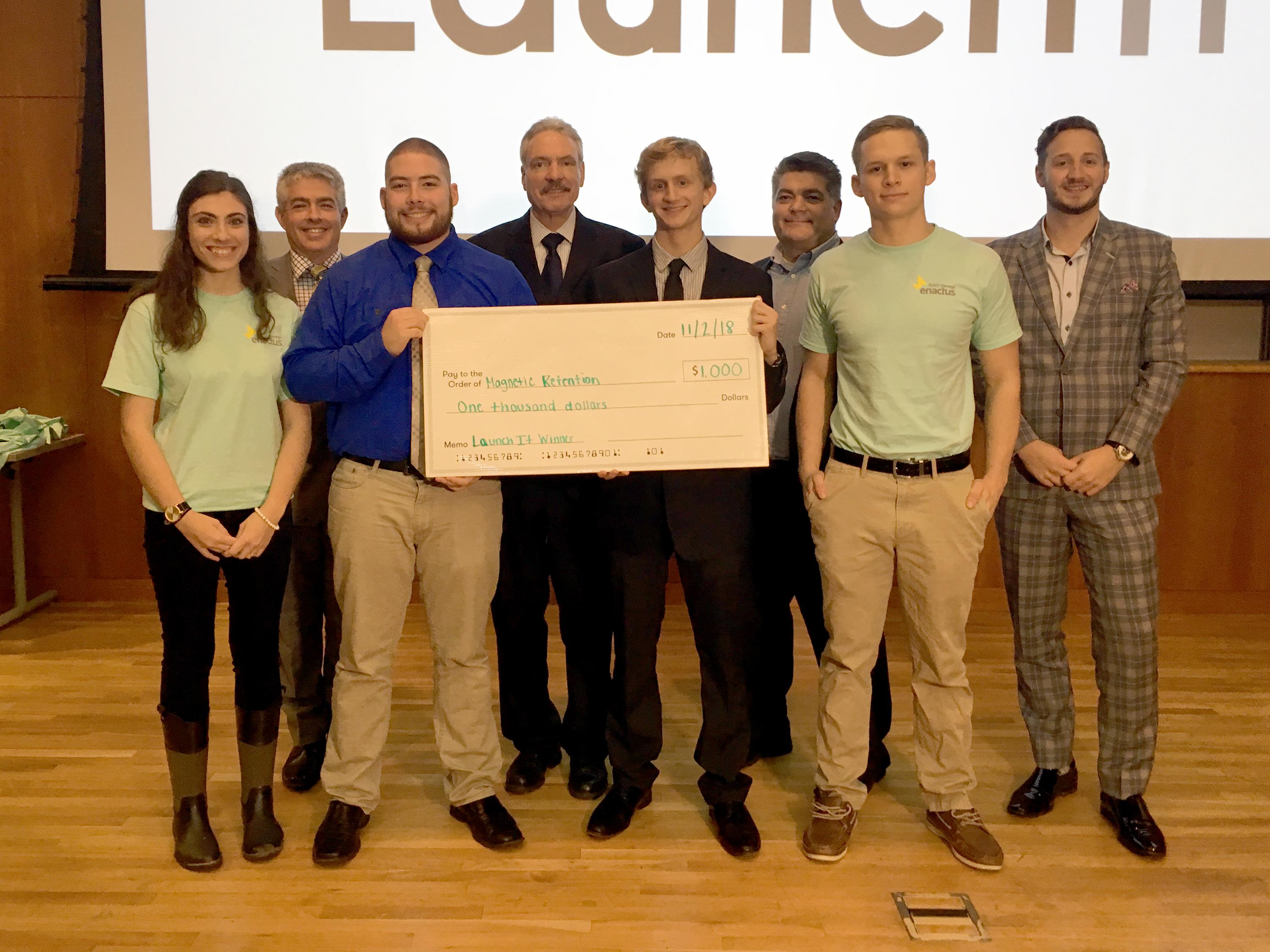 Members of Magnetic Retention -- winners of the 2018 Launch It student entrepreneurial competition -- pose with their $1,000 award along with organizers and judges for the annual event.
Facebook comments