Despite having to rewrite almost everything in 2020, the college's State Employees Federated Appeal (SEFA) campaign relied on campus generosity and innovative ideas to exceed its annual goal and provide support to many organizations and individuals in the community.
The SEFA Steering Committee chose to stay the course with its annual $30,000 goal and then put in extraordinary effort to exceed it -- raising $31,122 through individual pledges and several successful fundraisers, said Mary Toale, the campaign co-chair and executive assistant to the president.
"In a year when so many plans changed, the committee had faith in our campus community and the Oswego family absolutely delivered," Toale said. "That includes new and continuing partnerships with other organizations as well as students who joined the committee, either as interns or to conduct social media analyses -- Fabio Machado, Madeline Osborn, Austin Reda and Erika Roney -- who were critical to brainstorming and communicating our fundraisers to engage the campus and beyond."
One example of adaptation was Baskets of Caring, the largest annual fundraising SEFA event, which normally plays out in the Marano Campus Center as employees and students buy chances on themed baskets. Event chair Shelly Sloan of the Dean of Students Office led the effort to move the popular event online, which resulted in 16 donated baskets raising $3,270.
The Teddy Bear Toss, which normally takes place during Laker hockey games, went virtual with the help of the men's and women's hockey teams, WTOP-10 TV and the Blueline Club, while also seeing a large community turnout for a touchless drive-through donation event, scoring a final tally of $2,450 in monetary donations and more than 200 toys. New features such as an Instagram pet contest, Thanksgiving pie sale, holiday cookie sale and more kept the efforts going.
"We had a lot of behind-the-scenes efforts, from the committee's creativity to Lisa Vinciguerra of Student Accounts donating time to develop our online storefront, that drove this success," said Angela Galvin, campaign co-chair and administrative assistant to the vice president of administration and finance. "But the ultimate result of supporting the community is the real achievement."
In addition to local organizations donors could select in their pledges, the range of community agencies and efforts supported directly by fundraisers includes the United Way of Greater Oswego County, the Oswego County Children's Fund, Oswego County Opportunities Cancer Services Program, Oswego County Toys for Tots, Oswego Human Concern Center, Peaceful Remedies, the Salvation Army of Oswego County, Paws Across Oswego County and United Friends of Homeless Animals.
"While we're all experiencing COVID-19 in different ways, it has really affected those families who were already struggling," said Patrick Dewine, executive director of United Way of Greater Oswego County. "Because of the generosity of SUNY Oswego's SEFA campaign and through the donations from the public, we can provide some relief to families in need this holiday season."
For more information on the SEFA campaign, visit oswego.edu/sefa.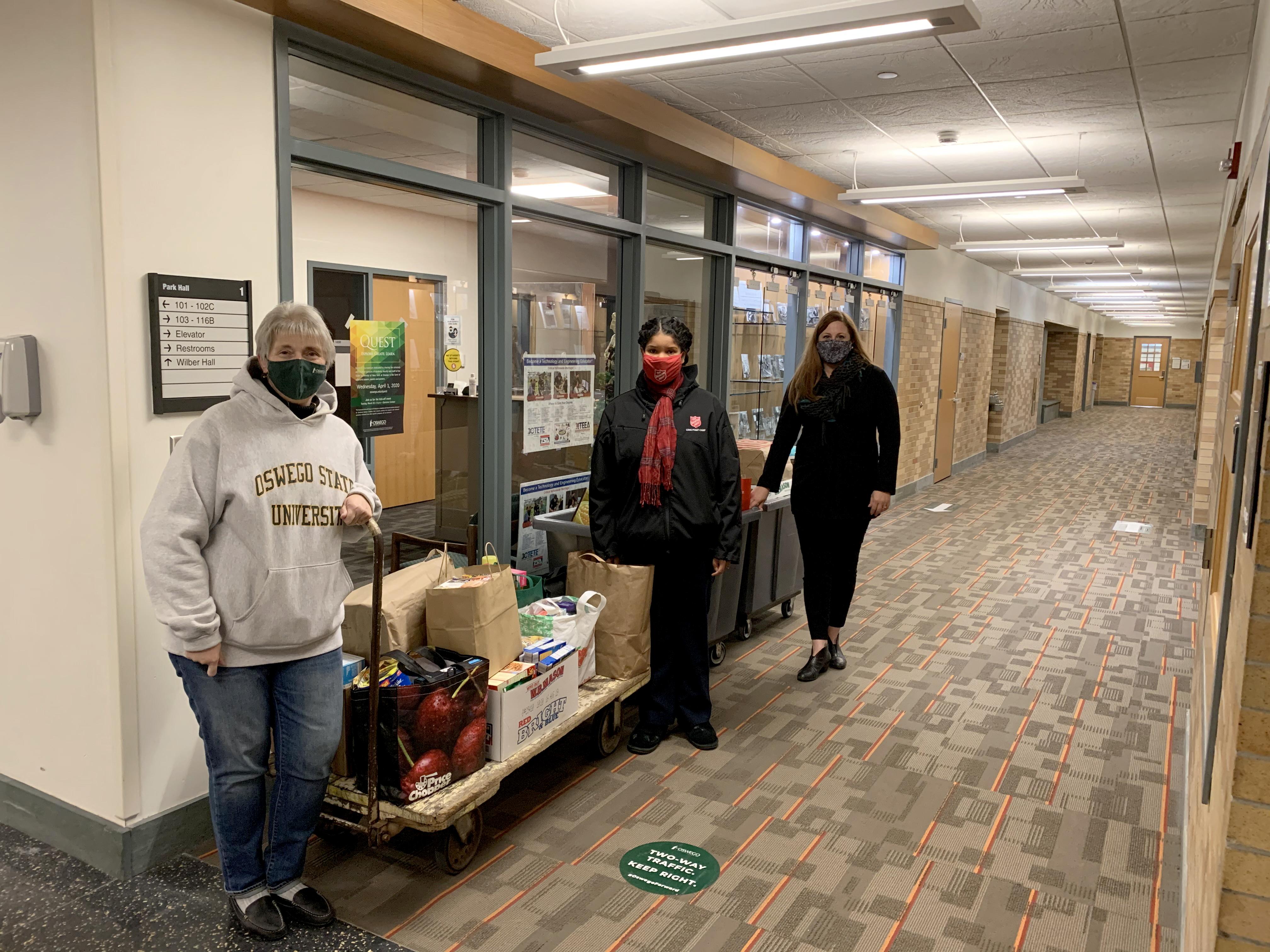 SEFA success -- Despite having to change its efforts for 2020, SUNY Oswego's SEFA campaign exceeded its ambitious goal by raising $31,122 and finding many ways to support community causes. Efforts included a drive to collect toys, food, personal items and pet supplies that netted more than 800 items for a variety of local causes and families. From left, that drive's chair, Michelle Turner of SUNY Oswego's facilities services, supplies items to Lt. Alberta Rakestraw of the Oswego County Salvation Army and Kate Davis Pitsley of the United Way of Greater Oswego County. (Photo courtesy of the United Way of Greater Oswego County)
Facebook comments