Ahmanee Simmons, Nyezee Goe and Ahmed (Rakim) Yousuf joined six other SUNY Oswego students this summer working in -- and expressing their appreciation for -- professional internships in the Synergy Leadership Training Program operated by the nonprofit Mercy Works.
Synergy partnered with employers to provide 50 college undergraduates from the Syracuse area -- many of them socioeconomically challenged, first-generation college students -- with internship opportunities within their fields of interest. The students received mentorship and training in such professions as wellness management, theater production, accounting and technology management.
Anneke McEvoy, a visiting assistant professor of curriculum and instruction in SUNY Oswego's School of Education, coordinates the college's relationship with Say Yes to Education, which provides tuition scholarships and other resources to students from Syracuse city high schools. In Oswego's second summer of participation with Synergy, she said, the number of Say Yes Scholars from the college in the internship program rose from two to nine.
"Going in, some students didn't really know what it's like to be employed, to be in a profession," McEvoy said. "I could tell the students felt they got a lot from the experience."
Working for Redhouse at City Center, Simmons -- a junior theatre major who had a key role in the SUNY Oswego theatre department's "Clybourne Park" in 2017 -- accomplished a wide variety of tasks, from working at the theater complex's box office to helping with sets to engaging with summer camp participants.
"I think the biggest thing I took away is seeing the other side of production -- marketing, staging, lighting design," Simmons said. "I gained a lot more experience so I can be a lot more valuable with an entire production, not just acting on stage."
'Perfect length'
Goe, a senior technology management major with business and athletic coaching minors, said his 10-week, full-time internship with Building Men in Syracuse fed both his passion and his desire to build professional skills.
"I got to work with kids in city middle schools, sixth- through eighth-graders," Goe said. "It was pretty cool. Most play basketball and they connect through basketball or some other activities we do. The coaching aspect is what I liked the most."
Before the young students started arriving for Building Men, Goe joined the program's founder helping plan the daily activities. He was assigned a mentor who is president of a computer-aided design company and provided information that helped Goe with his major.
Yousuf, a junior accounting major, worked on professional skills with the Institute for Veterans and Military Families (IVMF) at Syracuse University, helping develop budgeting spreadsheets for grants the institute has received, for travel expenses and more. He was impressed by what he called instances of team-based leadership and flexibility in a professional setting.
Synergy interns work full time Monday through Thursday in their job placements, and spend "Power Fridays" at the Synergy Vision Center doing activities related to the program's Four Pillars: community service, professional development, health and well-being, and financial stewardship. Guest speakers came from a variety of careers, Yousuf said, including financial professions.
"The internship was the perfect length, not too long or too short," he said. "It was long enough for me to gain knowledge and experience I needed."
Other SUNY Oswego students in Synergy summer internships were Thuy Dinh, an accounting major, with the IVMF; My Huyen Tran, public relations, On Point for College; Dwan Hameed, theatre, Redhouse; Adan Raacha, wellness management, Building Men; Orisha Goddard, biology, Upstate Medical University; and Trieu Le, physics, SUNY College of Environmental Science and Forestry.
Oswego's Say Yes Scholars learned about the Synergy Leadership Training Program at the college's annual Opportunity Next Door event at SUNY Oswego in Syracuse in January, McEvoy said.
"By helping Syracuse students identify career exploration opportunities in their hometown, and to understand there are myriad organizations, in addition to our own Experiential Learning and Career Services, working to support them in their career exploration, we try to mediate the obstacles of lack of awareness, transportation, housing, and cost, which lead many students of limited financial means to work typical summer jobs instead of seeking internships," McEvoy said.
Following the internship-completion ceremony in early August at the CNY Biotechnology Accelerator at Upstate, McEvoy said, "It was really amazing to talk to them today about their internships and to learn about the community service projects they developed for homeless men and women, Syracuse City School District students, and community members."
To learn more about Say Yes to Education opportunities at SUNY Oswego, contact Anneke McEvoy, 315-312-3399 or anneke.mcevoy@oswego.edu.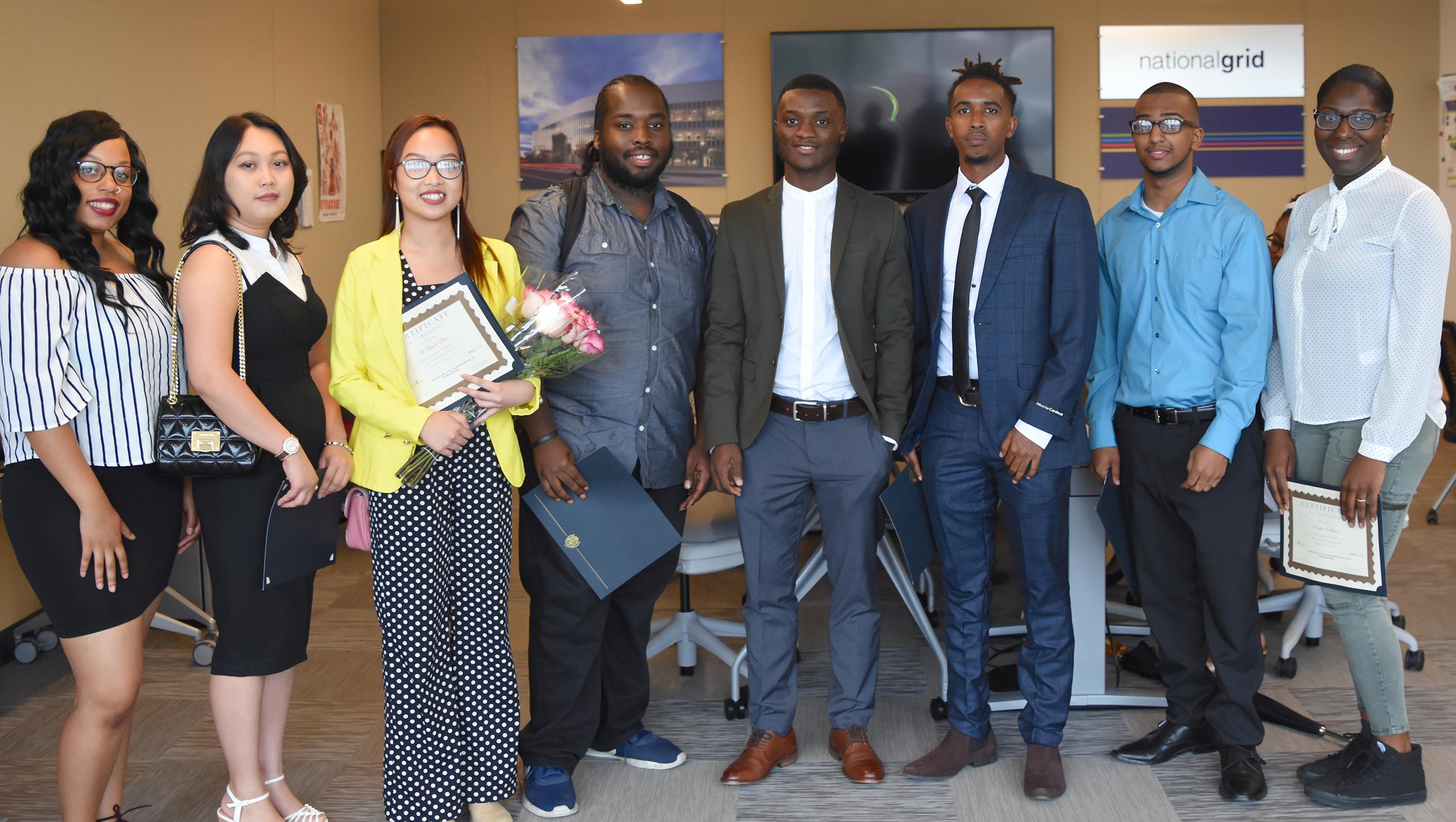 Professional training -- SUNY Oswego students, all Say Yes to Education Scholars who graduated from Syracuse high schools, attend the completion ceremony for the Synergy Leadership Training Program, having worked full-time summer internships related to their major fields of interest. From left are Ahmanee Simmons, Thuy Dinh, My Huyen Tran, Dwan Hameed, Nyezee Goe, Adan Raacha, Ahmed (Rakim) Yousuf and Orisha Goddard. Not pictured: Trieu Le.
More like this
Facebook comments